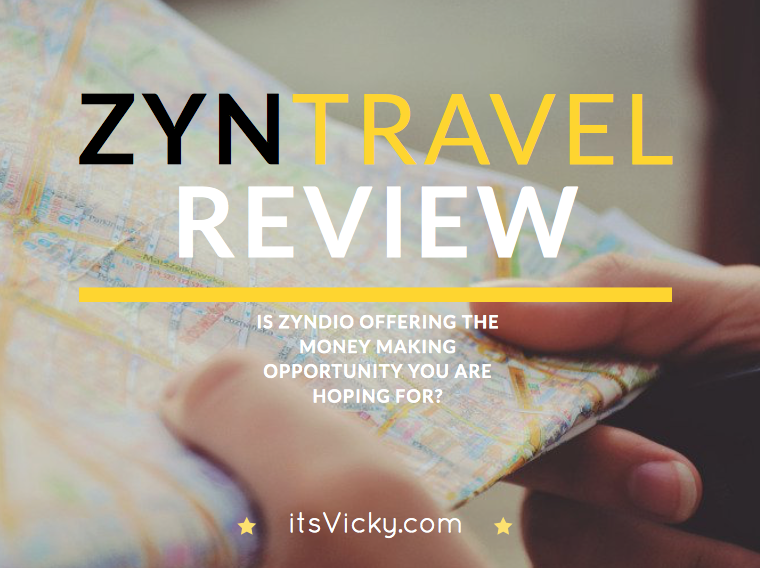 "ZynTravel is an online Membership driven Travel Club.   They offer travel to members at highly discounted prices with the possibility of making income from commissions and referrals.
We love to travel, so this company made me really curious. I've also worked in the travel industry so I do no a few things about it.
We do a lot of flying back and forth to Sweden, so international regular flights. I was skeptic but curious if you could get good offers on these flights or if ZynTravel offers discounts on certain hotels and resorts…
Let's take a closer look.
ZynTravel Review
Website: ZynTravel
Company: Zyndio
MLM: Yes
Zyndio the Company
"Zyndio" is the actual company, and ZynTravel is the product.  Anthony Powell, who is well known in the multi-level marketing (MLM) arena started up the company with a group of his "leaders" after he posed the question to them about what the ultimate company would consist of for success.
Five components were identified:
Highest Paying Compensation Plan
Revolutionary Products
Automated Sales Funnel
eTraining System
Leadership Development Machine
…and the company idea was conceived.
Anthony drew upon the knowledge he received from his mentors like Mark Hughes, Jim Rohn, and Larry Thompson and began to put together a plan that would be good for his people as well as a great money making venture.  He was looking to create an opportunity that heavily favored the affiliate—increasing their opportunity to earn more from the MLM business.
Though his background in the industry was more concentrated on selling health products, he decided to enter the business of travel which generates trillions of dollars each year.  Anthony wanted to bring a new twist to the market which he thought would benefit those who partnered with him as affiliates.
There were companies already in the travel industry like Global Travel International, Avoya Travel, and KHM Travel.  Each offering the opportunity to become an independent travel agent with the opportunity to make additional money from selling travel to others.  They were slightly different, however, in their approach.
Anthony Powell wanted to define the element of being a multi-level marketing company more and reduce the involvement of some of the middlemen.  Therefore, he got rid of the middle wholesale distributors, bought more of the travel packages directly at an 85% discount and provided more benefits to the affiliates.  At these prices, he believed the company and affiliates could offer better deals to their customers and could get better rates for themselves.
ZynTravel Products
For now, the company products are travel related like flight and cruise packages, along with bookings for hotel rooms and time shares.  Here's a screen shot from their website. As you can see it looks like any travel site where you can book, flights, hotel, car rental and time shares.
What made me curious is if they have good deals on everything or if it's just these specific offers?
I tried to do a flight search but this message came up…
So I need to either be a customer or have a promo code.
I see a promo code button click that and get a sign-up box…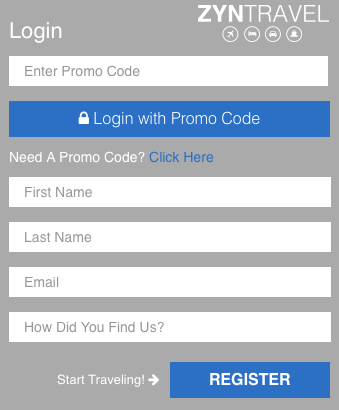 I tried to sign up but the form kept saying invalid email address. (Which I now it's not, wonder if it's because I'm not "registered" with them)
This is where the MLM comes in. To me, this is incredibly annoying that you can't even check the products out before signing up or becoming a customer…
The next question is how do you actually make money with ZynTravel?
How Do You Make Money with ZynTravel and Zyndio?
As an affiliate, you would join in at one of the three levels—which used to be Silver, Gold, and Platinum. With monthly costs of silver $49.99 monthly, gold $199.99 monthly and platinum $499.99 monthly.
These levels have now been replaced with the following, gold, platinum and black diamond.
As an affiliate, you would be paid mostly by commission.  The buy-in for Gold Level is $200; for Platinum Level, it is $500; and for Black Diamond (which they say is the most popular) it is $999.99…  so, a cool Thousand dollars if you just ad a penny to it.  After that, you'll also have a set up fee of $29.99 as well as a monthly fee of $19.99.
They also offer preferred memberships, ZynEscapes, with silver, gold, platinum and black diamond memberships. This is another $75, $100, $150 or $200 in additional monthly costs.
Let's look at the compensation plan (the only one I could find was an old one from 2015) for some more details on how you can get paid.
There are 8 ways to get paid, commission and 7 different bonuses.
How to Make a Commission
Customer travel commission 2015 is paid as follow:
Silver 25%
Gold 50%
Platinum 100%
These are the old membership levels, if we look at the new ones according to the new membership chart, they have lowered the commission for the higher levels and everybody is making the same commission.
Gold 25%
Platinum 25%
Black Diamond 25%
Now, this is commission on commission. So NOT the commission on the sales price.
Let's just play with some numbers because Zyndio doesn't really reveal the commission they are making.
Say that you sell an airplane ticket for $1000, commission on airfare is usually not much my guess would be 3%, not sure what Zyndio is receiving, but let's play along. If that's the case, Zyndio makes $30, you will then make 25% of that $30, $7.5.
Some would probably find the recruiting part being more financially beneficial.
How to Earn Bonuses
There are 7 bonuses that you can earn from
Referral
Cycle
Travel
Matching
Lifestyle
Marketing
Global
Let's take a closer look at the two first one's referral and cycle bonuses.
Referral Bonus
This is made when you refer somebody else into the Zyndio program.
You earn 20% of the membership fee of the members that you personally recruit. So that would be 3 people. When these 3 people have recruited 3 people each you have completed a full cycle and can start a new one. On the second level, your recruits, recruits you earn 5%.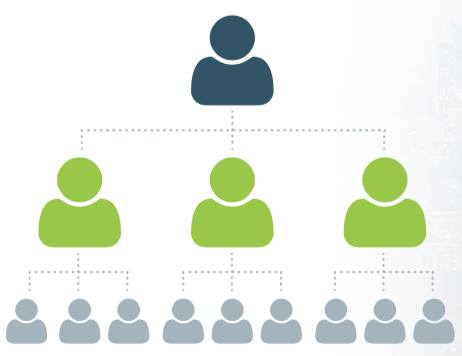 Cycle Bonuses
Simply put, each one of the 3 membership levels builds upon the benefits of the one below it which gives you access to a few more 'features' in the program.  They call this a cycle tree. Your potential to maximize your income comes in when you add just three people to your team.  Oh, and they each have to add three more to themselves –for a total of twelve people on your selling team. Doing that and you complete a cycle and earn a cycle bonus.
12 people might not seem like much, but it might not be as easy as it sounds, getting people to pay these high fees.
Although I find some lack of information in this compensation plan, how much Zyndio is making in commission, for example, I do find it pretty simple and easy to understand. That is a good sign because so many MLM opportunities have compensation plans that nobody can understand, with legs here and RV there.
Potential Income with Zyndio
It is hard to get an accurate overview of what you can possibly make since the commission is a little bit of an unknown.
But say that we focus on recruiting people, how much would you make with your first circle if you were signed up for the gold membership and your recruits did the same.
So you would pay $199.99 + $29.99 + $19.99 monthly fee, say that it takes 3 months to complete one cycle of 12 people.
Total cost would be $289.99 (I included 3x monthly fee)
Commission would be $40 x 3 for first level = $120 in referral bonus
Commission would be $10 x 9 for second level = $90 in referral bonus
A total of $210 + cycle bonus if you complete the whole cycle, not sure exactly what the cycle bonus would be.
If you don't fill the whole cycle you wouldn't even earn back what you spent…
Final Thoughts / Is ZynTravel or Zyndio Worth It?
Having looked at the other option of being a work-at-homeI travel agent—similar to what Anthony Powell and his people are offering, honestly, I'd rather choose the other option.  In Anthony's model, the payout might be bigger, but it seems like you'll be more focused on building the business side more than working on your clientele.  However, the buy-in is larger too.
I would recommend making a solid comparison to other companies out there, or even consider starting your own travel site and work as an affiliate with legit programs. You could in fact set up your own site and team up as an affiliate with programs like TripAdvisor, and other well known travel companies.
You'll need to decide if you want to spend your time building a down line and having to maintain it.  Or, if you'd rather have clients that you help plan travel for.
It is sometimes hard and difficult to figure out how much others are willing to do in multi-level marketing.  The concept seems like a lot of fun when you first think about it.  You take something that you really like to do; you tell others about it and get them to do it too!  And everybody makes money!
But, when you think a little harder until you reach the point of reality and soberness and say, " okay, I like to travel.  How can I make a business out of the travel industry", and "do I really want to to manage a team of people—while I'm trying to have fun with travel?", and "how much do I want to invest in this venture?"… then, you'll begin to see the seriousness of your decision to get involved with multilevel marketing.
My final thoughts about any type of multi-level marketing, regardless of what it is—will usually be the same:  You have to count the total cost.  Even though some people have the ability to make multi-level marketing look easy and fun; and make it seem like a game, it isn't.  It is a very serious business.
You are not only taking on responsibility for yourself, but also for those you have decided to convince to join you.  And, you really need to consider the cost for them as well.   Often, buy-in for those programs can be upward of $500; along with the monthly costs that are involved by either paying for maintenance or products to keep your membership active.  If you don't have the budget to maintain, you lose everything.  That is something you don't often hear about or is said, but definitely needs to be considered.
Now What?
As I see it, you now have 4 options.
Zyntravel and Zyndio are the way for you to go if it is I wish you good luck.
You love to travel and want to help others plan trips on your own terms, setting up your own website.
Combine Zyntravel with your own website, nothing says you can't do both.
None of the above is really for you.
If you are interested in finding out more about setting up your own travel site and run it on your own terms, then I suggest you take a look at this article – how to set up a website and make money with it.
I would love to hear what direction you will be taking, will you go with Zyndio or maybe set up your own travel site?
Also if you have additional information of ZynTravel or Zyndio I would love to hear from you.
Feel free to leave a comment below,
Vicky