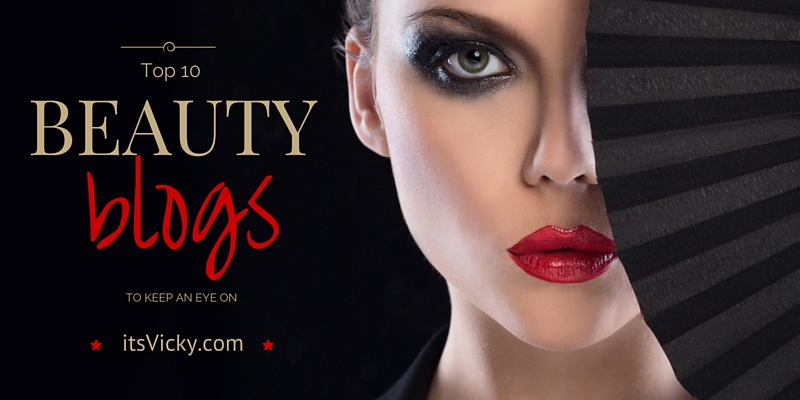 Fridays with Vicky 42
Are you into makeup, hair and beauty? If you are then today you are in for a treat. We list our top 10 beauty bloggers, right here.
These are all fabulous people blogging about makeup, hair, fashion and other fun stuff.
Some of them has a professional background but some of them are regular people that enjoy blogging about beauty.
Have you ever thought of starting a beauty blog? 
How to Start a Beauty Blog 9 Easy Steps
---
Michelle Phan
Michelle Phan, blog not only about beauty but also about fashion, art, wellness and knowledge.
She started on YouTube and has a growing community of over 7.5 million… that`s a lot of followers.
It`s an interesting blog, with lots of great enjoyable reads.
---
Nikkie Tutorials
Nikkie is a super talented makeup artist from Netherlands, running a successful blog and a YouTube channel followed by almost 2 million people.
Nikkie Tutorials makes makeup fun with transformation video tutorials. She is already a blogger and beauty queen that`s definitely worth following.
---
In to the Gloss – Emily Weiss
In to the gloss is a fun beauty site that does not only talk about hair, skin, nails and makeup but they also include interesting interviews and health topics.
In to the gloss was started by, a Vogue assistant, Emily Weiss when she could not find a beauty blog that "spoke to her".
This is a beauty blog that is worth to keep an eye on, fun helpful tips and ideas.
---
With Love from Kat
With love from Kat is a style blog where the creator share her beauty, fashion, decor and travel tips.
I like the travel addition, it makes it fun and sticks out from the other beauty blogs.
The blog has a magazine feel and is worth a look.
---
Beuty Is Boring – Robin Black
Robin Black, from beauty is boring, bring beuty to the internet with her own personal style. She shares makeup pictures, short 27 second videos and other fun material on her site. Robin is a makeup artist with her own style, worth following.
---
Kandee Johnsson
Born in a suburb of LA, Kandee blog about diy beauty and fashiop tips.
She is a celeberty make up artist and she has worked on tv shows, movies, commercials and other celeberty apperances.
She makes beauty and makeup fun!
---
Miss Maven
Teni, the founder of Miss Maven is actress and blogger raised in LA. You can find her on her blog but also on YouTube doing helpful beauty videos. She blog about makeup, hair and other fun beauty related topics.
She has a clean nice looking website that`s worth to take a peek at.
---
Zoella
Zoella, a blog created by Zoe, a writer that enjoys beauty and other fun things in life. On her blog she shares helpful tips and info about makeup, hair and skincare but also food, travel and style ideas.
This is a young blogger to keep an eye on.
---
LilyPebbles lp
As a marketing student Lily started her lifestyle blog that has turned into more of a beauty website. On this site you can find tips, ideas, reviews and videos related to beauty and lifestyle.
I like Lily`s personal laid back style and she is definitely a beauty blogger to pay attention to.
---
Happily Grey
Fashion tips and ideas from Mary. All though a lot of it is grey, you will find items that are not. Happily Grey is a fun fashion blog with great pictures and style ideas.
---
Have You Ever Thought of Starting Your Own Beauty Blog?
Anybody with a passion for beauty can, if they have the interest, start a beauty blog.
With today's technology it`s pretty easy to do. Writing about one of your interests is not only fun it can put some extra cash in your pocket as well.
If you want to know more about how to create a beauty blog read my post – How to Start a Beauty Blog 9 Steps to Get Started.  It`s fun, go check it out.
Have a great day,
Vicky