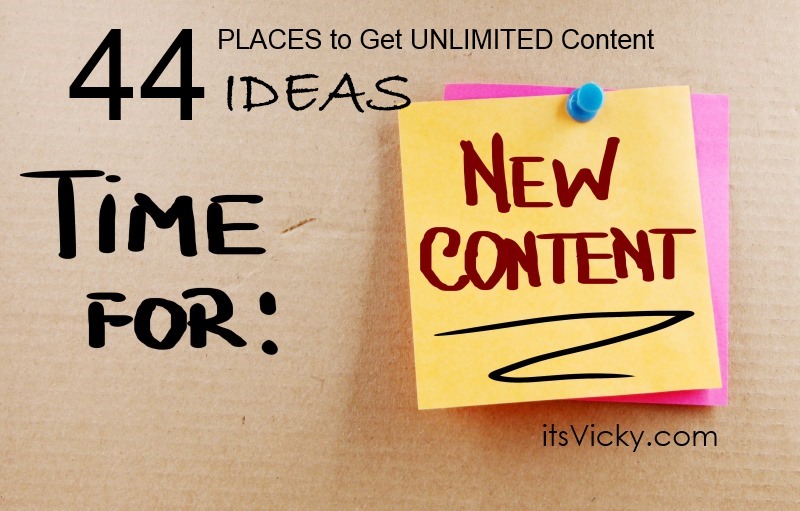 Fridays with Vicky 48
Have you ever caught yourself sitting in front of the computer with a blank stare?
You want to write the next brilliant piece for your website or blog that will bring some good amount of visitors to your site… BUT… nothing.
You are attacked by writers block and desperately looking for new site content ideas.
In this post we will talk about 44 different places you can use to get unlimited site content ideas. This post is a spin off from the – 15 Minutes 5 Tools and 1038 Content Ideas.
When I was doing research for that post I found so many helpful tools that I wanted to share them with you. Most of them are completely free to use, you don`t even need to sign up for an account.
Let`s dive in.
Places to Get Unlimited Site Content Ideas – Never Deal with Writers Block Again
Blog Content Generators
This is tools that you can use by typing in a keyword or topic in to a search bar. The tool then generate ideas for you.
1. HubSpot 
4. BlogAbout 
5. Portent 
6. Inbound Now 
7. WebPage FX 
8. Content Row
Niche News
By niche news I mean what is happening in your niche right now. News and events that`s currently going on.
Here are a few general news sites to check out. Within each one of them digg deeper and see what`s going on in your niche.
9. USAtoday 
10. CNN 
11. BBC
12. FOX News 
13. NBC News 
14. Google News
15. Yahoo News 
Site and Blog Stories
On these sites you can see what the latest stories in the website and blogging world is. Not necessary news but recent stories.
16. Alltop
17. Popurls
18. Washington Post Blogs and Columns 
Keyword Tools
These keyword tools I use for my own keyword research. They don`t only provide great keyword information, they also generate new site content ideas.
19. Jaaxy 
20. Ubersuggest 
What`s Popular on Social Media
With these tools you can find out what`s popular and trending in the social media world.
23. Buzzsumo
25. Digg
26. Reddit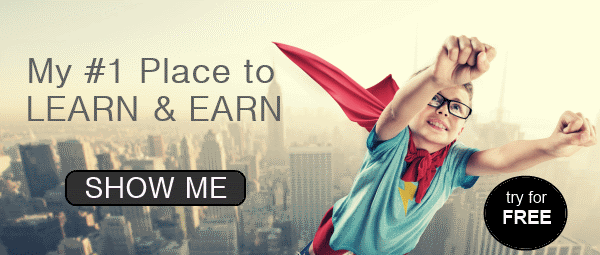 Social Media
Type in your keyword or topic in the search bar and see what people are talking about.
27. Twitter Trends
29. Facebook
30. Instagram
31. Google + 
32. Trending on YouTube today
Question Sites
Websites where people can ask questions are a great way to do some research and find out what people are looking for in your niche. Find out what they want to know and write about it.
33. Quora 
34. Question
35. Yahoo answers
36. Education
37. Question asked in specific niche forums, if you are a mom blogger for example. You can check out a place like cafemom`s answer section.
Online Industry Magazines
38. Find some online magazines in your niche and see what they are writing about, what`s hot and trending? If we take parenting magazines as an example there are a lot to choose from,  Parenting is a great one with tons of ideas.
Magazine
39. Pick up a niche magazine at the store and get some instant ideas. Might actually be a nice change to have a magazine in hand and not just use the electronic devices.
Comment Threads
40. Your own comments –  go through your own comments and see what people ask questions about and comment on.
41. Blog comments on relevant blogs – again go through the comments and see what people are asking.
42. Amazon comments – within the comments on amazon you can find all kinds of different questions. This is a goldmine if you do reviews for example.
Ask Your Visitors
43. If you have a following with a list then send out an e-mail and ask your subscribers what they want from your blog. This can be a great opportunity to connect, listen and give your readers what they want.
FAQs in Your Niche
44. Go to Google and type in "faq + your niche" and see what comes up. When I use the niche "dog food" I get a ton of helpful blog posts filled with questions, that you can take and rework and answer in your own way.
So there we have it 44 Places to Get Unlimited Site Content Ideas – Never Deal with Writers Block Again.
What`s your favorite place to get site content ideas? Please share with us below,
Have a productive week,
Vicky