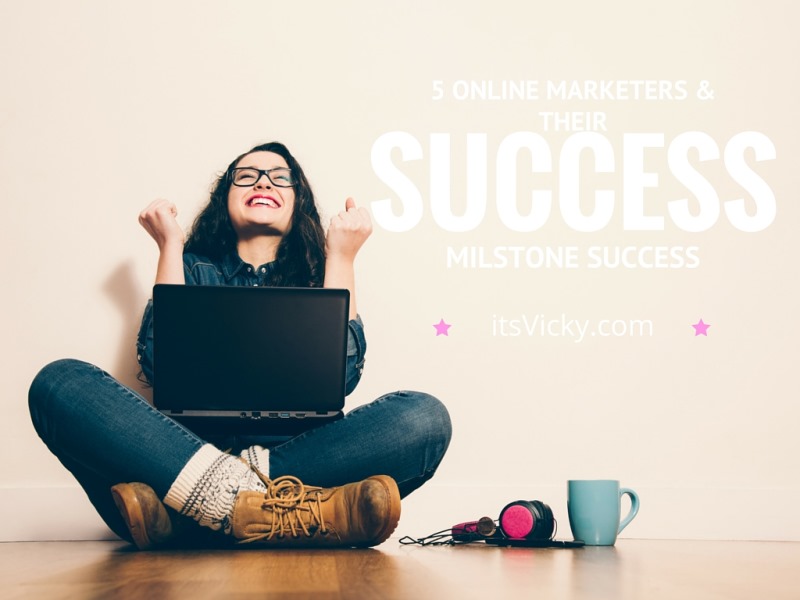 Fridays with Vicky 52
Success to you, might completely differ from how I look at success.
Success are often measured in the $$ amount you make (or what ever currency you receive).
Success can come in so many other shapes and forms though.
Success might be that you completed a certain education, training or class.
It might be that you created a website. It might be that you faced something that you feared. It might be that you help somebody else reach their goals. It might be that you have created a freedom for yourself that you always dreamed of…
The list goes on.
How Do You Define Success?
The most important thing is to know what you want, know how to get there and appreciate the milestones when you reach them. Know how YOU define success.
Success and how we look at it has always fascinated me. I talked to 5 different people that reached a success milestone. I asked them 1 question each to get some insight to how they got there. Below I share their milestone success.
5 Online Marketers and Their Milestone Success…
John Number 1 Amazon Best Selling Author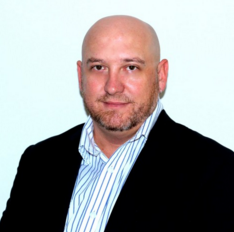 John, proud father of 4 girls, co-authored a book with 19 other writers. He writes one part of the book sharing his personal development after starting his online business.
I asked John; What`s the one thing that you have been consistent with, that has contribute to your success?
For myself personally it has been taking consistent action virtually everyday towards my goals no matter how big or small, and making sure I measure, monitor and adjust accordingly so that I constantly improve.

It is all a big learning curve and if you are not trying to improve you get left behind. Also to remain focused on my goals through all the ups and downs and inevitable distractions,whether it be life, family, friends or other opportunities.

You really need to make your goals a priority so that you DO continue to take the actions required to succeed.
You can read John`s success story here – I`m a #1 Amazon Best Selling Author
---
Natalie Gets Her First Amazon Commission
Natalie shares how she made her first Amazon commission. Since then there has been more sales, but we all start with that first one. It`s not the amount that`s important it`s the confirmation that it works.
I asked Natalie; Can you please describe the feeling, when you saw that first commission in your Amazon account?
I got my first amazon sale on my site after a couple of months, the site is actually less than three months old, but I am now getting more regular sales here and there from amazon and etsy via that site.

I felt fantastic when I first got the amazon sale, I'd had my first sale from Zavvi about a month previously on another site but then there has been nothing and because my site was so young I had stopped looking for sales.

I had just been concentrating on building it up, but all of a sudden the sale came and I think only a couple of days later two more and then around a week later more again, so it's been building up.

When you start getting sales, even when they're for small quantities, it just makes you realize that it's possible. You realize that if you make one sale, surely you can scale it up- all you need is more content and more traffic. So, I continued on with that in mind. It's been a lot of hard work, but I've had an amazing time too.
You can read Natalie`s success story  here – My First Amazon Commission 
---
$0 to $10 K in 3 Years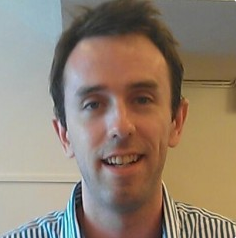 Dom went from 0 to $10K in 3 years. He`s been very successful working online, and is always willing to share. He works in different niches and monetize his sites in different ways. He has also been featured in Entrepreneur.com.
I asked Dom; What`s the one thing that you have been consistent with, that has contribute to your success?
Building relationships. When I started networking with others was when everything started to change.
You can read Dom`s success story here – From 0 to $10K in 3 Years
---
Alex $700 Weekly "Side Project"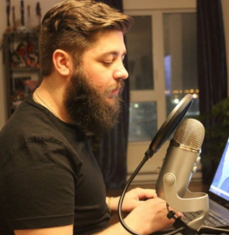 Alex has been doing online marketing for a few years and is very successful with it. He started a little side business selling physical products via Etsy and Amazon. This little side business is bringing in some good extra money for him.
I asked Alex; I know you are doing well with online marketing but what`s a good lesson you have learned dealing with physical products?
The main lesson that I learned with physical products is that it takes money. We can start an online business with virtually no investment but we can't have physical products manufactured without an investment. To that we would need to add shipping fees, customs fees, packaging fees and whole bunch of other expenses that add up.

I also made a mistake of not "predicting" the holiday season sales. We sold out on December 10th or 11th (while having our highest sales numbers), so we're missing out on the 10 days before Christmas – where loads of sales would come in.

BECAUSE it is the holiday season our manufacturer is overwhelmed with orders and simply can't make out product in time. Usually it would take 1 week for the product to be manufactured, shipped to Canada, inspected by us and be shipped to Amazon in the USA. At this moment our order wait time is 3 weeks, which means we'll receive it just after Christmas.

This would probably never happen to your online business. Can't sell out of affiliate offers, training, etc.

I won't make that mistake again but the damage is done costing us thousands of dollars in profit on those missed sales.
You can read Alex`s success story here – $700 Weekly Side Project
---
Jess Accomplished Training, 30 Days In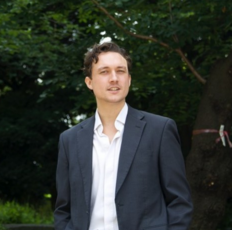 Getting the right training and education when starting an online business or website is crucial.  A success milestone can be when we learn and implement.
Jess, signed up for a training program and share his experience after 30 days. He is already seeing results and seeing his website rank in Google.
I asked Jess; What`s the most important thing you have learned during these first 30 days?
Interestingly enough, the most useful thing I've learned is that generating traffic from low-competition keywords adds up.

It's better to appear on page one of search engines for a word that is searched 20 times per month, as opposed to appearing on page 50 for a word that is searched 1,000 times per month.
You can read Jess`s success story here –  One Month Update.
---
What Does These Online Marketers Have in Common?
They are willing to learn
They take action
They get things done
They don`t quit when things get tough
Determination
There`s one more thing…
They are all part of an online community where they can get training, help, support and encouragement. A community filled with like minded individuals that want to succeed online. You can check out the community here.
If you want to share a milestone success, feel free to do so below in the comment section!
Have a productive day,
Vicky