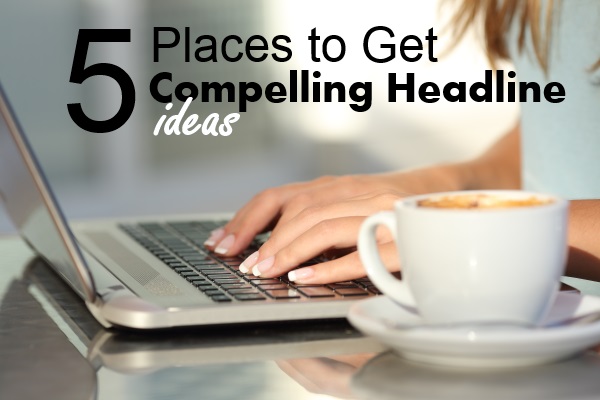 Fridays with Vicky 26
There are many places where you can get headline ideas and inspiration for your blog post or article.
What we are looking for is a headline that stick out from the crowd and get people interested.
The Number 1 Purpose of a Headline
The number one reason for a catchy compelling headline is for people to read the full article. If it`s online we want people to click the headline and read the full blog post or page.
In this article we will talk about 5 places to get headline ideas and inspiration. These are places both online and offline.
All these suggestions that we talk about below is not for you to steel, but rather to get ideas and get your creative side going. From the examples below create something unique and original that can be used for your own site.
5 Places to Get Compelling Headline Ideas
1. Online
There are many great places online where you can find ideas for catchy headlines. Here are a few of them.
When I open up the site there are many eye catching headlines. The first one is a question, " Are you using the right weight…?" This could easily be used as "Are you using the right keyword tool for your keyword research" for example.
Another headline is "17 of the easiest ways to get rid of…" this gave me the idea of "10 of the easiest ways to get a Facebook like"
"6 insanely fit guys reveals one thing…" this could be "5 Insanely Successful Marketers Reveals One Thing They Do Each Day"
Entrepreneur is filled with great content and eye catching headlines. This is a site that I personally visit for inspiration a few times a week.
Again don`t copy and paste from the site but get ideas and turn them into your own.
Here are a couple of examples:
3 Ways to improve conversions on your website. Idea for my site – 5 ways to improve website conversions.
7 simple ways to start your dream business today. Idea for my site – 5 simple ways to start the website you always dream of.
9 things successful people won`t do – Idea for my own site – 5 things successful people do daily.
This is a gold mine for headline and article inspiration and ideas.
2. Magazines
Magazines have great catchy headlines. Pick up a magazine in the store, go through it and I`m sure you can get tons of ideas. You can also go to your local library and sit down in the magazin section and go through some of them. Make sure you bring pen and paper and write down your new ideas.
I get the people style watch magazine and just by looking through it, I came up with the following headlines that I can potentially use for this site:
10 new social media sites to be aware of.
The best marketing advice my dad ever gave me.
Top 5 must have marketing tools.
3 Things to Not Miss in the Affiliate Marketing World 2015.
And I only got to page 27.
3. Socialmedia
To stick out in the social media world you will have to have a catchy headline. We are flooded with information so to stick out, it has to be good. This can also give you some great ideas. Look for social media content that is popular with lots of likes and comments.
A few places to look:
That brings us to the next category, to get inspiration and ideas for compelling and catchy headlines.
4. Advertisements
Companies pay big money for ad spaces. It might be a TV ad, a printed ad or an online ad. What they all have in common is that they only have a split second to catch the interest of a potential visitor/customer. They spend tons of money figuring out what works and what doesn`t as far as conversions and driving traffic to their offer.
If you see an advertisement, no matter what form it comes in, over and over again it is most likely profitable. What do they use as an attention grabber?
Check out some advertisements, it can be TV, YouTube, printed, radio… I`m sure it can give you some great headline ideas for your own site.
5. News Paper
Pick up a newspaper or check out the online news. There`s ton of inspiration created on a daily basis. We have news coming from so many different directions; they have to be experts in catching our attention and to deliver on the headline promise.
Here are some online news networks to check out:
That was 5 places to get inspiration and ideas for catchy headlines. Where do you go for inspiration and ideas? I would love to hear from you please leave a comment below.
If you missed last week`s article, you can check it out here:  5 Easy Ways to Write a Catchy Headline
Have a productive day and a great week!
See you next Friday,
Vicky