Fridays with Vicky 25
There are many ways to write catchy compelling headlines for your blog post or article.
With the online competition today, it has never been more important to have a headline that sticks out and grab potential visitors attention.
There`s 1 reason to write catchy attention grabbing headlines…
We want potential visitors to see the headline and click it to read the full article.
This can be in Google, for example, we rank a post in the organic listing. The purpose of a catchy headline is to get people to click the link and read our content.
The Number 1 purpose of a headline is…
to get people to read the full article.
5 Easy Ways to Write a Catchy Headline
What types of headlines will stick out and catch your attention?
1. Numbers / Lists
Example: 7 Ways to Make Money Online
To use numbers is both popular and effective.
5 Ways to…
3 Things…
7 Tips…
Using numbers sticks out and grabs attention. Combine the numbers with a list and you got a winner. They are easy to read and get an overview of. A lot of people skim read, using numbers and lists help them jump in where they see something interesting.
2. Adjectives
Example: 5 Satisfying Rewards to Give Yourself When Reach a Set Goal
Use adjectives to make a headline interesting in this case I used the word satisfying to empathize the headline.
Other adjectives to use could be thankful, brave, mysterious, scary, proven, weird, important, stunning…
Using an adjective that adds something to the headline, can catch the attention of potential visitors.
3. "How to"
Example: How to Make Money with Amazon
How to articles are highly popular as well. It`s a great way to start a headline if you are explaining and teaching something in your content. In my example above, I talk about "how to make money with Amazon" and in the article, I explain how to do just that.
Other "how to" examples could be:
How to get…
How to loose…
How to fix…
How to build…
Make sure you deliver on your "how to" within the content.
4. Questions and Curiosity
Example: Makeup Eraser, Is This MLM for You?
Ask a question in your headline. By asking questions people will get curious and want to know the answer. That`s another good way to do a compelling headline. Create curiosity around the headline.
Do you know…?
Have you tried…?
For a while there the word "secret" was found in almost every headline. 5 "secret" ways of… To me, it`s important to deliver what the headline promise, so if you don`t have any secrets don`t use that word just to create curiosity. Your readers will see right through that.
5. Use Trigger Words
Example: What NOT to do When Promoting Amazon Products
Words like how, what, why or when can be used as trigger words.
We talked about "how to" but you can also use other trigger words:
What famous people do to…
Why you should use keywords…
When happy people…
These are a few examples of trigger words that also can be used to draw attention to your headline.
That was 5 different ways to write a catchy, attention grabbing headline. Let`s recap:

1. Use numbers and lists.
2. Use adjectives like scary and important.
3. Use "How to"
4. Use questions like "Do you…"
5. Use trigger words like what, why and when.
In this article, I used the headline " 5 Easy Ways to Write a Catchy Headline". I combined the number and adjective ways. Using the word "catchy" also grabs attention.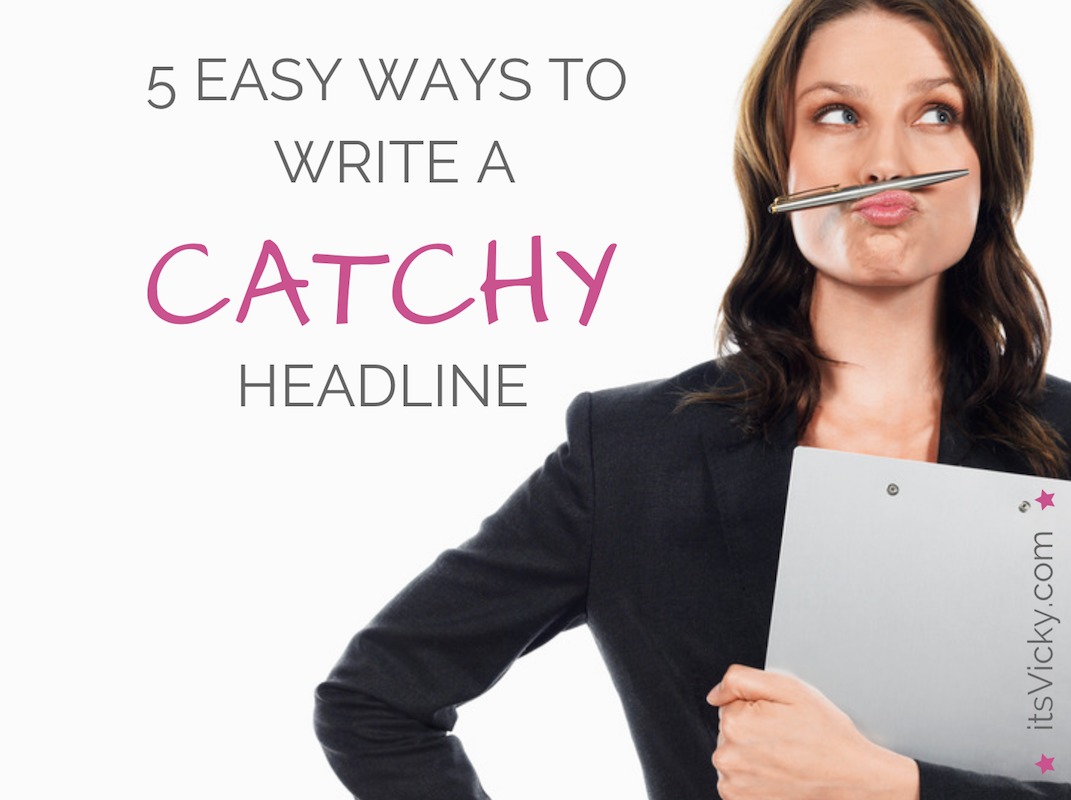 What`s your tips and tricks when it comes to writing catchy compelling headlines? I would love to hear from you in the comment section below.
Do you need help with website content? Do you need someone to discuss ideas with?
Check out this community it`s full of content creating online marketers.
Now when you know what type of headlines to use, where do you get ideas and inspiration? In next week`s Friday`s with Vicky we will talk about that: 5 Places to Get Compelling Headline Ideas
Have a productive day and a great week!
See you next Friday,
Vicky