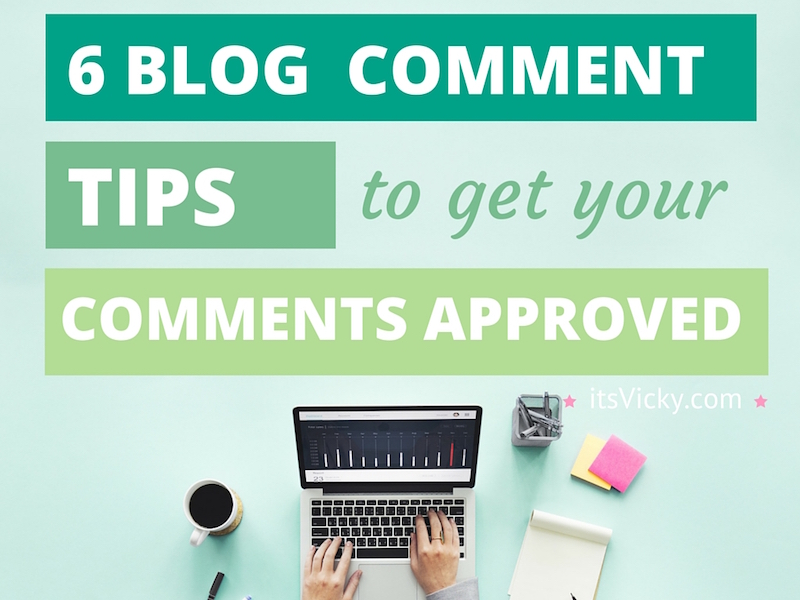 Fridays with Vicky 86
Are you running into the problem that your comments are not getting approved?
There are many different types of comments delivered and most of them I approve, BUT…
There are three types of comments that I usually do NOT approve.
1. Spam
As site owners, we all get the annoying spam comments. I can not understand why people are still using this method trying to get comments approved.
Comments like the following fill my spam inbox daily on this site:

Waste of time for both me and the spammer. It will never be approved on my site and probably not on yours either, am I right?
How to spot a spam comment?
It includes multiple links (not always, spammers has become more sophisticated)
The comment is totally unrelated to the post
The only purpose of the comment is to get a link back to their site
The submitted url looks very funky
If your "name" is seo or jasa backlink Indonesia (lol just got a comment with this author name)
2. Pingback
Pingbacks (links posting to your site that shows up in the comment section) I guess it doesn't really matter if you accept these or not. I just choose not to, unless they really add something to the conversation.
3. Poor Comments
If you are leaving comments to engage, then leaving a good comment will be important to get it approved. Leaving a comment just to get a link back to your site is not a good idea.
These are the comments we all want to approve but in some cases might not. Here are a few tips to make sure that you leave a quality comment that will get approved.
6 Blog Commenting Tips to Get Your Comments Approved
1. Read the Post
This might seem obvious but many leave comments without even reading the post. Read the post or page and comment on something relevant. Something you agree with or disagree with for example.
2. Be a Real Person
Be personal and real, talk about yourself, your kids, family, pets… whatever is appropriate and relate to the content.
3. Ask a Question
If there is something that is unclear ask a question. You can also ask for personal advice. This is what I need… should I go with option A or B? Ask questions that will help the conversation.
4. Add Value to the Conversation
Stick to the topic, don't talk about unrelated stuff that has nothing to do with the content or conversation. If you have experience in the field, share it. Make sure you add something to the conversation.
5. Don't Spam with Links
Very seldom do you need to add a url in the comment section. Sure ones in a while it might be necessary to explain something but if not save it for the site url section. If you leave a good quality comment, the site owner will leave your url as as if added to the url section where it should be.
6. Join and Engage with a Community
If you have a real hard time getting comments approved, join a community to get feedback on your comments. A community that can help you improve.
I've been a part of a community for the last 8+ years that has a special section for comments. It's the give and take comment thread. This is a great place to get real comments from real site owners.
The rules are simple, you leave a few comments and get a few comments in return. Make sure your comments are good quality comments though.
If you are looking to get more comments on your own site, read:
7 Proven Ways to Get More Comments on Your Blog
Thank you for reading this post, 6 Blog Commenting Tips to Get Your Comments Approved.
What's your take on comments? Do you approve them all or are you picky? What makes you put the comment in the trash bin? Feel free to share below in the comment section.
Have a productive day,
Vicky