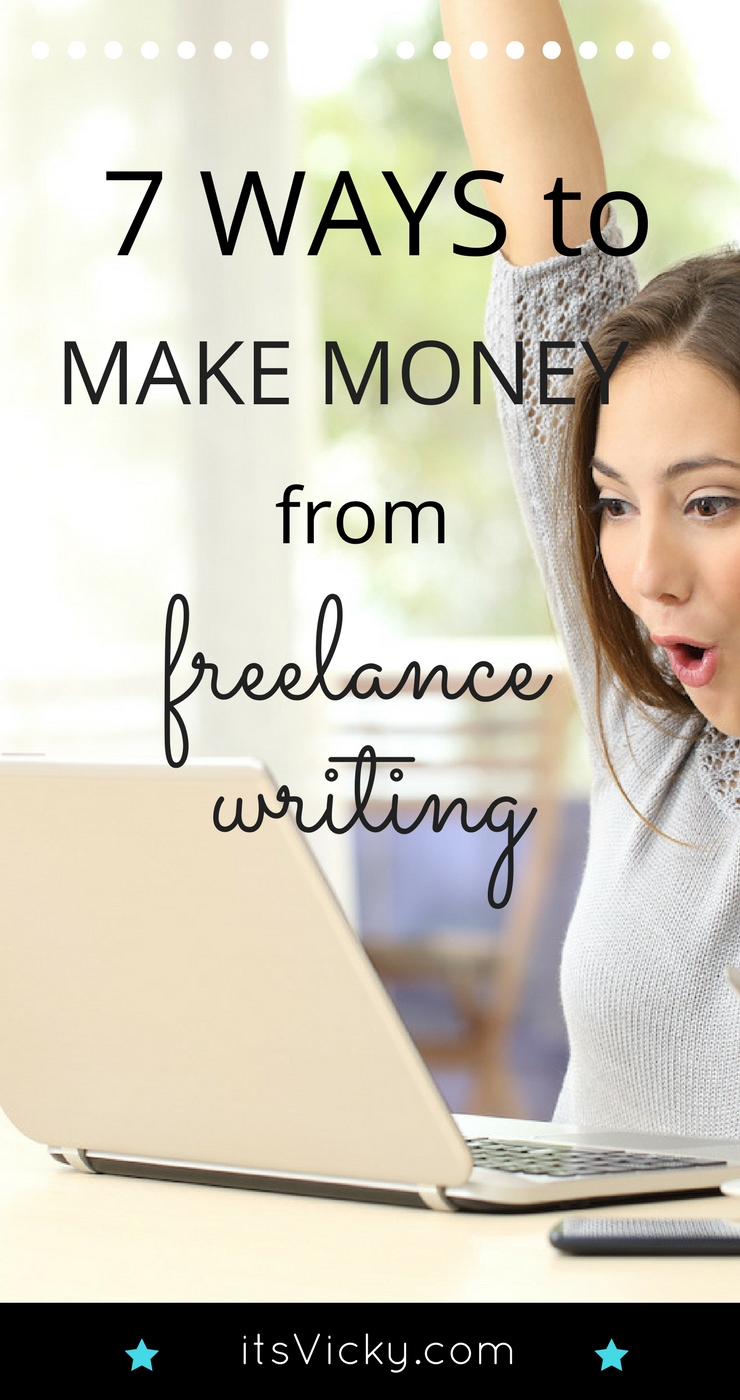 Fridays with Vicky 102
I get a lot of questions about freelance writing. Both how to outsource but also how to make money from freelance writing. Since I'm not an expert in this field, I asked Daniel, one of my freelance writers to help me out.
This is Daniels…
7 Ways to Make Money from Freelance Writing
Do you like writing?  Do you like to make money for writing?  Great!  Let's explore a few opportunities that you can make money from your writings.  Note:  Each opportunity below is briefly expounded on, but if you type each phrase below with the term "Get Paid" preceding it, you will get several leads about that topic. (Example: 'Get paid ghost writing', 'Get paid blogging', 'Get paid researching', etc.)
1.   Ghost Writer (Writing for someone else)
Basically, ghost writing is writing material for someone else, usually another author, who is credited for the final product.  You can ghost write for just about any type of project.  Articles, posts, books, ebooks, and speeches are all ghost-writable… (if that's an actual term).  The thing to realize and remember is that the end product will be someone else's –so, don't get too attached.  What you wrote and presented could be changed drastically or entirely!
Your job is to get the client a great product that they can work with.  Often there might be a due date or article and post length in place as guidelines for the final product.  Notice that I keep calling the written item a "product"?  That's because it is.  Always remember that.
2.  Blogger/Guest Blogger
A blogger is usually a writer of a web log or blog.  Blog is a derivative/truncation of web log.  Usually bloggers either maintain their own blog or may be called upon to manage a blog for someone else.  Similar to people who submit or contribute articles to newspapers, guest bloggers write articles or posts for other bloggers.
You can usually write about anything; but often, if the blog has a niche or theme, they want you to submit something related to that niche.  If you own your own blog, you might not make money directly for your writing.  But, you can make money indirectly through people sponsoring your blog, affiliate programs and advertisers… if you can get them.
Another idea is to create a blogger-pool of sorts.  If you can convince other bloggers to team up with you and share a percentage of revenue for placing their advertisers on everyone in the pool's sites, it could be a win-win situation for all.
3.  Speech Writer
If you have the ability to move crowds and sway opinions with your words, then speech writing is definitely something you should consider.  You will harness the power of pen and thought …and pass it on to those in need.
Often, in this arena you have to cultivate a relationship with the person you will be writing for—listening to the way they speak and watching their mannerisms.  This usually helps in crafting to speech to the speaker.  You might not always have that luxury of spending time with the speaker, but you can certainly communicate with them enough to get a since of their style.
4.  Joke Writer
Did you know you could make money from writing jokes?  If you didn't, it's on you! … get it?  (The joke is on you?)  ANYWAY… There is a market for people who can write funny material.  When I typed "get paid as a joke writer" in the search bar, a lot of results came up… over 122,000,000!  (Some redundancy I'm sure).  The point is people want to laugh.
The Writer's Digest had an interesting article that gives information about breaking into comedy writing. The conversation I thought was insightful and can help anyone wanting to move into this arena.
5.  Researcher
If you sometimes get writer's block, here's something that can give you the needed break from creativity.  Writing as a researcher requires you to look for stuff that's already there.  Then you craft your words around the information that you've found.
6.  eBook Writer/Publisher
If you really like writing and one to get published, you might consider writing eBooks.  You can publish yourself and others!  Some eBooks are also relatively short.  This article could actually be an eBook.
Now-a-days they are normally pdf (portable document format) files written and saved in a certain way to make it easy to be read on devices like cell phones and tablets.  You can also save them in formats to be sold through Amazon and can be read on a Kindle or Nook.  It's a great way to just break into publishing and being an author.
Great writing is great writing—regardless of who publishes it.  So if you can do it yourself and bypass all the hype from sending it to "your publisher" who might not get back to you for months on end—then go for it.  You can still possibly be picked up by a larger publishing company, but in the meantime do your own thing.   I caution against overstating your status though—until you really do get on a best seller's list somewhere.
7.  Commercial/Ad Writer 
When I typed in the search term, "get paid writing commercials and ads", there were results for everything from writing advertising jingles to writing radio commercials.  This is a great arena for people who like to write catchy stuff for products. Writing slogans and  jingles can be a fun way to make money from freelance writing.
If you can write but don't have a musical bone in your body, you might want to find a sub market to write for or team up with a musical genius to get your products out.
Other opportunities like technical writing, transcribing and writing training materials also exist.  You just have to search for them.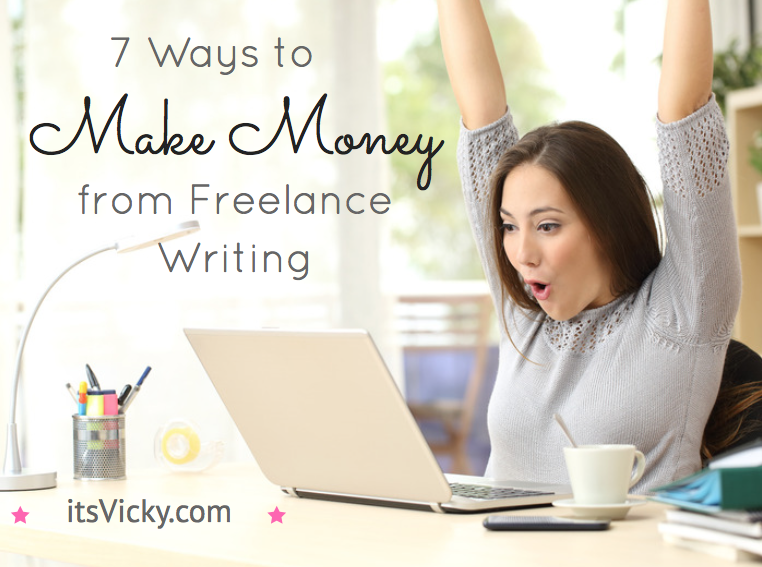 Final Thoughts
There are a lot of things to write about.  Until this article, even I didn't realize how many.  There's surely a niche and opportunity for anyone wanting to start in a writing career.  It may take a little time to find your niche—which actually might be a combination of several opportunities we covered in this post.
Personally, I think this is worthwhile. People have a lot to say.  If you can find a way to make money saying it—Kudos to you!  This could be that 2nd job or part-time job or full time job some people need to fulfill their careers or help them start something new in their senior years.  And, they create it themselves.
Thank you Daniel for your 7 Ways to Make Money from Freelance Writing, a lot of great opportunities if you enjoy writing!
If you feel that we missed a good way to make money from freelance writing, feel free to share with us below!
Have a productive day,
Vicky