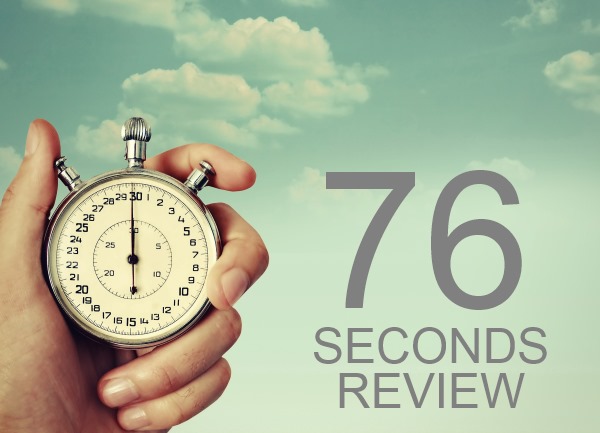 Ok, I got my timer set for 76 seconds let`s see what we get with the introduction video…
But first, there are 3 claims on the 76 seconds sale's page;
Give them 76 seconds and they will prove that you can make $2566.41 every single day.
They will pay you $100 if you don`t MAKE $100 within your first hour.
It`s 100% free.
Let`s start the video and the timer, go.
Bobby B on video again promise to pay you $100 if you don`t make $100 in your first hour. He also claims in the video that it`s 100% free and to put your wallet away. That sounds good.
Then he moves on to talk about how he makes money every day, and then we get the "official" picture of a fancy car… we are getting closer to 76 seconds…
Times Up
We got… NOTHING in 76 seconds.
So is 76 seconds another scam?
I dig deeper… will it be a keeper or another money making program for the sweeper?
76 Seconds Review 2016
Program: 76 Seconds
Created by: Bobby B
Price: Free but not really because you have to pay for hosting, $29 / month.
What`s Happening After the 76 Seconds?
So the first statement from the sales page is:
"Give me just 76 Seconds and I will absolutely prove to you that you can make $2566.41 every single day just like I do"
Claim 1 – FALSE Bobby B proves NOTHING.
Oh now Bobby B says that the timer doesn`t start until we leave our name and address.
Ahh, that makes sense… right…
Video 2 – I get to the second video and the clock starts to count down. It tells me to confirm my email.
Video 3 – I get to the third video the time on the clock says 6.03. He starts telling me how I got to the video…mmm yes I know. He starts talking about viral marketing and social media.
The 76 seconds is long gone.
Bobby B now starts talking about his killer system that you can get for free. It`s an affiliate marketing system. Every time you get paid he gets paid, that`s why he can do it for free Bobby B says.
The Catch
There`s the catch. Bobby B claims – there`s nothing he can do about it… but you need your own website with domain and hosting. Well actually Bobby B could give away the program without the "hosting catch" or he could sell the program for a small amount.
IF the program itself had value, he would not have to hide behind the hosting.
This will cost you $29 Bobby says. He also says that he will add "the system".
So claim 3 – it`s 100% free and to put away your wallet is FALSE.
Then there is a button saying Click Here to Get Started for $1.
Now I`m taken to Click Drive Hosting and are required to pay $1.
This is a little confusing I must say, do I pay $29 like Bobby said or $1?
The fine print clear that up, It`s $1 for a 3-day trial, then I will be billed $29.95.
It says nothing about recurring billing, so I wonder how often I have to pay $29?
I go and research click drive hosting and there it is;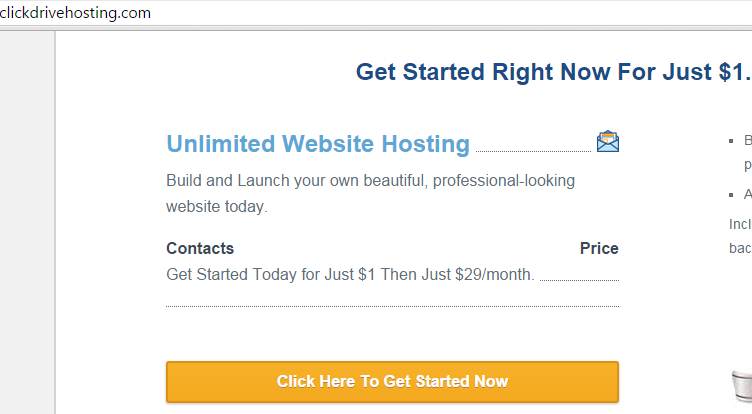 $29 monthly.
So this is a way for Bobby to make money as an affiliate, promoting a hosting company. Giving away a free program that you still have no clue what it includes at this point.
Why I Have a Problem With 76 Seconds
False Claims – it`s obvious that you get nothing within 76 seconds. It`s not free. You can`t go get the program for free if you already have a website.
Price – $29 for a domain and hosting when you start out is a lot. That`s $348 for your first year. I don`t care how good the hosting is, when you start out, it`s a lot. To be fair I have not used Click Drive Hosting. No matter how good your hosting is, it`s not worth that kind of money starting out.
You can get a domain and hosting over at BlueHost from $3.95 / month if you sign up for 36 months. If we compare apples to apples and you sign up for a year then the monthly cost is $5.95 / month, that`s a total of $71.4.
Click Drive Hosting 1 year $348
BlueHost 1 year $71.4
You can read more about BlueHost here.
If you want free affiliate marketing training you can get that here.
What About the $100
Bobby B will not just send you 100 dollars. He says it will be added to your commission account. Doesn`t say in what shape or form though. My guess is that this will be in the form of a credit of some kind, or a payout when you have made a certain amount…
Keeper or Sweeper
Like Bobby suggested; put your wallet away. I would not spend a dime on that hosting company and money making program.
There are 3 initial claims and we have proven 2 to be false. The 3rd one, well if you know in what form or shape the $100 are delivered I would love to know, feel free to share in the comment section.
It`s still unclear how Bobby`s free money making program will work, and what it even is. He talks about affiliate marketing and this is for sure a good way to make money online. I just don`t think that the 76 seconds program is the way to go. If it`s a good program why hide it behind the hosting?
To me, 76 seconds is a program for the sweeper.
Can You Make Money Online Within 76 Seconds?
No, quick fixes will not pay off and you will most likely run into more of these "get rich quick schemes".
If you truly want to start making money online, it can be done. But there are a few things you need to be aware of.
It will take time to build an online business
You need to have realistic expectations
There are legit ways to get proper training and support
How Do You Know If a "Money Making Program" Is Legit?
Here are 2 things to look for:
On their sales page, they actually tell you what the program is about. If it teaches affiliate marketing they will tell you on the sales page.
FREE sign up. They will let you in to see what the program is all about, for free. If it`s legit they have nothing to hide. They will let you in and let you make an informed decision if the program is for you or not.
Check out my #1 legit place to learn affiliate marketing, right here. Yes, you can get in for free.
So what do you think of this 76 Second review? Have you tried it? Would love to hear your thoughts on it.