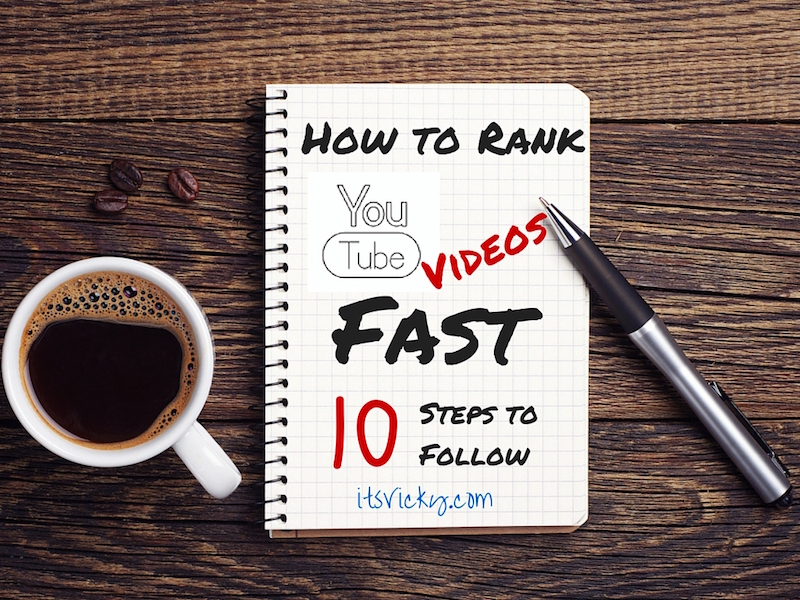 Fridays with Vicky 67
Video is a great way to connect with your audience. Expressions, emotions, and feelings can be hard to communicate through the written word but can easily be expressed via video.
Another great thing is that video can be ranked fast within Google and other search engines.
A site like YouTube, with over 30 million visitors a day, has great ranking power and that's something to take advantage of.
In this post, we will be talking about, how to rank YouTube videos fast.
There are two main areas to work with when it comes to YouTube:
Your Individual Videos
Your YouTube Channel
In this post, we will focus on the individual video. Know though that if you work actively with your YouTube channel as well, it will help to rank your videos. An active YouTube channel will increase your rank power for your videos.
By creating video and submitting it to YouTube, we want to accomplish three things:
Rank the video in YouTube.
Rank the video in Google.
Pass on some link juice to your own blog or website, from YouTube.
Let's dive in and go through the process I use to rank my YouTube videos fast.
How to Rank YouTube Videos Fast – 10 Steps to Follow
Before Creating the Video
1. Decide on what kind of video you want to create?
There are many different kinds of videos that you can create. The first thing you need to do is decide on what kind of video you want. Do you want a screencast, a personal live on camera or maybe a how-to video? There are a ton of different versions you can use decide on which one you want to do.
Read more: 12 Different Kinds of Online Marketing Videos
In this case, I will be doing a screencast video for a review that I do on one of my niche sites.
The video will be created around the same topic, with me going through my experience using the product some pros and cons and some other information. The video will be pointing to the written review on my site.
2. Keyword Research
Just like you do keyword research for your written content, you want to do keyword research for your videos. You want to make sure the keyword has some decent traffic, and that it's not too competitive.
I use Jaaxy for my keyword research. The reason I like Jaaxy is that it's very easy to use. It gives me a quick overview of possible keywords to use within seconds. The traffic and competition numbers are displayed so I can make a quick decision to proceed or not, with a certain keyword.
In this case, we will be working with two keywords
Keyword A 

Keyword B 
The Avg. number is the average searches monthly for a keyword. The traffic number is the potential traffic for a number 1 Google ranking. The QSR is the number of competing websites. The KQI will indicate if it's a "go" or a "no" keyword, as far as ranking potential. Green means that it's a keyword that should be considered ranking for. The SEO number is a combined score for traffic and competition. Good numbers delivered by Jaaxy.
When you have found some good keywords you want to make sure that Google rank videos high for them. If there is a video on page 1 already, there is a bigger chance for you to rank with that video and hopefully even take their ranking position.
Review videos and how to videos are often ranked on the first page of Google already.
After check both numbers and Google rankings for current videos, both Keyword A and B are good to go. We will use these two for my screencast video.
Read more: Keyword Research Explained
3. Outline a Script
Having a script to go after, helps you include everything your want to say in the video. It will also help you stay focused and keep you on topic. Using a script you can also include the keywords in a natural way.
If you want word by word what needs to be said or if you just need bullet points, that's up to you. Find a way that helps you create the best possible video for you.
Recording the Video
4. Software to Use for Recording
In this case, I used the QuickTime player on my iMac to do my main screencast video. Works great if you use an Apple product. Depending on what kind of video you are making you can use, screencast software like Jing or Screen-cast-omatic.  You can also use the camera on your computer, phone or another handheld device if you are recording yourself or a product.
If you do a screencast, I recommend getting an extra microphone. To get a better sound I use a Blue Microphone. It really does make a big difference for audio.
5. Tips for Recording 
When recording the video follow the script or your bullet points. This will help you stay on track and keep the video focused.
Speak clearly. It will help with the automated CC that's submitted to YouTube. This is one of the things that Google and other search engines use to rank the video.
Be personal, show some of your personality. People like being entertained, make the video fun.
Have fun with it!
Editing
6.  Editing the video
There are different editing programs to use if you want to edit the video. If you are happy with the result after the recording you just upload it to YouTube.
For this video, I used the iMovie editing program for Mac. I added in some movie clips of the product, some pictures, and some music. I did some zooming in and zooming out and some other annotations. I was happy with the result and the video was done.
If you use Jing or Screen-casto-matic, you can edit the video directly in those programs.
If you are new to editing, search the editing program on YouTube and there will be videos outlining how to use the program to edit your video.
When editing is done, and you are happy with the result, it's time to upload the video to YouTube. There are plenty of other movie places to upload to but for now, we will stick with YouTube.
Submitting the Video to YouTube
7. Upload the video to YouTube
Click the upload button signed into YouTube or drag and drop the video in place.
It will take some time for it to upload depending on the size of the video when it's done you will have to confirm that you want it displayed publicly.
When the movie is uploaded it's time to fill in the basic information.
8. Basic Information
Under info and settings, you fill out the following.
Title – with keywords
Description – I try to aim for at least 300 – 400 words for the description. This is another thing the search engines look at for ranking purpose and I want to give them some content to rank. Keywords in title, first and last sentence. I also add a link back to the website in the description area.
Keyword box – add the keywords in the keyword section.
9. Annotations
This is where you can link out to your own website, from the video. Depending on the length of the video, I make sure I have at least a couple of links pointing back to my website from the video.
To be able to do this, you will need to have external annotations available. To be eligible you need to have your account verified and in good standing.
To activate the external annotations, go to YouTube settings.
You can find the settings up in the right-hand corner.
Go to – Overview and then – View additional features.
 Make sure external annotations is clicked and has a green status button.

When you go to annotations under video manager for each individual video, a banner will show where you have to accept the terms and conditions before you can start using the external annotations.
I like using the "note" annotation. Fill in what you want the link to say, when you want it displayed and where you want it to link to.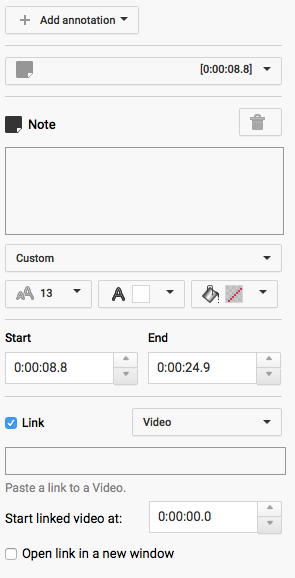 Fill out the form and the link and you will be able to link back to your site.
If you are having issues, with annotations, watch this video that explains it in detail.
10. Subtitles and CC
This is where I double check so that my content is spelled correctly and that it flows. If not I will correct it and make sure it makes sense to the reader using the subtitle service. This is also one of the places that Google use for ranking purpose so I want to make sure my keywords are spelled correctly.

After The Video Is Submitted
For YouTube to determine the quality of your video, it all comes down to engagement from the viewers. Now when your video is up and running how your viewers interact and engage with the video will determine the way YouTube look at your video.
They look at the following…
Retention – how much of the video the view watch.
Comments
Social Sharing
Subscriptions
Thumbs up/ Thumbs down
The more engagement, the better rankings. Now when the video is up, share it link to it and engage with it and try to get your viewers to do the same.
How to Rank YouTube Videos Fast – The Result
 After I did all the above, how was the outcome?
After submitting the video, it took less than 30 minutes to get the video ranked in both YouTube and Google.
Less than 30 minutes… that's fast. That's the kind of ranking power that YouTube has!
YouTube – #1 spot for keyword A. #4 for keyword B
Google – Page 2 #16 for both keyword A and B, the best result for video, using these two keywords.
It's not uncommon for the video to do a little Google dance before it settles on a ranking position. 
I have not found a quicker way to rank in Google for free, than using YouTube videos, have you?
I would love to hear your thoughts on this, feel free to leave a comment below with your own video experiences related to ranking YouTube videos fast.
Have a productive day,
Vicky