Fridays with Vicky 111
In this often male-dominated industry of online marketing, I thought I would give a shout out to 9 awesome women who are crushing it online.
They are making thousands and thousands of dollars each and every month with affiliate marketing.
Nothing against you guys you are doing a great job but this time it's the ladies turn to shine 🙂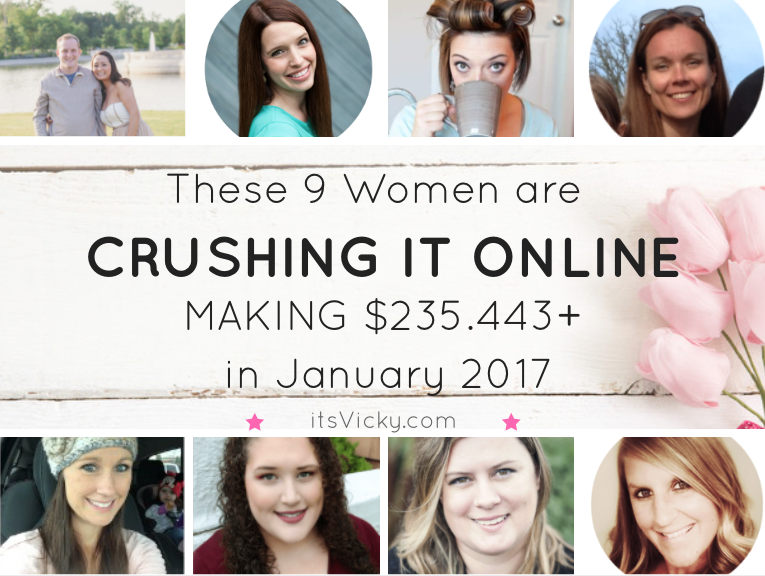 Making Sense of Cents – $139.233.11
Income $139.233.11
Expenses $8064.11
Net Income $131.169 before taxes
Michelle is crushing it online with her blog Making Sense of Cents where she shares financial tips and blogging advice. In January she made over 130K, yup in one month. A big chunk of that comes from affiliate marketing. She also makes money from her own programs, sponsorships, and advertising.
After her husband persuaded her to live in an RV, she now enjoys full-time traveling and 70-degree weather at all times. She still put her time into her blog, around 40-60 hours weekly.
I wonder if she thought this was possible when she started back in 2011 with the blog.
Michelle, did you ever dream of making over a $100K monthly when you first started out?
Abby from Just a Girl and Her Blog – $34.662
Disclosure: So I got a little too excited, didn't read that this report is from January 2016, sorry about that. Abby doesn't post income reports anymore but her latest one from December 2016 she made $41.700, so she actually up her game… 🙂
Income $34.662
Expenses $5.120
Net Income $29.542 before taxes
Abby is blogging at Just a Girl and Her blog. She blogs about organizing, decorating and blogging. Creatively she shares super helpful tips and ideas and I must say I really enjoy her organizing tips.
She is making her money from her own products, affiliate marketing, and ad revenue.
How about sharing some organizing tips about blogging Abby?
Suzi from Rosevibe – $13.362.07
Gross Income $13.362.07
Expenses $19.95
Net Income $13.342.12 before taxes
Suzi, runs her own beauty blog, sharing her online journey at Rosevibe. She is making most her money from affiliate marketing. Amazon associate income stands for a good portion of the total January income, almost half of it. What surprised me was her low expenses, hosting and email is pretty much what she spent money on last month.
Super impressive is that she had 774,000 pages views! Wow!
Suzi, what's your trick to getting all that traffic?
Kristin from Believe in a Budget – $26.288
Gross Income $26.288 
Expenses $5.525
Net Income $20.763 before taxes
Kristin from Belive in a Budget has her best month yet with the majority of the income coming from her own courses and products. Her Pinterest products are crushing it. She also makes great money with affiliate marketing. She paid for a Facebook ad that really turned out to pay off…
Kristin, what's your #1 tip when it comes to Pinterest?
Tara Tierney – $5.764.10
Gross Income $5.764.10 
Expenses $251.30
Net Income $5.512.80 before taxes
Tara runs a couple of different sites earning affiliate income mainly from Uber and Herbalife. She shares her online journey, as an introverted created entrepreneur, and income report at her blog tartierney.com.
She likes unicorns and whipped cream 🙂
Tara, what's your best blogging tip?
Randa from The Bewitchin' Kitchen- $5.362.89
Gross Income $5.362.89 
Expenses $1.307.31
Net Income $4.055.58 before taxes
Randa shares recipes travel tips and other fun things on her blog, The Bewitchin' Kitchen. The majority of her income in January came from sponsored posts and ads but she also made some affiliate income.
Enjoy your new phone 🙂
Randa, could you please share some tips on how to get sponsored ads?
Miranda Nahmias – $6.210.80
Gross Income $6.210.80  
Expenses $3.798.05
Net Income $2.412.75 before taxes
Miranda, a client acquisition and systems specialist, share her tips and ideas around hiring a virtual assistant, at her site mirandanahmias.com . She earns her income from client work mainly but also from affiliate marketing and advertising.
Miranda, please share some VA tips with us.
Vicky from itsVicky.com – $2.389.73
Gross Income $2.389.73
Expenses $125.5
Net Income $2.264.23
Oh and there's me lol. Although I don't display ALL my online income, I do want to add my amazon case study to the list. This is where I share traffic, income and other stats from one of my sites.
Sarah from the Frugal Millionaire –  $ 2.170.23
Gross Income $ 2.170.23 
Expenses $N/A
Net Income $N/A
Sarah blogs about finances at the Frugal Millionaire, she is making most her money from affiliate sales, but she also makes money from advertising and her own product.
Sarah, what's your tip for making more money with blogging in 2017?
That's an impressive list of women, crushing it online making a total of $235.443 in January 2017 with mostly affiliate marketing, advertising, and their own products.
If you do an income report feel free to share it below in the comment section. I also want to hear what your thoughts are on these fabulous women.
Have a productive day,
Vicky