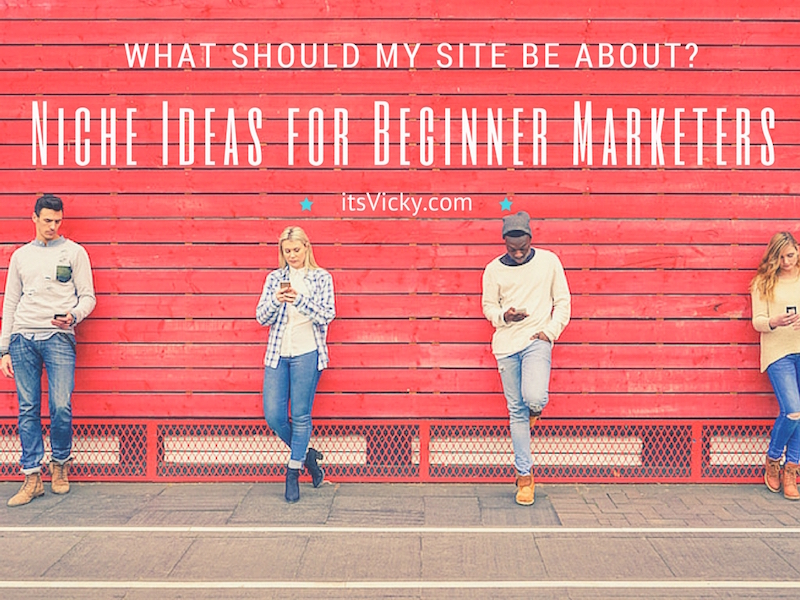 Fridays with Vicky 81
Starting out with online marketing or affiliate marketing is very exciting, but when you first start out you might get stuck on the very first step…
Finding a good topic for your website or blog.
In the online world this is also called a niche. A niche is simply the topic of your website or blog.
I run into people all the time saying…
I would love to blog or set up a website but what should my website be about?
That's exactly what we will address in this post. How to come up with your own niche ideas but also suggestions of different niche ideas for beginner bloggers or marketers.
I've been doing online marketing for the last 8 years and I've tried many different options when it comes to niches.
I have created websites because…
The payout and commission for a specific product was high.
The CPA, the AdSense clicks were high.
I could get a free product.
The buying keywords were easy to rank for.
Do you see the common thread here… I was driven by the money for the longest time…
Did it work?
To a certain degree Yes.
BUT, the main problem was that I always lost interest.
I lost interest and I didn't feel that I did online marketing for the right reasons. It wasn't until a few years ago that I really started to focus on my own interests and not pick my niches after the dollar signs. Long term this has proven to be a much better strategy for me.
Follow Your Passion
I have always been focused on helping people.
Contrary to many other online marketers I stayed away from the "make money online" niche for the longest time. I just didn't think it was for me, thought it would be too competitive and to hard to really make it in the niche.
The truth though is that I have a real passion for affiliate marketing, I've done it for the last 8 years and learned a few things on the way. So after years I gave in and started itsVicky.com.
Is the "make money online" a competitive niche? You bet it is.
But… I do something that I really enjoy. I help others get started with affiliate marketing, setting up websites and make money with them…
My point is, follow your heart, find something you are passionate about and go with it. It might take time to get traction and followers and sales but if you are passionate about it if you love talking about it and sharing it with others, there is nothing stopping you.
If you do something that you really enjoy, it will not feel like "work" you will actually enjoy it.
Even Small Commissions Add Up
For the longest time I stayed away from promoting physical products from Amazon, because the 4% commission didn't excite me. Well, I changed my mind on that one…
I'm not going into details but you can read more about promoting Amazon products and finding a niche that will go with that, here – How to Get Started Making Money with Amazon. 
All I can say is that even small amounts add up. Again don't choose niche after the money signs, go with a niche you are passionate about.
Personal Interest and Experience
To sum things up. Make sure you pick a niche a topic for your site, that you are passionate about. Something that you have experiences with or something that you are very excited to learn about and share with others.
The truth is your first niche will probably not be your last. I can't even remember how many sites I've set up throughout the years.
If you share a passion and help others, you will find a way to monetize it and make money with the site.
Help Others
The focus should always be to provide helpful information for others. My first niche that I worked with was about "colic babies". A great niche filled with parents ready to do anything in their power to help their little baby feel better.
The solution in this case was drops to help with colic, swaddle blankets and other items to make the baby feel better and give the parents a tool to work with. Help the parents help their baby feel better…
Focus on helping others and you are on your way to success!
4 Main Niches to Focus On
There are a few categories that seem to have that "pain" point, where you can provide a lot of helpful information. These are not the only ones you can work with, you can make money in pretty much every niche, but these work well…
Health
Wealth
Love
Expensive hobbies
The key after you pick the main niche is to dive down and target a sub niche within that main niche. If we take health as an example that is very broad to work with, you will have better success if you target in on a specific area within that niche.
The more targeted you are the easier it will be to pinpoint the "perfect" visitor for your site. The more targeted you are the better conversions you'll have.
3 Examples in the "Health" Niche
Weight loss
Healthy eating and living
Medical issues, high blood pressure
3 Examples in the "Wealth" Niche
Savings tips, coupons
Retirement tips
Make money online
3 Examples in the "Love" Niche
Dating
Get your spouse back
How to improve your marriage?
3 Examples in the "Expensive Hobbies" Category
Jetski
4 wheelers
skiing (equipment, travels…)
Anything can become a niche. Look around your home, look at things you use daily, you have plenty of niches to work with all around you.
Where to Find More Niche Ideas
In your own home
Go to the library and go through the book categories and magazines
TV advertisements
Amazon
Amazon books
For more niche ideas read – 1001 Niche Ideas
When you have your niche picked out, then what? That's when it's time to start building your website. Here's a step by step guide on how to get your site set up.
When you have your site set up, go check out this program…
They will guide you through it all, how to create content, how to find and implement keywords so that you rank in Google and other search engines, how you will make money and much more. They also have a great community, with helpful people doing the exact same thing you are doing – building websites and create an income with them.
Read my review of the program here!
What Should My Site Be About? Niche Ideas for Beginner Marketers. What's your take on niches and finding one? Would love to hear your thoughts in the comment section below,
Have a productive day,
Vicky