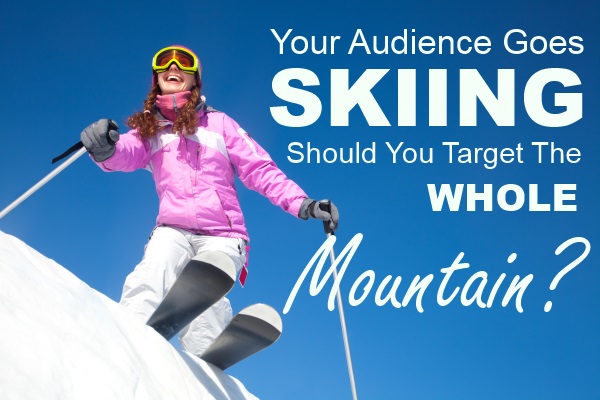 Fridays with Vicky 2 
Last Friday was the first "Fridays with Vicky" post, I talked about how I found my niche and what kind of research I did to find out if it will be profitable or not. I will leave a link at the bottom if you want to read it.
The day after, Saturday, me and my family went skiing for the day. We had a great day the sun was out, the snow was actually great for being Ohio, and we just had a blast together as a family.
Today I was sitting here thinking about how much fun we had but then I also saw a resemblance with affiliate marketing and how to target your audience.
Target an audience and Skiing??
I promise it will make sense, just stay with me. 🙂
When you go skiing you have all these people, similar interest right, they all love to ski otherwise they would not be there.
So for a website would that be your targeted audience?
Skiers…
To be fair it depends on what the purpose of your site is. But to me this would be way to broad. On that mountain, or in Ohio hill, you have people going down all kinds of trails, snowboarders, skiers, experts, beginners, adults and children…
Target the Snowboarder OR the Bunny Skiers OR…
There are all kinds of sub niches. I would dig down and target a very specific group on that ski slope. For example – mom and dads who want to help their child learn how to ski OR the teenager who is hanging in the park and wants to learn snowboard tricks.
Two totally different sub niches, two totally different ways of communicating with your audience.
Who is your audience, who are you talking to through your website?
REAL People Read Your Content
What you need to do is determine who you are talking to through your website. When we build sites there are REAL people on the other end reading your content and following your advice.
Who are you talking to?
One way to do this is to set up a profile. This would be your ultimate visitor, your ultimate customer. So if we use the example above…
Her name is Vicky, she is in her mid 30s, she loves skiing her self, she is looking online for ways to teach her child how to ski, videos are helpful… would be willing to spend some money on a guide if that means that the kids does not have to take expensive ski lessons…
Now, you have a much better picture of whom you are talking to. Recommending a guide like "10 Coolest Snowboard Tricks, to Own the Hill" (sorry my kids are too young for me to really know the snowboard language 🙂 would probably not do much for Vicky.
BUT…
a 5 step video course targeting…
"5 Tricks to Get Your Kid to Control Their Skis within 2 Hours" now this might be something Vicky would look closer too.
Figure out what your readers want. What is their problem, what can you do to help.
Just because they are on the same hill doesn`t mean they want, need or look for the same things and solutions.
I hope that this makes sense, I would love to hear your tips and advice on how to specify and target your audience, leave a comment below!
If this doesn`t make sense or you just want more information on this, check out Kyle`s post "A Nich is a Group of People Looking for Stuff" over at WA.
See you next Friday,
Vicky
Next weeks post – 7 Years of domain and hosting
P.S Thought I would let you in on some good and bad going on in my online business…
Worst Online Happening This Week: Trying to Backup one of my sites to Dropbox without much success.
Best Online Happening This Week: Got my 2015 site installed, more on that in later posts.