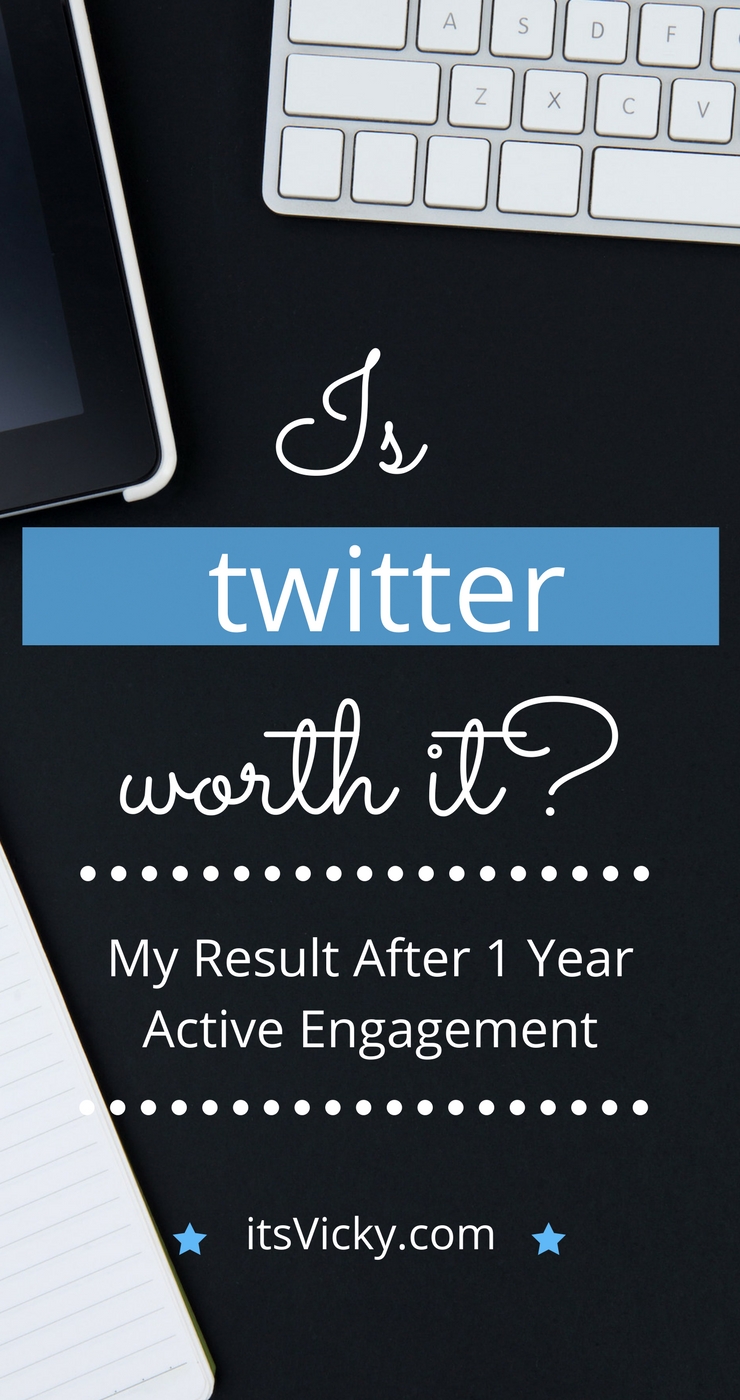 Fridays with Vicky 107
Have you been thinking about giving Twitter a shot, are you trying to figure out if it's worth your time or not? In this post, I'll share my Twitter experience.
Looking at my Twitter stats, for the last year I see some pretty impressive numbers…
In April 2016 I had 17.4K profile visits. In May 2016 I had 804K tweet impressions. In November 2016 I had 743 new followers.
These sounds like pretty good numbers to me for somebody that started engaging on Twitter in December 2015. So I've been actively engaging on Twitter for a little more than a year.
Those numbers are nothing compared to the overall picture of Twitter.
Twitter has 310 million monthly active users.
3 billion accounts have been created.
The average following number is 208.
Katy Perry has over 87 million followers
Pretty impressive numbers, I can definitely see the potential.
Let's get back to engaging.  When I say "engaging on Twitter" you might wonder what I mean by that. Let me clarify.
How I Engage on Twitter
To me, that means adding tweets on a daily basis. I do this by using a tool called Crowdfire. This allows me to schedule my tweets ahead of time. Nobody can sit and tweet around the clock right, this tool helps you have a presence on Twitter even when you are not there.
I engage in private messages. I get a ton of questions that I answer. I also like to check in and say hi to my new followers. No links, no selling, no click this or click that, just say hi. By doing that I can engage with the (few) people that actually enjoy engaging on Twitter.
I try to thank people when they retweet my content.
I comment on relevant tweets when time allows.
I follow people and follow back as long as it's relevant to what I do.
Expectations
Before I started using Twitter, I didn't really "get it". Hashtag this hashtag that… but I knew others were receiving traffic to their blogs so I wanted to give it a go. There are obviously millions of people to engage with and breaking news happening daily.
I can say that I spent hours giving Twitter a real honest shot.
What I wanted to do was increase awareness of the itsVicky.com brand and blog. I also wanted to add Twitter as another traffic stream.
What I Like About Twitter
Ones in a while you will run into people that you really connect with. I've met other bloggers, business owners and in general great people to engage and interact with.
It's fast and it's happening NOW, you will get the breaking news.
You can get your content in front of a large group of people.
What I Don't Like About Twitter
There's a lot of noise on Twitter, it's hard to find the great stuff.
The messaging function could be updated and be a lot better.
There's a lot of spammers.
There's a lot of people that don't engage.
There's a lot of people that are there because… truly I have no idea, I guess they would go under the spammer category because they send out an automatic message rattled with links, with no intention of engaging ever with anybody.
Outcome – Is Twitter Worth It?
So what is the outcome? Does Twitter generate traffic to your site?
The traffic I got from Twitter last year was 7488 visits, each visit was an average of 1 minute and 45 seconds.
Not a great click through rate, but I do like that they stay and read the content. Since they do stay its well-targeted visitors.
I got around 15K followers and 7.5K visits.
I got a few sales, but to be honest, nothing to write home about.
Is it worth the time?
In the beginning, I put in a lot of time. Today I schedule the posts ahead of time so that does not take too much time at all. I do jump on Twitter pretty much daily for a few minutes to answer questions and comment on feedback and retweets.
It is creating brand awareness for my site, and it does generate some targeted traffic. Could I've spent my time doing other things with the similar outcome? Sure, but at this point, I will continue using Twitter sparingly.
I don't believe the answer, to the question is Twitter worth it, is as easy as YES or NO.
There are too many factors that play in.
It depends on WHY you choose to be on Twitter? Are you looking to brand your site, to get more traffic, to get more sales, to get more subscribers?
It also depends on your niche. Some niches will work better than others.
The only true way to find out if it's for you or not, if it will benefit your blog or website, is to give it an honest go. Find out for yourself!
I will not be as involved with Twitter going forward as I have been, I will still continue to tweet and engage but spend less time doing so. I believe in using multiple traffic streams and I will continue using Twitter as one of them. I will maintain what I've built up with Twitter but it comes down to WHERE and HOW you spend your time…
This year, my social media challenge will be Pinterest. Will that bring in decent traffic and hopefully sales for my blog? We'll see to be continued…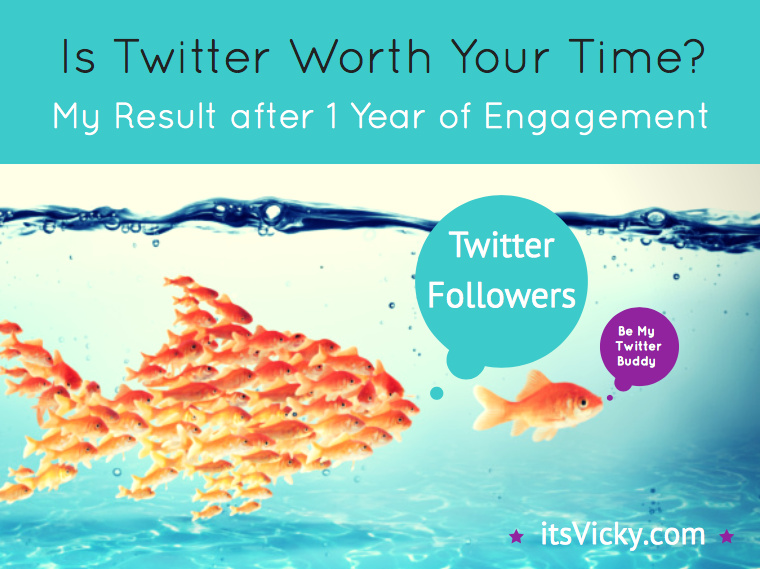 Twitter related posts:
Have a creative day,
Vicky