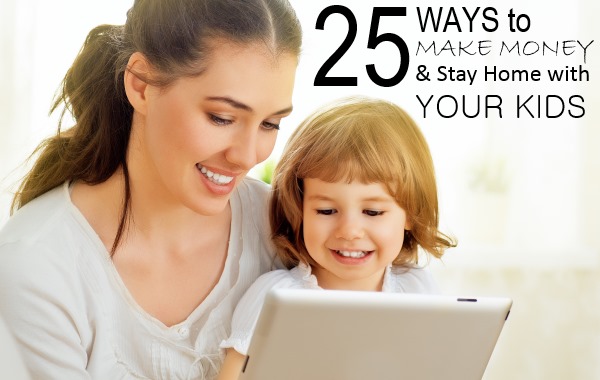 Fridays with Vicky 29
This is the way I have been making a living for the last 7 years. I have been able to stay home with my kids and make money online.
To me this has been the best of both worlds.
I have enjoyed time with my kids and worked around their schedule.
Don`t get me wrong, I have put my hours in and I`ve worked hard BUT I`ve done it on my own terms. Nobody cares if I work odd hours or 60 hours one week and nothing the next, I`m my own boss.
The way I did it was doing affiliate marketing. I set up websites on topics I enjoy, get visitors to the site and monetize the site in some way. This could be through product recommendation or ads just to mention two options.
You can read more about how I got started with affiliate marketing and how it all works, right here.
Affiliate marketing is not right for everybody though so I wanted to put together a list with some other options to make money from home.
For this list I had a few criteria, the ways to make money had to be:
1. Flexible – so that you can work around your families schedule.
2. Something that you can do long term – cleaning out your closet and selling it on ebay, is not a long term strategy so you won`t find that on the list for example.
3. Make money – the opportunity has to offer real money, I will not suggest making $2 a day to fill out surveys.
25 Ways to Make Money AND Stay Home with Your Kids
1. Blogging. Start a blog on a topic you enjoy.
2. Create a website on a specific topic.
3. Create things to sell on Etsy. Home made items like knit/crochet/jewelry/baby items/ are very popular.
4. Buy, fix up and sell. If you are a fixer upper, buy used stuff, fix it up and sell it can be a gold mine.
5. Virtual assistant. Assist somebody online with pretty much anything.
6. Freelance Writer. Write articles, posts, press release and make money / written piece.
7. Designer.
8. Babysit in your home.
9. Elderly care.
10. Pet sitting.
11. Consulting. What is your expertise?  Health? Consult from your home via Skype or Facetime.
12. Book keeping.
13. Web design.
14. Teacher / coach / tutor. This can also be done via Skype or Facetime
15. Give lessons. In person give lessons in your field of expertise.
16. Bake/Cook and sell at your local market.
17. Photography. Do you enjoy taking pictures? Take pictures and sell them online at places like Shutterstock and Fotolia.
18. Gardening. If you enjoy gardening see if your neighbors needs help.
19. Online store. Set up an online store.
20. Foreclosure cleanup.
21. Offer your services on places like Fiverr, Upwork or Elance
22. Do laundry for other people.
23. Trainer. Dog trainer for example or trainer in your field.
24. Answer customer questions for a company like care.com
25. Affiliate Marketing, my own favorite way.
All these suggestions above can make you some real money. As with anything it will take time to build a business and reputation. To build a client base or visitor flow if you have to. Be patient and stick with it!

Extra Cash Tips
If you are in need of money right now, here are a few suggestions. They will not make you rich but it can earn you some cash.
Things you can start with right NOW, that takes no specific knowledge and in fact you might be doing these things already without pay…
I hope you found this article helpful –25 Ways to Make Money AND Stay Home with Your Kids. I would love to hear what you have to say about it. What`s your favorite way to make money? Are you thinking of doing any of the above? Let us know in the comment section below,
Have a productive day and a great week!
See you next Friday,
Vicky