Fridays With Vicky 5
One of the first things that I outsourced when I started to make money with my websites, was content writing.
I never really enjoyed writing much. I can probably thank my 6th grade teacher for that…
Anyway, when I started to create websites I loved the research part, setting up the website all that fun stuff, but when it came to writing, I would rather pay somebody else to write for me. I was insecure since English is my second language, I thought that my writing wasn`t good enough.
Today, I have thicker skin lol. I combine the content writing for my sites by writing a little bit myself and outsourcing the rest. The more I write the more I actually enjoy it. If you find, I mean when you find, grammar and spelling errors throughout the site, please be patient with me.
Two weeks ago I found a great writer, Eve, for my 2015 site. She has done some well written articles and proof reading for me. So far we are communicating well and working well together.
It`s not always super easy to hire good writers to work for you though, here are a few tips to make the process easier.
5 Tips to Find a Great Writer for Your Website – Outsource Web Content Writing
1. Hire Long Term vs. Single Articles
You have two options, you can either work long term with a writer or you can hire somebody for a set job for say 10 articles.
I like working long term with my writers; I will hire them ongoing, and have them write 3 – 5 articles weekly. I hire one writer / site.
This allows me to build a relationship with the writer. After a few weeks, they are very experienced on the niche and they know how I want my articles written.
Writers often love the security of ongoing positions, so if you work well together this is very beneficial for both of you.
You can also hire somebody for a set number of articles, a job of 10 articles for example. In this case you hire the person for that job and when the articles are written and paid for you`re done.
2. Where to Find Good Writers
I have tried a few different places but I`ve had best luck with oDesk. Elancer is another good one that I use occasionally. Both these places are easy to work with you set up your own profile, post a job and people will apply for the job.
The sign up process is easy and so is the job posting process.
You can also visit profiles and contact writers directly if you find somebody that seems to fit what you are looking for.
Another service that I have used on occasion to get articles written, not to hire writers long term but for a few specific articles are iWriter. With iWriter you post the articles you need written and then writers pick one to write.
You can then accept, ask for a rewrite or deny the article. I find that the articles are not of great quality. I prefer using oDesk even for the short term jobs.
3. What to Include in the Job Description
What should you include in the job description to get the best applicants? I took a couple of screen shots from, in this case, editing a job. It looks the same when you create a job.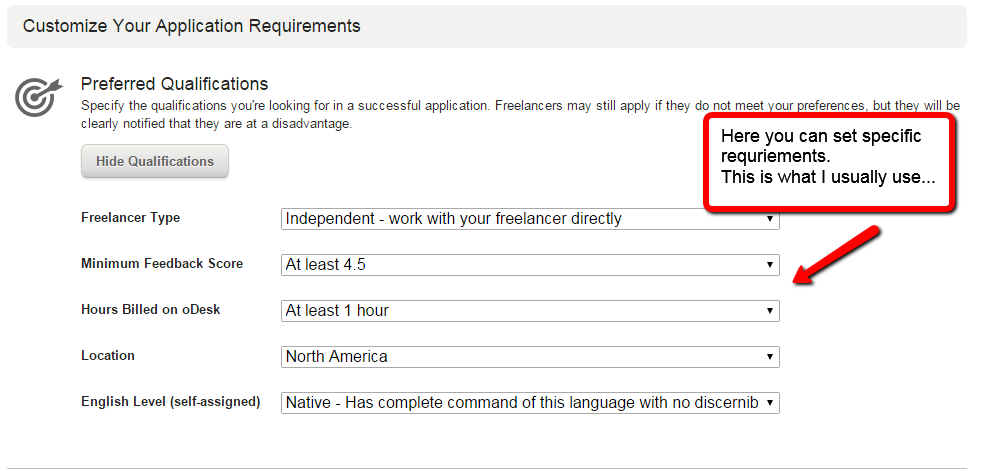 These are the things I always include:
A clear message in the title, what niche I need help with and how many articles I need. I also include if it is a weekly ongoing job.
In the description let the writers know exactly what you are looking for. What type of content you need. How long the articles should be. How you want to include keywords. What you want from the writer, error free, perfect grammar and so on. I also mention the importance of deadline and ask for a article written on the subject I need help with.
Even if it is a weekly ongoing job. I always put in the description that IF we work well together, then the job will continue. This will allow you to end the job if the articles is not what you are looking for, if deadline is not kept or if you just don`t work well together.
 4. How to Narrow Down the Applicants
You will most likely get a lot of applicants for your job. Narrow it down can be tough. I start by "hiding" the applicants that do not have the requirements that I`m looking for. I usually end up with a few qualified applicants. I send them a few questions; see how they respond and if they respond in a timely manner.
If I now have two or three writers left, I ask them to write a short introduction of 50 – 100 words on a specific keyword. After that I might have two great writers left then I will give them both the opportunity.
I will hire them both for the first week`s articles and then make my final decision. I always let the writers know that there are two writers left that will be paid for the first week`s job but that I can only hire one of them long term.
IF you don`t feel there is a writer that live up to your expectations, DO NOT hire any. Post the job again and hopefully you have better luck the next time.
5. Work with Your Writer in a Positive Way
Treat your writer with respect. Give positive feedback if the articles are great and constructive criticism when needed.
If they do an excellent job reward them with a small bonus.
Have an open communication. Deadlines are super important, but if they are late with the articles one time and have given you a reason before the delay, than be understanding.
A no no for me is delivering the articles 5 days late with a sob story, I`ve heard so many let`s just call it "creative" stories. This is usually not with long term writers but for temporary article jobs. Give me a good reason BEFORE the deadline is up and I will gladly extend it.
Hope you found this helpful "5 Tips to Find a Great Writer for Your Website – Outsource Web Content Writing".
What`s your favorite tip to hire a good writer? Please share with us in the comment section,
Have a productive day and a great week!
See you next Friday,
Vicky
Next week`s post – Tips to get your website visitors to come back
P.S Thought I would let you in on some good and bad going on in my online business…
Worst Online Happening This Week: Time for a new computer, it kept crashing on me this week…
Best Online Happening This Week: Got working with a great web designer for some work on this site.