Fridays with Vicky 159
Did you just create your website and are trying to set it up to rank successfully in Google and other search engines? Proper SEO, search engine optimization, is crucial for the rankings of your site.
Set up your site right with these, basic SEO for WordPress tips and you can really get started the right way.
These basic SEO tips that I will be sharing with you today, don't underestimate the power of them. If you do these correctly, your site has a much better chance of ranking well in the search engines.
If your site ranks well in the search engines, that means good traffic and free visitors to your site. When you have the visitors to your site… the sky is the limit… will you sell them something? will you promote a service? will you brand a business?
It all starts with the right basic SEO for WordPress. These are steps that I take with my own sites, want to see what it can lead to? Here are my Amazon case study site and the 5 Hour Website, two case studies worth taking a look at.
If you want to set up your site the right way, this post can help you do so!
Basic SEO for WordPress – 5 Tips to SetUp Your Site Right
1. Basic SEO for WordPress – Install an SEO Search Engine Optimization Plugin
An SEO plugin can help you set up the main SEO structure and framework for your site.
I prefer using the All in One SEO pack, there are other options out there like the WordPress SEO by Yoast and The SEO Framework. I find All in One SEO being user-friendly and provide me with everything I need in an SEO plugin.
Here are a few reasons to why I like All in One SEO:
It comes with a lot of good pre-settings, like the title settings.
It allows for easy integration with Google Analytics and Google Webmaster tools.
It has an optional XML sitemap support.
It notifies Google and other search engines about updates and changes to your site automatically.
Automatically generates meta tags.
Great for beginners, it works by installing and activating. You can tweak if you want but not necessary.
Great for advanced users since things can be adjusted as wanted.
Let's take a closer look at the All in One SEO plugin, how to install it and a  few things that you might want to adjust or add.
To install All in One SEO, log into the back end of your WordPress site and go to:
Plugins – Add New

In the search bar type in… All in One SEO pack

Click "Install Now" and "Activate"
Your plugin is now installed and activated.
If you want to adjust the settings go to "All in One SEO" in the left sidebar of your website and click general settings.

Now don't get overwhelmed a lot of this you can leave as is.
One section you want to add some information to is the "Home Page Settings".
This is information for the search engines so it will not show on your displayed website. It will show in the source of your page, in the code between the title tags and at the top of the browser.
Home Title – This is the title that will be shown on Google and other search engines. Keep it to 55 characters or fewer.
Home Description – This is the description of your home page that will show in the search results of the search engines. Keep it to the yellow color indicator.
Home Keywords – Here you can opt-in to add some relevant keywords.
That's it for that section.
One more thing in this initial phase that you want to do is to scroll down to the bottom of the page where it says Keyword Settings.
Under keyword settings, you want to enable the use of keywords.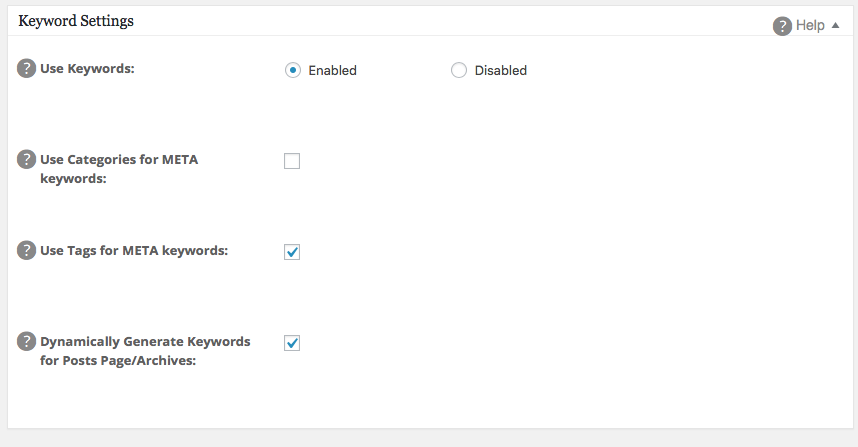 That's it, but make sure to save the settings by "update options" at the end of the page.
Some of your SEO will be done and checked on your own site, some of it should be analyzed and checked on other sites. One of those other sites that you should definitely keep an eye on is Google Search Console.
Let's take a closer look at Google Search Console and how it can help with your basic SEO for WordPress.
2. Google Search Console fd. Google Webmaster Tools
Google Search Console is a free service provided by Google to help webmasters check the status and optimizing of their website.
This is a great SEO tool to take advantage of. This is one of the few ways you can communicate with Google if there are ever any issues with your website rankings. Believe me, I've done it first hand. One of my old sites got hacked and this was the one way I could clear up the issue with Google.
It is also a great way to let Google know about certain settings, you can set your targeted country, submit a sitemap and lots more. You can even submit content for faster rankings, view your top pages, see what queries triggers your site and see if there are any errors.
If you have not yet set up a Google Search Console account, go ahead and do that. If you have a Google Account, you should be able to log right in.
When you have your account set up you want to add your site, to Google Search Console.
To add your site, you can follow these steps:
Click add property up in the right corner.
Add your website URL.
Verify your ownership of the site. This can be done in a few different ways. The easiest way is to make use of the All in One SEO plugin that we used in the first section. In Google Search Console, click "alternative methods" and click "HTML tag" that will give you a meta tag looking something like this…
<meta name="google-site-verification" content="IVWIoeiow83xAOwoIDWesweujvRWIdsiuLjb_V94je4980JKWOJiio98wjioJSLEs" />
You want to take the part between the last " " so use your version of this: IVWIoeiow83xAOwoIDWesweujvRWIdsiuLjb_V94je4980JKWOJiio98wjioJSLEs
Copy that and past it into the All in One SEO plugin on your site.
Go to All in One SEO, then scroll to the Webmaster Verification part by Google Webmaster Tools and paste in the code:
Click "update options" at the bottom of the plug-in page.
Now you want to head back over to Google Search Console and click "Verify". A green check mark should verify the site.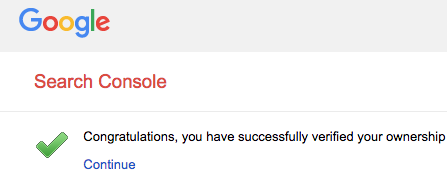 You have connected your site to Google.
You can now enjoy: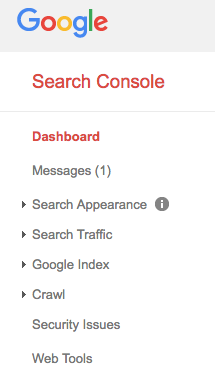 3. Basic SEO for WordPress – Activate Sitemaps
Going forward you will want to rank your individual posts and pages in Google and other search engines. You want to make it as easy as possible for Google to find your content and to rank it.
Google sends out their search engine spiders to crawl the internet, you want to make it easy for Google to find your posts and pages and to rank them.
The easiest way is to add a sitemap to your website and submit that to Google. What that does, is telling the search engines about the content you have and when it's updated. You want to keep Google in the loop of when you have new content coming out.
To add a Sitemap to your site we will go back to our All in One SEO plugin. In the sidebar under "feature manager", you will see "XML sitemaps", activate that.
You have now added a sitemap to your site. The URL for the sitemap will be yourwebsite/sitemap.xml. If you type that into your browser you should see:
XML Sitemap generated by All in One SEO.
Now we want to submit this sitemap to Google.
4. Basic SEO for WordPress – Submit XML Site Map to Google
To submit the sitemap to Google we want to go back to Google Search Console. Click your website and you should see "crawl" in the left sidebar. Click "crawl" and then "sitemaps".
Here they will allow you to upload the sitemap. Click "Add/test sitemap" and you will be able to add in, sitemap.xml after your website URL and then submit.
You should now have the sitemap added so it's easier for Google to find and rank your content.
5. Basic SEO for WordPress – Start Planning for Your SEO Content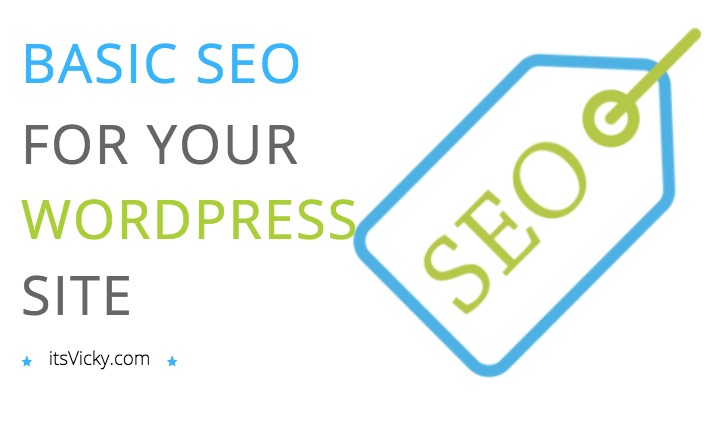 When you have the SEO basics set up for your website you want to start planning your content and make sure it will be search engine optimized. A few things to think of when it comes to your content strategy are pages to include, make sure your site is easy to navigate and that the content itself is SEO friendly.
Pages to include: About me page, Privacy Policy and Terms of Use.
Depending on what kind of website you are creating there might be more what Google consider "must have" pages.
To make your content SEO friendly make sure you are following these rules:
Use unique content, never copy and paste.
Double check your spelling and grammar.
Use keywords in the title, first and the last paragraph, never overdo it by keyword stuffing your content.
Make sure your content is engaging and written for the reader not for the search engines.
Make sure your content is targeted and on task.
These are just a few pointers when it comes to SEO friendly content.
Here are some more resources to help you with your content creation:
I would love to hear your thoughts on these, basic SEO for WordPress tips. What would you add to the list? Do you use another SEO plugin? Share your thoughts and experiences below,
Have a great day!
Vicky