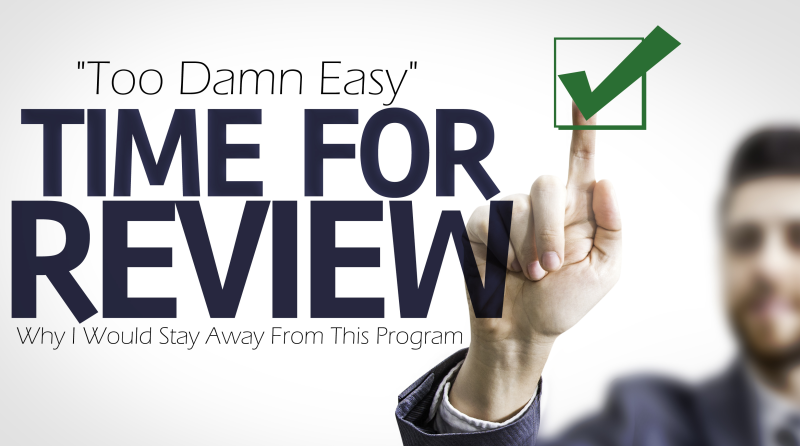 Too Damn Easy is a cash gifting program that claims to be able to make you thousands of dollars a week. It's a concept that is on the borders of legality, and many have wondered about the legitimacy of such programs.
It's no doubt then that many Too Damn Easy reviews start by questioning whether it is trusted.
In this review we take a look at whether Too Damn Easy can make you what it claims to make you, and whether it's a viable way to make cash online.
Too Damn Easy Review
Website: www.toodamneasy.com
Price: $2.000 – $18.000
Do I recommend this program: No, the only winner here is Q that collect part of your money exchanges. This is not a sustainable online business.
What Does Too Damn Easy Do?
With Too Damn Easy, you will be using a cash gifting program. This will set up a system that allows users to send monetary value to another program user. This user will then sends the money to another person. From your position, you will be required to bring in and recruit new users to earn money.
New users will need to pay the original fee, and it is explained that you will receive a commission for getting them on board, so it's basically a very long winded pyramid program that encourages users to bring in new members to the program.
There are no products to sell, and you're literally encouraging users to cough up an entry fee on the premise that they can do the same to bring in commissions to cover the original cost and start earning profit.
Every 5th money gift you receive, is a GIVE AWAY to Q. It`s called a "monitor fee to corporate" 
The Person Behind Too Damn Easy
The person behind the program is named Q, but no details are given about him or his personal life. In fact, there is very little to be learned about Q, and his real identity remains a mystery.
He does create videos including money, cars… all the classic elements to try and convince you that YOU too can make money with his program.
If somebody feels like they need to hide their identity to start up a system like Too Damn Easy, it is pretty clear that it's not as truthful as it claims to be.
Too Damn Easy Review  – The Program / Training
When you sign up for this service, you will be given access to a 25 page eBook and a range of audio files that will explain to you how to use the service.
The amount of training needed to get started with bringing in your own users is as useful as it needs to be. If you really plan to get started with this program, the training provided will help you.
Tools Included
You are given an automated marketing tool that can help you to reach out to new users without putting too much effort in. This tool is the only real service you will get for paying the entry fee, and besides from this, there are no other tools included.
Community and Help or the Lack of
Unfortunately, like many get rich quick schemes online, there seems to be very little support for paying members. In fact, once you have paid your entry fee, you are unlikely to get a response from Q or any other members who can help you with your problem.
Some users have complained that their commissions have not been paid after spending a lot of time and effort getting users to join, and some have had to wait weeks or months for commissions to be paid.
Is Too Damn Easy a Scam?
I am not very quick to classify a program as scam. Most programs have something of value, all though it might be outdated or over priced and I don`t recommend it. I very seldom would put the SCAM sign on a program…
In this case though, it has all the signs of a scam.
There is no real product
The payment to get involved with the program is ridiculous
There`s testimonials on the website, but nobody in person, seem to stand behind the program
The owner Q likes to flash money and fancy items… but who is he?
Too Damn Easy Price
Here's the final thing that really takes the biscuit, and truly shows you how untrue Too Damn Easy is. The lowest entry fee is $2,000! This price will allow you to start recruiting new members and you will receive the lowest possible commission from doing so.
The medium tiered package offers the exact same for $6,600, but your commission rates will increase. The final package costs $18,000, and once again will increase commission rates.
To earn money back, you will need to convince others to invest these seem entry prices, which is far from being too damn easy.
If you have ready any other Too Damn Easy reviews online, you will know that this service and platform should be avoided. Making that large entry fee back will be incredibly hard.
How About a Real Honest Way to Make Money Online
There are plenty of make money scams out there that should be avoided. The only thing they do is take time and money away from you when you in fact could have been building something for yourself that will work and eventually make you money.
Let me be honest:
There are no money making over night success programs.
IF there where everybody would be doing it and it would be front page news everywhere…
What there is, is legit ways to make money online. There are systems that you can follow to reach online success. But they all have a few things in common:
1. You will have to put in the work
2. It will take some time to see real results
3. You have to commit and stick with the program
One way to do it, is by creating a website on a topic you enjoy and monetize that in different ways, it can be with affiliate products, ads and many other ways. If you do that you build your own online business that YOU are in charge of. No need to pay Q, you keep all your commission or ad revenue.
The best part is actually that you help people through your website, you don`t try to scam money from them.
Let me explain. Say that you enjoy cooking and that you want to set up a recipe site. You can also recommend your favorite kitchen supplies and make a commission doing so… Want to know more about how I make money online? Check out this FREE way to get started!
I would love to hear what you think about the Too Damn Easy program, feel free to leave a comment below.