Fridays with Vicky 43
When starting out blogging, you might write for fun but you do want people to see what you write and get your message out.
You want people to visit your blog, right?
There are many different ways to get visitors and traffic to your blog or website.
In this article, we will talk about a few of them…
FYI – In the article, I will sometimes refer to the website and sometimes a blog, these traffic generating methods will work well with either one. I use WordPress but the traffic methods can be applied to any website platform.
16 Ways to Increase Traffic to Your Website or Blog
Before we get into the 16 ways more in depth, let's take a look at a few of them in this infographic…

1. Target a Group of People/Niche and Write for Them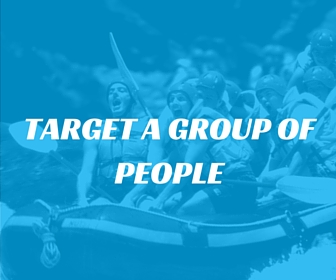 The first thing you want to do is focus in on a specific group of people, a niche that you want to write for. By doing that you will speak directly to them. Say that you have a blog about "healthy habits for dogs"  then you know that you are communicating with dog owners who cares about their dog's health.
By targeting in on a specific group of people you can easily address topics that they find interesting. It also becomes easier for you to stay on topic and speak directly to your visitor.
Over time if you post helpful content on a regular basis, your blog will grow and hopefully become the "to go to" blog in your chosen niche.
Read more about niches here – Niche Site Case Study
2. Optimize Your Website for the Search Engines, So They Can Find It
Optimize the Site
Using a plugin like All in one SEO will help optimize your website for the search engines, like Google. Fill in the form, using relevant keywords to describe your site.
Optimize the Posts and Pages
Using keywords will help rank your posts and pages for specific words and phrases. There are many tools that you can use to check the search volume for a specific keyword.
You also want to check the competition, less competition the easier to rank for.
How to use keywords and keyword tools is a lesson of it self, for more info read my post – Keyword Research Explained. 
Make It Easy for Web Crawlers
By using a plugin like xml sitemap you make it easy for the web crawlers to find your content when they come crawling your site.
3. Blogging / Organic Listings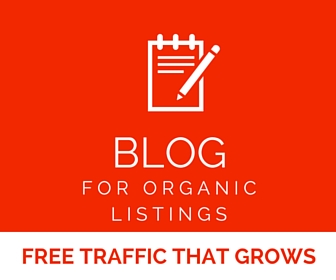 Quality and Continuity – Submitting quality content on a regular basis will help grow your site. Now on a regular basis can mean ones a week, every day, what ever works for you.
Use Keywords – The more content you have out the more chances to rank for long tail keywords. I`m not saying to use keywords in every single post. But if you target specific keywords within some of your content you have a better chance of ranking for those in the search engines.
Length of content – Another factor to pay attention to is the length of your content. If your blog posts are short, say around 200 words, then the chances of ranking organically are very slim. When I write I aim for a minimum of 500 words, which is not very hard if it`s a topic you are passionate about. My posts are usually a lot longer than that.
Doesn`t mean you can`t have short posts, just know they will most likely have a hard time ranking in the search engines. These posts can have other purposes on your blog, though.
Blogging on a regular basis can increase traffic to your blog or website!
4. Use Catchy Headlines
When the post is ranked organically, make sure it gets clicked on. Take Google for example, there are 10 search results +  the ads that potential visitors can click on after doing a search. Make sure you use catchy headlines so that they choose to click on your result. If you want more info on catchy headlines read this post .
5. Make It Easy for Your Visitors to Share Your Content
When you have your visitor on your post or page, make it easy for him or her to share the content.
Have social buttons available with a phrase like "if you like it share it…" or something similar.
Having others share your content on Twitter, Facebook, Pinterest, Instagram or some other social media can really boost your traffic.
6. Where Does Your Niche Hang Out – Create a Following
It`s impossible to be a master of all, find out where your audience is hanging out. Do they use Twitter, do they post pics on Instagram, do they hang out in forums and chats…
Find out where your crowd hangs out and go there. Network and engage on the platforms that your audience is using.
7. Social Media
Facebook
Now Facebook and Twitter can pretty much be used by any niche. Focus in on relevant potential visitors and connect with them. Through helpful content you can engage with your audience. You can also set up a Facebook group or do Twitter parties to engage with your niche.
Don`t be afraid to be personal and connect, that`s how you will create trust and a following.
Instagram and Pinterest might not suit all niches, but I`m sure you can find an interesting angle and participate.
Pinterest is perfect for DIY projects, parent blogs anything visually appealing. Instagram is another visual platform where you can share your photos with your audience.
Social media used correctly will increase traffic to your blog or website.
8. Social Sharing
Social sharing can be another way to get the message out about your blog or website. Here`s two good ones to use:
9. Forums and Chats
This highly depends on your targeted visitor, which forums and chats to participate in and use. Some target groups might not use them at all.  But, if your audience hangs out in a forum then, by all means, use them.
10. Paid Traffic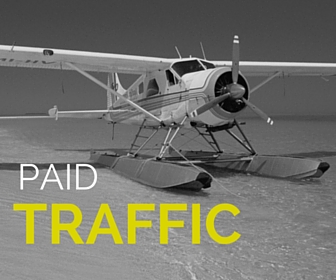 Using paid traffic,  advertisement can be done through different platforms, Google Adwords is one example. Facebook ads is another example.
You create an ad, sign up for the program that you are interested in,  put up the ad and pay for the clicks through to your site. This is a quick way to get traffic and it can be a highly effective BUT you need to know what works and converts on your site.
I find it best to use paid traffic AFTER I have figured out what works and what converts into sales on my site. If you don`t know what converts, you can spend a ton of money with out any return.
You can also pay for advertisement on relevant, related, websites. Again let`s take the "healthy habits for dogs" niche. You could find relevant dog sites that offer to advertise on their site and place an ad with them.
Each site is different, some you pay for a period of time, per month for example. For some, you pay per click. This can be a good way to reach your targeted market using other relevant websites. Paying for traffic can increase traffic to your website quickly.
11. Install Google Analytics and Analyze the Result
Using Google Analytics will give you a ton of helpful information. You will see who your audience is where they are from geographically.
How they interact with your site, what pages they visit, how long they stay. If they use a desktop, mobile or tablet visiting your site.
You can see if they come from social media and what platform, Twitter, Facebook, G+ or what ever platform it might be.
You can see what keywords brought them to your website.
If a specific post is popular and you know it converts, then you know to send more traffic to that post.
This is an invaluable tool to use, it will give you so much information, that you can take use of.
If you don`t have Google Analytics installed it can easily be done. Sign up for an account and use a plugin to install it on your site.
12. Refer to Your Own Content
If you use social media, for example, feel free to point and refer to your own content when suitable. If it`s relevant and helpful people will be happy that you did.
This doesn`t just go for social media, this could be anywhere. If it helps people, point them to your content.
13. Guest Blog
Another way to leverage traffic from other people`s blogs and websites is to do guest posts. Reach out to others working in the same niche and ask if you can do a guest post.
You might even be able to exchange posts.
By doing guest posts you will get your content in front of a new audience and you can direct them to your site by using a link in the writer bio.
For this, to work you need to provide quality, helpful content. You want to establish a relationship with the website owner and give him or her quality content in exchange for a link back to your site.
14. Build Your E-mail List and Redirect Them Back to Your Site
To be able to get back in contact with your visitors you should have an email subscription form on your website. To get people to sign up, give away something that they find helpful in exchange for their name and e-mail address.
You can then send out emails to your subscribers and re-redirect them back to your site.
Make sure you engage with the people on your list, send them helpful tips and advice.
One way to get them back on your site would be to create a "top 10 healthy dog snacks" post on your blog. When you send out the email to your subscribers show them the first dog treat and send them back to your site to read the full post and get the full list of the "top 10 healthy dog snacks".
To submit a sign-up form, collect emails and to be able to send out the messages you will need an email provider. I have been working with Aweber for years and can highly recommend them if you are looking for one.
15 Backlinks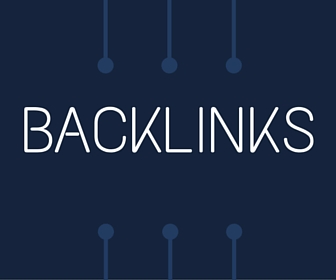 I`m talking about non-spammy links going back to your site. This is still away for search engines to decide if your website is important. If people enjoy your site they will talk about it and maybe also link to it.
There are things you can do actively to create more backlinks to your site. We already talked about several of them in this post, guest blogging, social media and referring to your own site different places on the internet.
A few other ways to get back links would be to give testimonials on other people`s sites, submit your site to directories, comment on other people`s blogs and sites, participate in website feedback sites, create infographics and share them.
16. Join a Blogging, Website or Entrepreneur Community
By joining a relevant community, you will get in contact with others doing the same thing you are doing. You can find invaluable resources and people to work with
These communities help with everything from networking to cross promotions but also feedback and support. Some of them have training programs as well.
I`ve been a part of "my" community for almost 8 years and love it. There are tons of people that love blogging and websites. Entrepreneurs that create great businesses. They also have training, live chat, tools… I can go on and on lol. If you want to know more about it, you can read my review here!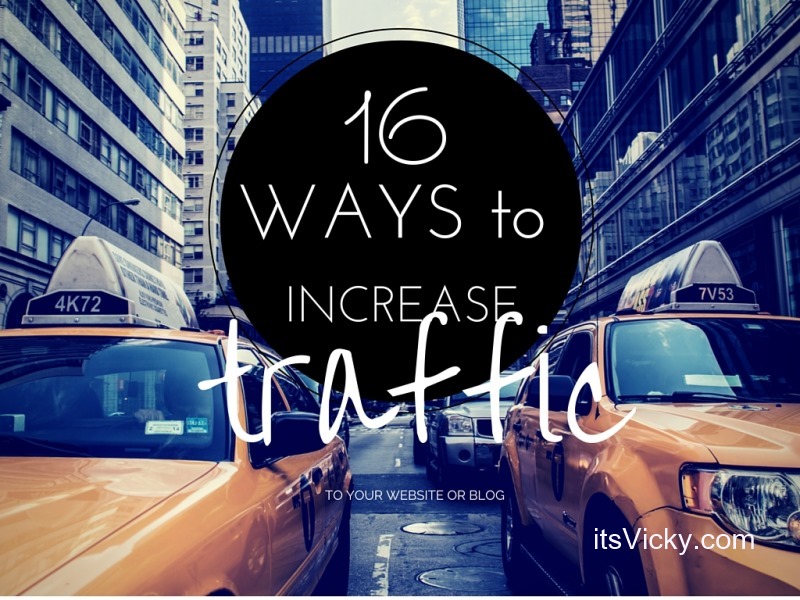 There we have it, 16 Ways to Increase Traffic to Your Website or Blog.
Now it`s your turn, what`s your favorite way to get traffic to your website, feel free to share below,
Have a productive day,
Vicky