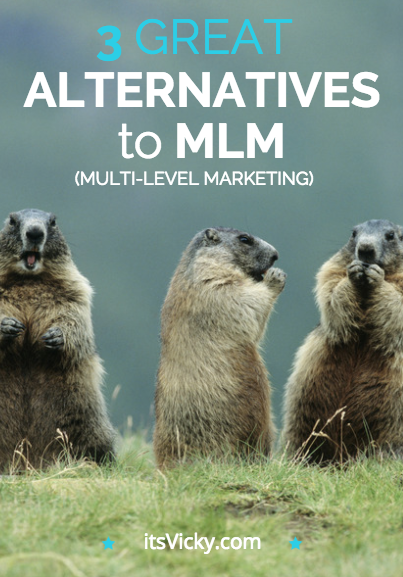 Fridays with Vicky 135
Multi-Level Marketing has been around since the early 1900's.  Sometimes called pyramid selling and/or network marketing, it is a way creator of a particular 'marketing strategy' also called scheme by some, can bring in others under themselves to build a team of salespeople to promote a certain product or company to make money.
Those at the top level make the most money; while the people at the lower level often make much less and sometimes nothing at all if the criteria for earning is not met.
If you've ever been involved with multi-level marketing, you know how much money or work that's needed to get to the top level and the difficulty that exists in staying at the top level.
If you're interested in alternatives to multi-level marketing–this post is for you.  We are checking out other ways of making money with marketing that might be more suitable for you.
3 Great Alternatives to MLM (Multi-Level Marketing)
1. Affiliate Marketing
If you like helping promote others, you might want to consider Affiliate Marketing.  It is similar to MLM in that you are helping lead to the sale or promotion of someone else's product—which could lead to putting money in your pocket.  But, you neither have to worry about building teams nor having to necessarily answer to an upline of people constantly trying to "motivate" you into making sales.
But, you neither have to worry about building teams nor having to answer to an upline of people constantly trying to "motivate" you into making sales. No calling family or friends, this is all geared towards people who are looking for what you are offering.
Also, there are several ways you can get involved with affiliate marketing.  If you have a website or a blog, you can recommend others by doing product reviews or placing ads for products you'd like to recommend on your site. This is called paid per sale. 
You can become an affiliate for Amazon for example and recommend products that you use already. If somebody makes a purchase via your affiliate link you will get paid a commission. Amazon is just one example, you can work with other affiliate marketing networks like Clickbank, Clickbooth or Linkshare.
Does it sound interesting? Read my article – What is affiliate marketing – it will explain more in detail how it works.
2. Personal Marketing
Along with helping traditional businesses, there are other markets out there that could use your help.  Nonprofit organizations, individuals, and even some local governments might be open to doing some form of marketing with you.
Whether it be sending out emails, advertisings on your site or publication or even creating flyers, opportunities are there for you to assist others in promoting their businesses.
3. Consider Becoming at Distributor
I actually found this article about independent distributorships interesting. Setting up an online store could be your ticket to success.  You basically choose items you like, add them to your store selection, promote your store and hopefully make sales and earn some money.  You could think about expanding your store by adding a wide selection of items and have them drop shipped to your buyers.
The key is to know how to promote your store. If nobody finds it… well, no sales.
Although drop shipping is a little different from being a distributor, the former could lead to the latter, so I thought I'd mention it here.  With drop shipping, you normally don't actually maintain the inventory, as it is kept at/in a distribution warehouse.  All you would do is promote the product and any sales that are made would be shipped directly from the warehouse to the customer.  So a lot of the work is done for you.
We hope these suggestions were helpful and that these alternatives prove profitable for you!