Fridays with Vicky 116
February 2017, another month where we see fantastic earnings from women entrepreneurs.
These ladies are creating and selling their own products. They are monetizing massive amounts of traffic in creative ways.
Ad networks and affiliate programs are just two ways they make thousands of dollars each and every month.
Making over $216K together, let's take a closer look at the women that makes this happen.
Michelle from Making Sense of Cents – $160,211.27
Income $160,211.27
Expenses $9,712.50
Net Income $146,498.77
Michelle made, in February, what many dream of making in a year. In one month, she made $160K+ that is truly amazing! Michelle is not a beginner when it comes to online marketing, last year 2016, she made a total of $979,321, that's close to a million from blogging. Well done!
She started like most of us, though, with the desire of making a $1000 a month, with hard work and dedication she has now gone far beyond that with her blog Making Sense of Cents.
Most of her income comes from her own product, affiliate marketing, advertising, and sponsorships.
This goes to show, that if you believe in something, work hard and stick with it, the sky truly is the limit.
Michelle, how is your mindset different now making $160K+ compared to when you were trying to make your first $1K?
Kristin from Believe in a Budget – $15,170.31
Gross Income $15,170.31
Expenses $2,938.95
Net Income $12,231.36
Kristin is rocking another month making over $15K from her blog Belive in a Budget. She's been debating back and forth if she should publish her income reports, but we are happy as long as she keeps doing it, they are a great inspiration to many.
Kristin is making her money from advertising, partnerships, her own courses, and products, but the majority comes from affiliate marketing. It has not always been like that but she likes the "passive income" of affiliate marketing and has made a great increase with it.
Kristin has mastered the Pinterest "game", so we would like to ask,
Kristin, what's your #1 tip when it comes to Pinterest?
Suzi from Rosevibe – $13,584
Gross Income $13,584
Expenses $34.95
Net Income $13,549
Suzi, managing two blogs, her beauty blog and Rosevibe where she shares her income report and online journey.
Most her income comes from affiliate marketing and ad networks. With the new commission structure from Amazon, I'm interested to see if Suzi will see a big impact from this.
She has very low expenses and a ton of traffic, well done Suzi!
Suzi, what's your take on the new Amazon structure, do you see a big difference in income for March?
Miranda Nahmias – $8,128.41
Gross Income $8,128.41
Expenses $4,814.85
Net Income $3,313,56
Miranda, is a client acquisition specialist, she does mainly client work but she also shares her virtual assistant tips on her site mirandanahmias.com.
This was her best month yet, so a big congratulation to you Miranda! 24 years old, she sure has a bright online future ahead of her!
Miranda, please share some VA tips with us.
Randa from The Bewitchin' Kitchen- $7,490.56
Gross Income $7,490.56
Expenses $1,474.98
Net Income $6,015.58
Congratulations Randa to your best month ever, this far! She believes that the kitchen is the heart of our homes.
On her blog Bewitchin' Kitchen she shares her thoughts around health, DIY projects, travel, and recipes. Randa makes her income from sponsored posts, ad networks, and affiliate programs.
Randa, best month yet, that's great congratulations, what's your number 1 tip to increase earnings?
Jessica Gavin $4,260.61
Income $4,260.61 
Expenses $1,802.38
Net Income $2,458.23
Jessica runs a successful recipe site along with her husband Jason. Jessica does the recipes and images while Jason takes care of the "tech" stuff. Most of Jessica's income comes from affiliate marketing.
The Jessica Gavin blog has an impressive amount of visitors, reaching almost 200K visitors last month. If you are looking for yummy recipes Jessica got you covered.
Jessica, what's your number 1 tip to creating a successful recipe site?
Paula from Easy Baby Life $3,984
Gross Income $3,984 
Expenses $21
Net Income $3,772
Paula runs her motherhood blog, Easy Baby Life, where she shares tips around pregnancy, giving birth, breastfeeding, baby and parenting tips.
For February she had an impressive amount of traffic of over 382K + visitors. She made most her income from one major ad network, but also from affiliate marketing.
Paula, what're your tips for getting massive traffic?
Vicky from itsVicky.com (Amazon Case Study Site) – $1,791.22
Gross Income $1,791.22
Expenses $113
Net Income $1,678.22
I have chosen to only share my amazon case study site in my income report. This is so that you can see income, traffic, tactics, ups and down of a niche site.
This site is an interesting journey for sure, it made over $4.4K in December which only shows that the holiday season is a great time to be an amazon associate, but right now it's dipping for sure.
You can read the full February Income Report here.
Sarah from the Frugal Millionaire –  $ 1,573.19
Gross Income $1,573.19
Expenses $N/A
Net Income $N/A
Sarah shares her income reports, reporting money coming into her account for the month. So February money coming in is mostly made in December since payout from many ad and affiliate companies are done 2 months after earnings.
Sarah runs the site Frugal Millionaire, this is where she share her finance tips and blogging tips.
Her income comes from advertisements, her own product, and affiliate marketing.
Sarah, what's your favorite way to get visitors to your blog?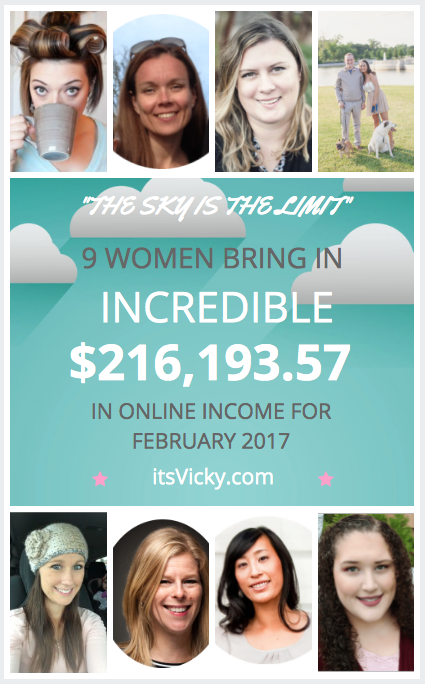 When we total that up, we get an incredible $216,193.57 for February 2017 from these fabulous women entrepreneurs.
Online income from own products, services, affiliate marketing and ad networks. This is a group of women that takes action and get things done!
Do you do income reports on your site? Feel free to share in the comment section.
Also, a lot of these women use Amazon as one of their affiliate networks, what's your take on the latest commission changes?
Love to hear from you,
Have a productive day,
Vicky