Fridays with Vicky 138
Can't believe another fun summer month has come to an end. Summer means we are all busy traveling, going to the beach, enjoying time with loved ones. So did I. Sorry that I get this out to you a little later than usual.
This Amazon case study site has been live now for almost 2 and half years. It's been a fun journey to follow the site and see how it develops. Before starting the site I had a few requirements.
I wanted the site to be hands-off, meaning that I wanted to be able to outsource most content. So from the beginning, I hired writers to help with content creation. This frees up a lot of time and allows me to work on other projects.
I also wanted the site to be in an evergreen niche, meaning not on a topic that is "hot" today but gone tomorrow, I choose health.
Another thing I was curious about was if it was possible to make money with Amazon, so another one of my requirements was that, the site was monetized with Amazon.
Since the site was started there has been some changes in the Amazon commission structure and I decided to take on another affiliate program. That turned out to be a good choice, the commission is a lot higher and it has been a nice addition to the Amazon income. The products are cold month related so it will be very exciting to see what the program can bring in come November and December.
Let's dive into the numbers…
Below you'll find the stats and numbers for the Amazon Case study site for July 2017.
Traffic Progress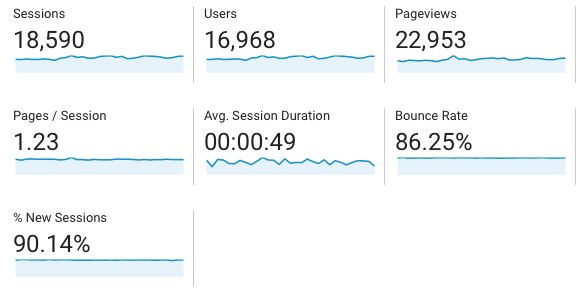 June 2017
Sessions 15.346
Users 14.037
Page views 18.939
Session duration 50 sec
July 2017
Sessions 18.590
Users 16.968
Page views 22.953
Session duration 49 sec
I'm glad to see that we have an increase in traffic from the previous month. Hopefully, that will reflect in the income numbers as well. Session duration of 49 seconds might not be the best, BUT if I look at the top 10 pages the duration is 3 minutes and 28 seconds. That's better.
Content
The site is set up to bring in traffic organiclly. Since most visitors find the case study site via Google and other search engines, it's important to me that the posts and pages rank well. Looking at the pages that bring in most page views it's safe to say that top lists convert.
The following types of pages bring in most page views:
Top 5
5 Best
5 Ways to
Top 10
Top 5
Looking at the average time, 3.28 min, that the visitor spends on the top 10 pages I would say that they found what they were looking for.
Ranking Result
Since the site depends on the organic traffic, it's important to keep an eye on the rankings. Are the rankings increaseing, decreasing, do we increase the top positions? It's always nice to see an increase and up going trend, let's look at July rankings.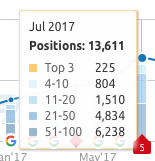 If we compare the July numbers to June 2017, the numbers are pretty good. We increased our top 3 positions with 30, that's great. Overall we increased ranking positions with over 2K positions, I like it!
If we look at the overall keyword rankings, there's a good trend.

I use the SemRush tool to get these numbers, a tool I can highly recommend with both free and paid options.
Case Study Income Report and Sales Result July 2017
I was excited to see that July delivered pretty decent numbers considering some of my sub niches are winter month based. I was glad to see the increased income from the independent affiliate program as well.
This is the numbers for July.
July 2017 Earned Commission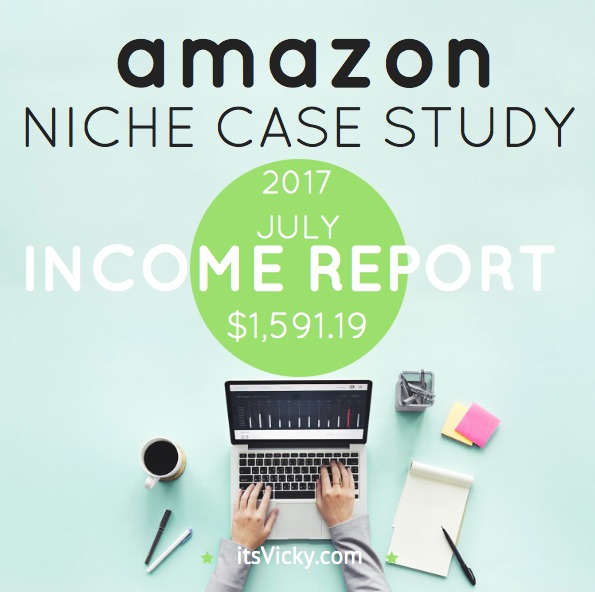 Amazon                                             $1,179.57
Affiliate program 1 – 5 sales         $411.62
Total Ordered Items: 498
Total Commission:                         $1,591.19
To make a "fair" comparison I like to see earnings per 1000 visitors. That gives us a good number based on traffic and earnings, that we can compare.
Dec $217.98 / 1000 visitors
Jan $139.96 / 1000 visitors
Feb $128.6 / 1000 visitors
March $93.68 / 1000 visitors
April $92.04 / 1000 visitors
May $157.23 / 1000 visitors
June $81.75 / 1000 visitors
July $93.77 / 1000 visitors
It's not December numbers but at least we increased from the low numbers of June.
Expenses July
Outsourcing: $106
8 Outsourced articles ($7 each) $56
4 Outsourced reviews, (these are longer in depth articles 1000 words at least, $12.5 each) $50
Hosting: $2
This site is on shared hosting, there for the low cost.
This is the hosting I suggest if you are new:
BlueHost Review – Top Notch Domain and Hosting Under the Same Roof
Listbuilding: $5
Aweber listbuilding, shared cost with other sites $5
Total Expenses: $113
Total Result July: $1,478.19
If we compare the 2016 July numbers with 2017 July numbers we see a good increase, I'm happy with the development.
July 2016 – $544.55
July 2017 – $1,478.19
Total Result for the Site
Result Month 1 – 6: $–265.36
Result Month 6 – 12: $817.13
Result Year 2: $15,767.08
Result Year 3, 5M in: $7,094.35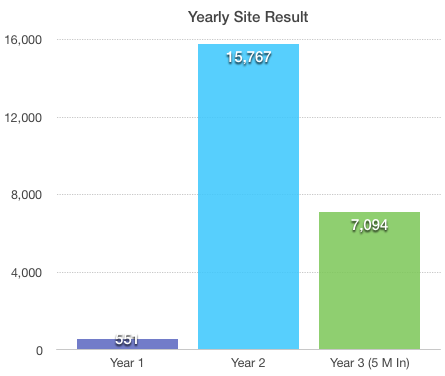 Monthly Results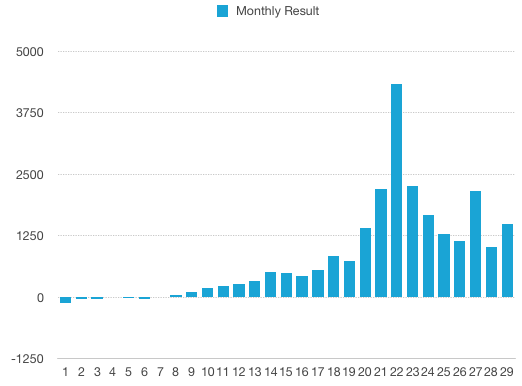 What About the Future?
22K is the number we would be at IF we were following last years increase and numbers.
We are having a rough time keeping up with last years increase BUT…
Total earning for 2017 of $ 11,397.80
Is not too shabby.
I still believe there are great things in store for this site and I'm definitely looking forward to the colder months (as far as earning goes) and the Holiday season.
December stood at 35% of the income last year, let's see what it will do this year!
The site is earning money but I couldn't have done it without these tools…
Wealthy Affiliate for training and updates (Free and Premium membership)
BlueHost (starting from $3.95 monthly)
Jaxxy for keyword research (Free trial)
WpZoom Theme I use for the site  (Premium theme)
EasyAzon to fast and easy include Amazon links on the site (Premium plugin)
Aweber to collect emails (Premium tool)
SumoMe (Free and premium for social share)
Crowdfire for Twitter growth (Free and premium)
Google Analytics (Free)
SemRush (Free and Premium)
These tools are awesome, saves me time and help me maximize earnings.
Follow the exciting journey of this case study site, sign up for the newsletter…
Do you want to get started with your own site? I show you how, right here!
See the old case study posts, here.
To a great August 2017! 
Vicky