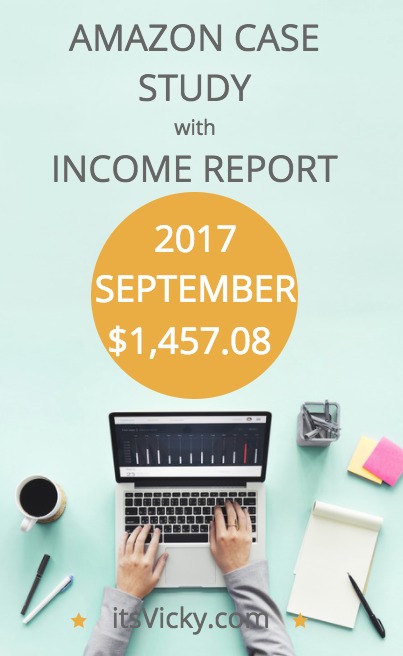 Fridays with Vicky 143
Another month has passed and it's time for another case study update. September, the kids are back to school, which means more time for work.
Usually, it's starting to cool down but we've had a record hot month, so much for the cold month niche in September :).
There are some exciting things happening with the site and I'm looking at different angles to improve it further.
Late this month I signed up with another affiliate program. That makes two independent programs and Amazon to monetize the site with.
If somebody is offering 15% commission, like the new program did, for a product that I'm already working with, I will definitely consider it.
Why Do I Share the Numbers and Stats of this Site?
This site was "born" because I was curious if you could make money with Amazon. Some of my online colleagues were making really good money while some were really struggling. I'm pretty competitive and like a challenge so I challenged myself to make consistent money with Amazon.
I decided to share the journey for a couple of reasons:
1.    For you to be able to follow a brand new site from start to… well, a website is an ongoing process, and hopefully, you'll get something out of it.
2.    Keep me accountable. It's a great way, to sum up, the month doing these case study updates.
The Case Study Site
When I was working on the idea of the site I had a few things in mind:
It had to be in an evergreen niche, I chose the health niche.
It had to be hands-off. To me, that means that I outsource most of the writing and content creation.
It had to be monetized with Amazon. This is still true all though I have added two more independent affiliate programs.
If you are ready to start your own website journey, take a look at this "start here guide".
Traffic Progress
I like the increase in traffic from the previous month. I am expecting the numbers to go up now when we go into the last quarter of the year, due to the niche and holiday season. Hopefully, that will stay true.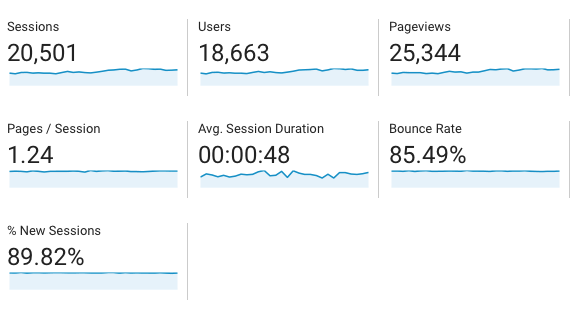 August 2017
Sessions 18,586
Users 17,010
Page views 22,923
Session duration 47 sec
Average of 3.20 minutes for the top 10 pages.
September 2017
Sessions 20,501
Users 18,663
Page views 25,344
Session duration 48 sec
Average of 3.25 min for the top 10 pages.
Hopefully, the income will follow the increase in traffic.
Content
According to my Google Analytics account, 88.6% of the visitors come from organic searches. Social media bring in very little traffic so that's definitely something that I need to work on. Since the site relies on organic traffic I like to know what pages bring in the most traffic.
Lists in all shapes and forms works…
These are the 5 pages that bring in the most traffic to the site.
Top 5
5 Best
5 Ways to
Top 10
5 Ways
Ranking Result
Since organic traffic from Google and other search engines plays a big role, I like to keep an eye on the keyword rankings.
We want to rank high in the free search engine listings for relevant keywords.
One of my favorite tools to check keyword rankings is SemRush. It gives me a clear picture over gained and lost rankings, specific keyword rankings, progress over time and more.

We've had an increasing curve, hopefully, we can get back to that trend.
Google Changes in September
The SemRush sensor shows high activity for the US desktop database. Not sure if that's what impacted the decrease in rankings or not. I can tell that as of now rankings are improving in October, that's great to see.
Case Study Income Report and Sales Result in September 2017
I'm glad to see that the independent affiliate program is generating income. Due to the niche, I believe this program will really take off here in the last quarter of the year.
I also added another affiliate program starting the first of October, they don't offer as many products but I'm still positive it will generate some income for the site.
September 2017 Earned Commission
Amazon $957.43
Affiliate program 1, $499.65
Total Ordered Items: 483
Total Commission: $1,457.08
To make a "fair" comparison I like to see earnings per 1000 visitors. That gives us a good number based on traffic and earnings, that we can compare.
July $93.77 / 1000 visitors
August $65.05 / 1000 visitors
September $78.07 / 1000 visitors
Best month so far:
Dec 2016, $217.98 / 1000 visitors
Not as bad as August but not a great result. The commission structure update we saw from Amazon a few months ago are putting a dent in earnings for sure. Looking forward to the next few months.
Expenses September
Outsourcing: $113
9 Outsourced articles ($7 each) $63
4 Outsourced reviews, (these are longer in-depth articles 1000 words at least, $12.5 each) $50
Hosting: $2
This site is on shared hosting, there for the low cost.
This is the hosting I suggest if you are new.
BlueHost Review – Top Notch Domain and Hosting Under the Same Roof
Listbuilding: $5
Aweber list building shared cost with other sites $5
Total Expenses: $120 
Total Result September: $1,337.08
September 2016 – $743.69
September 2017 – $1,337.08
Must say it's a great increase from last year's number, I like it.
Total Result for the Site
Result Month 1 – 6: $–265.36 
Result Month 6 – 12: $817.13
Result Year 2: $15,767.08
Result Year 3 (7M in): $9,417.63
Yearly Site Result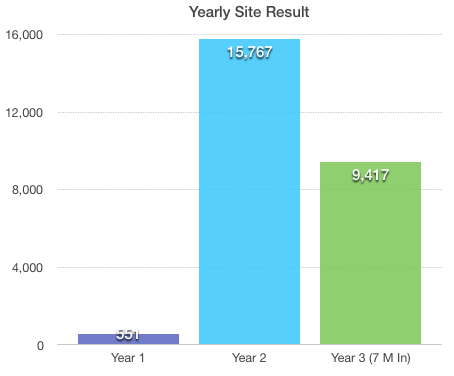 Monthly Site Result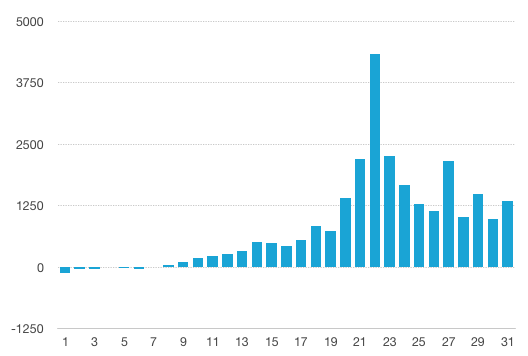 What About the Future?
This is a pie chart, with the % earnings per month for 2016, for this case study site.
Earlier this year I was asking myself if we could get the same growth this year? What would it take to reach $100,000 for the year?
Looking at the pie chart we should be at 35K after September, we are for sure behind :).
Total earnings for 2017 this far $13,961.43
I'm still excited for the future of this site. It has a lot of potential and growth to do.
Right now I'm trying to get some more exposure with two new methods that I have not used for this site before.
PPC
Starting in October I will be doing some PPC with Bing Ads. I'm targeting a brand new post with new product reviews. That way I will be able to keep an eye on conversions. I'll start out low and increase bidding, we'll see if it can bring in some extra sales…
Social Media Campaign
I will also be doing a Social Media campaign. Starting in October, I hired a guy to do some social media promotions for me. We'll start out slow and see where it leads.
A lot goes into a site and I'm forever grateful for these helpful tools…
Wealthy Affiliate for training and updates (Free and Premium membership)
BlueHost (starting from $3.95 monthly)
Jaxxy for keyword research (Free trial)
WpZoom Theme I use for the site  (Premium theme)
EasyAzon to fast and easy include Amazon links on the site (Premium plugin)
Aweber to collect emails (Premium tool)
SumoMe (Free and premium for social share)
Crowdfire for Twitter growth (Free and premium)
Google Analytics (Free)
SemRush (Free and Premium)
These tools are awesome, saves me time and help me maximize earnings.
Will this site be able to make $100.000 in 2017? Follow the journey, sign up for the newsletter…
Do you want to start your own blog or website? Check out my beginners guide to get started.
If you missed some of the old case study posts, feel free to catch up right here!
To a fabulous October!
Vicky