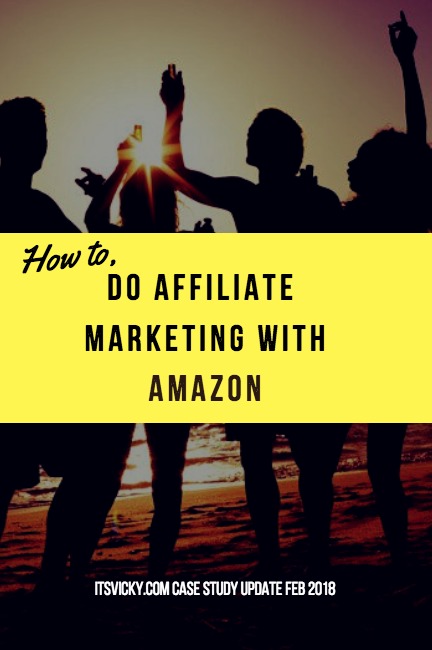 Fridays with Vicky
Are you looking to do affiliate marketing on your site or blog? Taking advantage of the huge market share and trust that Amazon has created for themselves in the online world, could really benefit your site. The question is… How to Do Affiliate Marketing with Amazon?
I like to walk the walk and not just talk the talk, so in this post, I'll show you some real numbers and stats from a site monetized with Amazon. I share traffic stats, rankings and money stats, in this…
Case Study Update for February 2018
This WordPress site is 3 years old and has for sure had an interesting journey. We've had great months around the holidays and slower months in the summer. That has a lot to do with the initial sub-niches I was working with targeting colder month related products.
When I started the site, I had a few things in mind:
The site had to target an evergreen niche I chose health.
The site had to be pretty hands off with mostly outsourced content.
It had to be monetized with Amazon.
One of the main reasons I started the site was to see if it was possible to make money with the Amazon associate program. I had heard people making really good money with them as associates and some that had a hard time. I wanted to see for myself if it was possible.
The conclusion… yes, you can make money with the Amazon associate program, in fact, you can make good money with the program.
Since I started the site I have added another independent affiliate program to monetize the site with. That has added some extra income to the site, which helped when Amazon changed their commission structure last year.
Doing these monthly case study updates being very transparent I often get the question why I share all this information.
There are two main reasons:
1.    To provide you, my reader, with great information related to real numbers. This can really give you an insight into how a WordPress site can perform. Of course, these are my numbers and yours might be completely different.
2.    This also helps me stay accountable, it's a great way for myself to keep an eye on the numbers. Totally everything up from the previous month gives me a great overview of the site.
Now if you are just starting out, see your site as a long-term project. With this case study site, I didn't see instant growth it has taken time. In the beginning, since I was outsourcing my content, I was losing money… now the site is doing a lot better and last year 2017 the site made $22.6K+.
2018 should be good…
That my own journey started with a $4 commission is hard to believe lol.
Enough about that let's look at the February numbers…
Traffic February 2018
The traffic dropped some from January to last month February. We have a couple of more days in January than February so looking at average daily users we dropped from 1109 in January to 1085 in February. 
January
Sessions 37,682
Users 34,402
Page views 47,196
Session duration 52 sec
time on page 3.26 min
February
Sessions 33,662
Users 30,380
Page views 42,290
Session duration sec 53 sec
time on page 3.25 min
Looking at session duration and avg. time on page, we stay pretty consistent, that's a good thing.
Great informative and engaging content will keep your visitors reading.
This site gets most its visitors from organic rankings in Google, Yahoo, Bing and other search engines. Almost 88% of the visitors come from the search engines.
This means that it's very important for the site to generate great content that ranks well in the search engines.
What kind of content rank well for this site? Let's look at that…
Content
This site provides informational content, product reviews, lists and more. Most content is outsourced, but what types of posts are driving the most traffic to the site? These are the types of posts that brought in most traffic in February for the case study site…
Top 5
5 Best
10 different types of
5 ways
Top 10
List posts works, they are easy to read engaging and the reader can quickly get an overview of the content.
There are a few things I make sure I include in these lists:
Engaging and informative content.
Easy to read content with a good layout
Using relevant images
When it comes to images and Amazon it can be time-consuming to use the image codes from Amazon to insert on your site.
I use a nifty little plugin called EasyAzon to help with image inserts, links, and infoboxes directly from my own site. This saves me time and makes sure I maximize my earnings. Read my EasyAzon review for more info.
Ranking Result
I want my content to rank high in the search engines, the main goal is a first page listing for specific keywords. Preferably to take one of the top 3 spots, these are the listings that get clicked the most.
Great content is not enough to get there, you'll need to target specific keywords and slightly SEO optimize your posts. If that is done correctly good rankings can be the result.
We want to keep an eye on those results since organic listings is a huge part of generating traffic.
Things will fluctuate for individual keywords and posts but overall I want to see some growth, make sure we are moving in the right direction.
SemRush is a tool that can quickly give me an overview of the ranking results of the site.
Let's see what information SemRush can provide us.
We can see the overall growth in keyword rankings: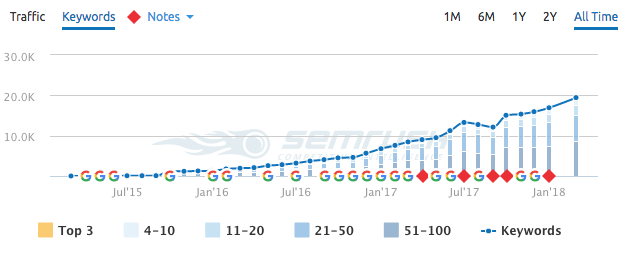 They also provide traffic information, all though I prefer Google Analytics for that stat.
Another thing I look at is the gained/lost keywords. Like I said earlier you'll win some you'll lose some this gives you an overview if you gained more than you lost…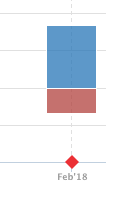 Blue is gained keywords, red lost keywords.
It also gives us a position overview: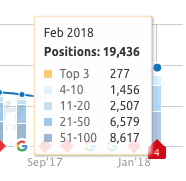 277 top 3 listings, I like that improvement. Overall, we have 19,436 listings according to SemRush. Not bad for a site that is 3 years old.
The rankings are improving, what about the income?
Case Study Income Report and Sales Result from February 2018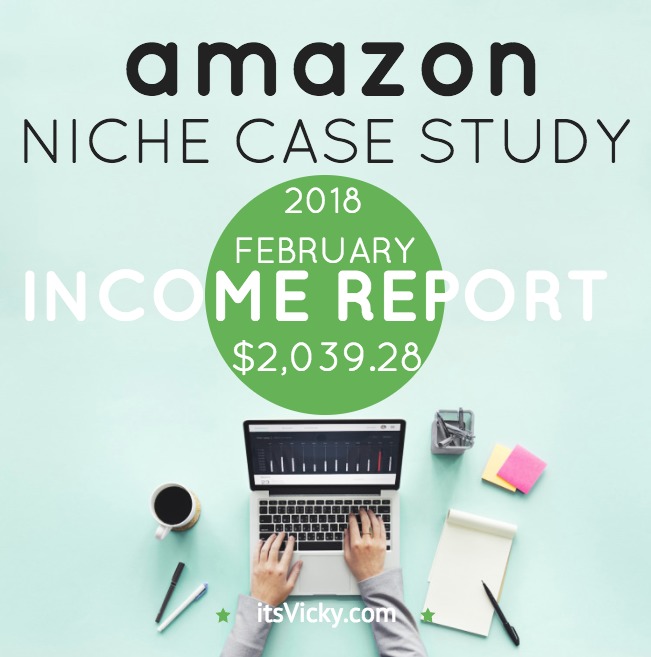 One thing that I'm excited to see is that the international accounts with Amazon in UK and Canada are making some consistent referrals. That and the independent affiliate program help make up for the reduced commissions from Amazon.
Let's look at the numbers…
February 2018 Earned Commission
Amazon US 791 shipped items    $1,582.84
Amazon UK GBP 41.34                 $56.81
Amazon CA CAD 54.08                $42.37
Affiliate program #1 – 8 sales     $357.56
Total Commission:                       $2,039.28
$ / 1000 Visitors
To be able to compare this website, with other online projects I like to look at the $ per thousand visitors. That gives us a number that we can compare with others.
October 2017 $85.15 / 1000 visitors
November 2017 $100.76 /1000 visitors
December 2017 $119.47 / 1000 visitors
January 2018 $70.41 / 1000 visitors
February 2018 $67.12 / 1000 visitors
I don't like that this number is decreasing, I have to look at overall conversion on the site and see how we can improve it.
Expenses February
Outsourcing: $132.5
10 Outsourced articles ($7 each) $70
5 Outsourced reviews, (these are longer in-depth articles 1000 words at least, $12.5 each) $62.5
Hosting: $2
This site is on shared hosting, there for the low cost.
This is the hosting I suggest if you are new.
List building: $5
Aweber list building shared cost with other sites $5
Total Expenses: $139.5
Total Result February 2018: $1,899.78
February 2016 – $259.79
February 2017 – $1,678.22
February 2018 – $1899.78
We increased a little over $200, compared to last year I'll take it lol. Hopefully, we can increase the growth going forward even more.
Total Result for the Site
Result Month 1 – 6:    $

–265.36

Result Month 6 – 12:  $817.13
Result Year 2:               $15,767.08
Result Year 3:               $22,880.61
Wrapping up year 3 and we do have a significant growth compared to Year 2, that's exciting.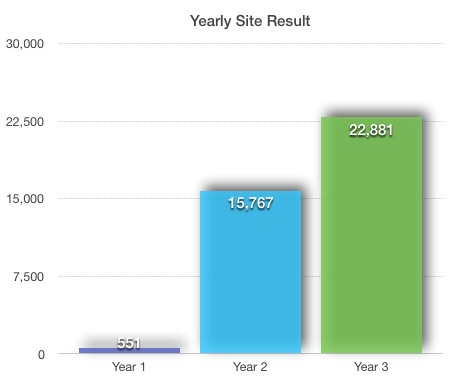 As you can see with the monthly results, it is definitely a peek season around the holidays, with December being a great month. A little bit of a roller coaster…
2018 What Will It Bring?
It will be very interesting to follow the journey of this site. Will it continue to grow? I have some pretty exciting plans for the site, just need the time to implement some of it lol.
Exciting stuff ahead if you are curious about the past of this site you can find the older posts here.
There are a few tools I use to make this case study site go around and help me reach the growth that I've had so far …
Wealthy Affiliate for training and updates (Free and Premium membership)
BlueHost (starting from $3.95 monthly)
Jaxxy for keyword research (Free trial)
WpZoom Theme I use for the site  (Premium theme)
EasyAzon to fast and easy include Amazon links on the site (Premium plugin)
Aweber to collect emails (Premium tool)
SumoMe (Free and premium for social share)
Crowdfire for Twitter growth (Free and premium)
Google Analytics (Free)
SemRush (Free and Premium)
Great tools that help me maximize earnings and save time!
Do you want to follow the journey of the site? Sign up below and I'll let you know when the next update is out…
To sum things up you can make affiliate marketing work with Amazon, let me give you a few tips…
How to Do Affiliate Marketing with Amazon?
There are a few things you will need to do affiliate marketing with Amazon.
Your own blog or website, with great relevant content. You can get started here.
An associate account with Amazon.
Some traffic to your site, to convert into Amazon visitors.
Don't sign up too early with the amazon associate program, you want to have some traffic, the reason is that they will shut down your account if you don't refer a sale within a set period of time, I believe it's 180 days.
If you are new but ready to get started, I will help you step by step to set up a site here.
If you have your site up but need some more help and guidance I suggest you take a look at this community.
They offer step by step training on how to set up a site, get traffic to it and monetize it. A community with 800.000+ members talking online marketing, blogging, WordPress and anything and everything related.
I've been a member there for 10+ years and still enjoy the community!
If you have any questions feel free to leave them below, I love hearing from you!!
To a productive day,
Vicky