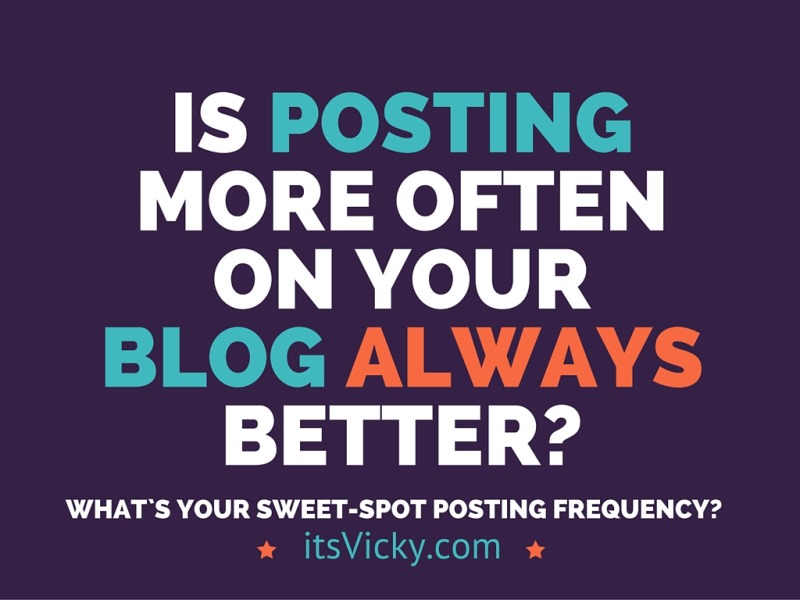 Fridays With Vicky 50
After struggling to write my post today, I have decided that I will be cutting down my post submission from 3 times a week to 2 times a week.
I want to provide quality, engaging content for you my reader, so focusing on less will create more value in this case.
When I write I want to be excited and not do it because a third article is due for the week.
Cutting down the post amount to 2 articles weekly, will allow me to write better content and focus on some other things for my website.
One of the things I`m putting more time into is social media and right now my focus is Twitter.
I hope that engaging with my Twitter followers will increase the traffic some as well.
What I`m curious about is, if going from 3 posts to 2, will affect traffic to my website. Will I get less visitors?
Is posting 3 times a week better than 2 times a week?
At this point I don`t think it will hurt this site to post less, compromising on the quality though might.
Today is October 21, I will check back in a month or so to look at the numbers and results and give you an update. I will show you some real numbers.
My guess is pretty worthless lol, but my numbers will speak for them selves.
My Result, Going from 3 Posts to 2 Posts Weekly
I use Google Analytics to check my stats on my sites. A resource filled with valuable information.
My focus will be on organic traffic and traffic generated from social media. At the moment these are the top 2 traffic generators for this site.
I will compare the numbers from Sep 21 to Oct 21 with the numbers of Oct 22 – Nov 22. Let`s see the change, will it be positive or negative?
Result Going from 3 Posts to 2 Posts Weekly
Users            +42%
Sessions      +52%
Page view    +46%
These numbers confirmed that I`m doing the right thing. I must say that the positive numbers are way better than I expected.
By cutting back the one post I freed up some extra time, that I spend on Twitter and it seems like this is paying off.
Session duration went from 03.28 to 02.56.
So this is a down trend. I`m still around 3 minutes so I`m not too concerned about it. This can also be due to traffic from social media, some might check the site out and move on a little faster than if you found the site in the search engines by actively looking for something specific.
Let`s look at where the traffic is coming from. Focus will be organic, social and direct traffic.
Changes in Where the Traffic Is Coming From
Organic Search        +12%
Direct                        +35%
Social                         +131%
I`m pleased to see an increase in organic visitors. I`m very excited about the Social visitors, they more than doubled. Using Twitter is paying off.
What About Conversion?
It`s all about targeted traffic. I rather have less traffic that convert, than a lot of traffic that don`t. The best scenario is of course a lot of traffic that convert really well.
In this case I almost doubled my membership leads to this program. This also meant increase in sales.
I could not be happier with my decision of going from 3 weekly posts to 2. The numbers are up and speak for themselves.
What it comes down to is testing. Each and every website is different. So what works for this site might not work for yours. The key is to know your numbers, improve and adjust.
Another thing to look at is, if you do cut down on posting…
…what will you be doing instead?
In my case I spend more time on social media which payed off. It`s about finding a perfect balance for your site. Working with your site both on page and off page.
What`s your thoughts on posting frequency? Feel free to chim in!
Have a productive day,
Vicky