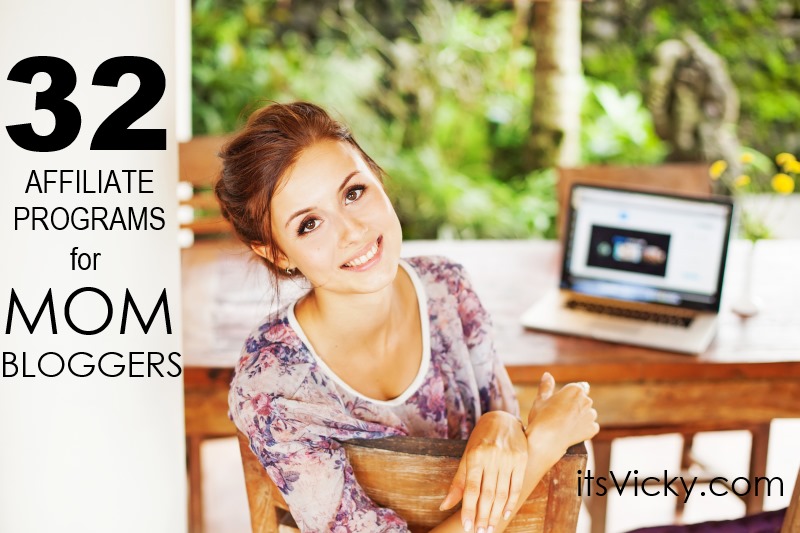 Fridays with Vicky 37
As bloggers some of us look for different ways to monetize our blogs.
Affiliate marketing can be a very profitable way to monetize, if you run a mom blog for example.
As affiliate marketers we connect people with solutions. Through quality, relevant, content we provide solutions to our readers problems. Sometimes that happens to be a product.
There are many different types of mom blogs, that`s the beauty of them. In this article we will take a closer look at affiliate programs for mom bloggers that include food, craft, parenting, education and beauty.
Keywords Will Help the Search Engines Find Your Content
If you want to rank in the search engines, like Google, to receive organic traffic, using keywords will highly benefit you. Today we will not only look at the affiliate programs but also some keywords that you can rank for within each niche.
If you are not working with keywords yet or want more information on the topic I suggest reading– keyword research explained.
Topics like food, craft or parenting are too broad for keyword targeting. Below I give an example with each topic where I narrow it down and find a very specific niche that can be used.
I use a tool called Jaaxy to do my keyword research. I`m not going into details about the tool, but if it`s got a green button next to the keyword it`s a "go" yellow means "ok" and red means "hard to rank for".
Some of the programs suggested requires you to sign up with an affiliate network like LinkShare/Rakuten or Commission Junction. Some of them are independent. Let`s dive in..
 Let me just make it clear that these are not affiliate links.
32 Affiliate  Programs for Mom Bloggers and Some Keywords to Go With It
Recipe / Food Bloggers
The key is to dig deeper and be specific when it comes to keyword research. Trying to rank for a keyword like "recipe" is going to be very hard, because of the competition. But if you target-in on longer keywords that are more specific, then you will find people searching for exactly that phrase. It will also be less competition and easier to rank for.
Let me give you an example. Let`s take "birthday cake recipe", that`s still pretty broad but "train birthday cake recipes" and "best birthday cake recipe" are more specific and very targeted. That`s potential keywords I would go after if I blogged about cakes or recipes.
Food Affiliate Programs to Take a Look at
4. Shop Taste of Home Cooking School Online and Offline
6. Smart Kitchen Online Cooking School
Food Order:
7. Plated, delivers everything you need to create your dinner. Affiliate program through flexoffers.
8. With Eat street you can order food delivery and takeout. Affiliate program with flexoffers.
Education Bloggers
Education is another huge topic and targeting in on very specific areas will help, if you want to rank in the search engines. In the below keyword example, I started searching on math and drilled down to find these math related keywords. Who doesn`t want fun math games, right?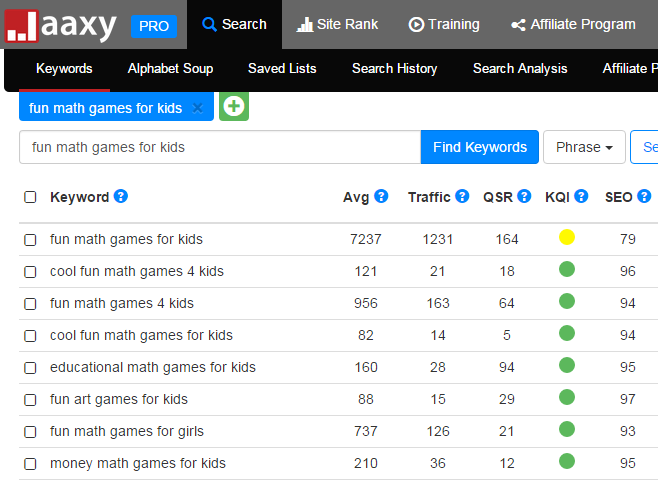 Education Affiliate Programs to Look Into
9. Scholastics educational books toys and games.
10. ABC mouse fun online learning for young children age 2-7.
11. Mathway, online math help.
12. Splashmath, fun online math for children.
13. CNK Digital online learning.
Craft Bloggers
In this case I narrowed my keyword search down to a holiday and to a specific type of craft, paper craft.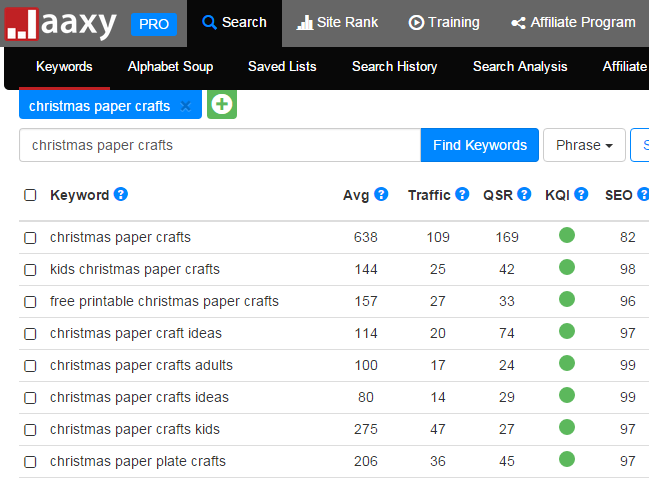 Craft Affiliate Programs
14. Create for less, scrap-booking, beading, crafts and the list goes on.
15. Joann fabrics and crafts.
16. Creative bug workalongs.
17. Annie`s craft store.
18. Craftsy online classes, kits and supplies.
19. Crochet patterns.
Parenting Bloggers 
As parents a lot of us have wondered "how to get your baby to sleep through the night". That`s also a keyword phrase you could go after if you blog about baby sleep. Narrow it down to specific topics relevant to your blog.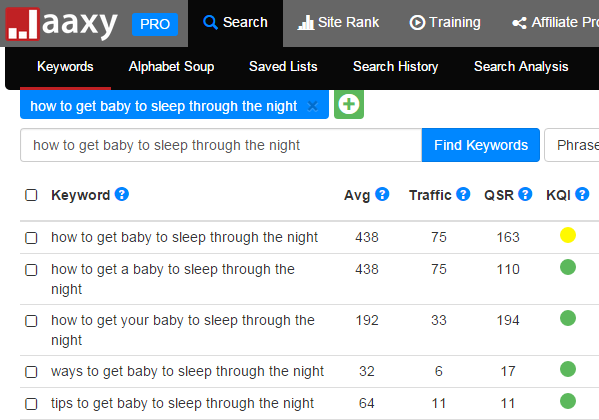 Parenting Affiliate Programs to Take a Look at
20. Positive parenting solutions. Online programs for parents of toddlers to teens.
21. Green kids crafts, a new box with educational fun each month.
22. Parents, everything from pregnancy to big kids stuff .
23, Creative Kids stuff store.
24. The potty bootcamp.
25 Baby sleep site, help with getting your baby to sleep better
26 WorldVision, sponsor a child. Affiliate program through Avantlink.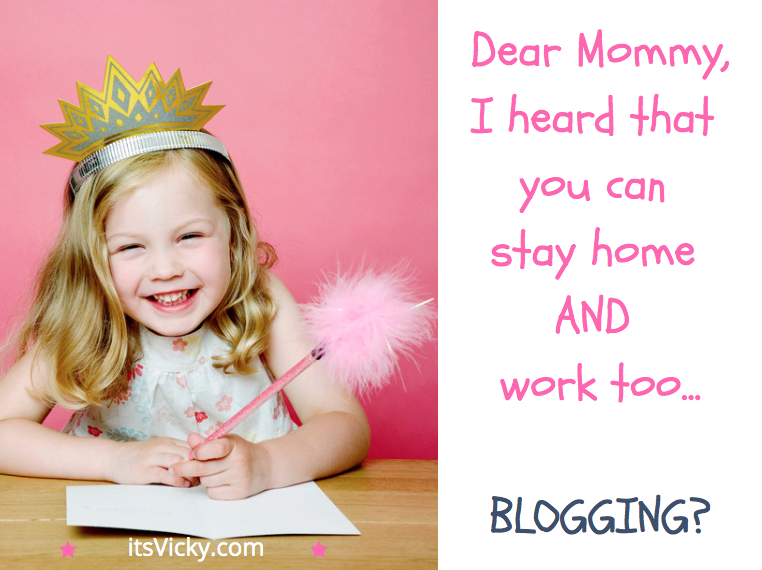 Beauty Bloggers
There are so many different directions you can go when blogging about beauty. In this example I use the keyword phrase "best lipstick that stays" and here are some suggestions that came up.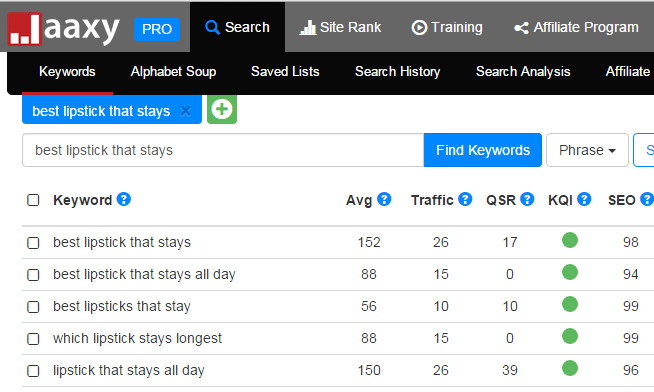 Beauty Affiliate Programs for you to Look Into
27. Sephora
28. Sally Beauty
29. Juice beauty 
30. Beauty.com
32. Sigma beauty 
If you are thinking of starting a beauty blog, check out 9 steps to start a beauty blog.
There we have it 32 affiliate program suggestions for mom bloggers.
If you want to try out the keyword tool I use above, you can do so right here…
Hope that this gave you some suggestions and some new ideas. You should always focus on the quality of the content for your readers. It doesn`t hurt to help the search engines, by using keywords, so that they can find your content. By using keywords I mean adding them to the title and first paragraph for example. No keyword stuffing.
If you want to know how to use the keywords, check out keyword research explained.  If you want to know more about Jaaxy you can read my review about it here.
What do you enjoy blogging about? Do you use affiliate programs? I would love to hear from you, fee free to leave a comment below,
Have a productive day,
Vicky