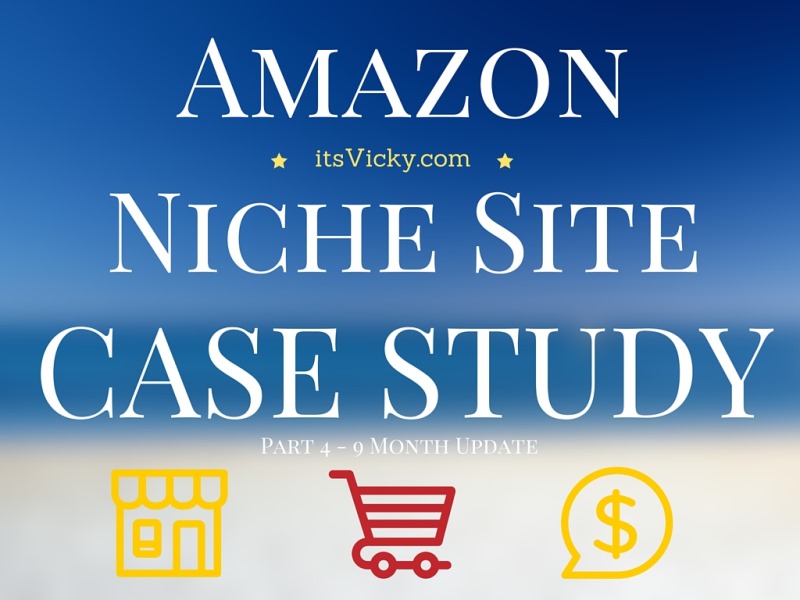 Fridays with Vicky 49
In this case study, we take a closer look at the progress and numbers for one of my amazon niche sites. I show you the real statistics, numbers, and sales.
I got back from vacation yesterday. Florida in December…
Well, I wish I had another week or two there. We had a great time on the beach and on our little adventure trips, a great family vacation.
I was kind of dreading coming back, but there were a few things I was excited about and one of them was to check the stats and numbers for my Amazon case study site.
Can`t believe the site has been up for 9 months already.
Since I do enjoy traveling and spending time with my family and friends (who doesn`t, right). I`m always looking for "hands off" easy to manage projects to create income for me. That`s what this case study site is based on.
A Little Background of the Case Study Site
This is a WordPress site, that I started in the beginning of the year. So far the concept has been simple:
I outsource my content.
I submit two new posts weekly.
I have created a few longer review post that I point my content too.
I use Twitter some but at the moment very little. YouTube is something that will be implemented more.
That`s about it. I want to see if I can, with this simple method, create an additional income stream to add to my online business.
I look at this long term, and by targeting "long tail keywords" I believe that over time this will be a highly profitable site. The numbers don`t lie, so within this case study, I will be completely transparent with my numbers and stats.
Hopefully, this case study will give you a realistic view, of what it takes to create a profitable Amazon site.
If you missed the earlier posts…
Let`s dive in.
Traffic
Let`s look at the traffic. At this point, I have about 100 posts and pages submitted to my site.
We will look at the traffic for the last 3 months.
September
Users 873
Unique page views 1482
October
Users 1360
Unique page views 2395
November
Users 2094
Unique page views 3486
This is a great positive trend in traffic, and as I see it due to two reasons.
The first sub-niche that I target is focused on the winter months so that will naturally give the site an upswing.
The holidays. People are looking for physical products and gift ideas. November and December are great months to promote physical products.
You can always increase traffic, so will implement some more traffic strategies.
My goal was 2000 users and that I reached.
Ranking Results
To check my rankings result, I use SemRush. A great site that will provide you with great statistics when it comes to rankings and keywords.

Since we have a positive trend here, I`m pleased with it.
Conversions
This was something that has been a little up and down in the past, so I do want to keep an extra eye on conversions. In the past, I checked conversion from my "top 10 review" post I have since added a couple of more pillar articles so from now on I will go with the Amazon sales conversion.
September 9.27%
October 12.04%
November 9%
Not too bad, but the numbers can always improve.
Revenue
Expenses for the site
Content outsourced $48
Pictures for blog posts $8
Site on shared hosting
Total: $56 / month
Income and Monthly Results
September
17 Sales
Sales $49.07
Expenses $56
Result: $-

6.93
October
38 Sales
Sales $101.92
Expenses $56
Result: $45.92
November
50 Sales
Sales $164.94
Expenses $56
Result:$108.94
Total Result for the site
Result Month 1 – 3: $

-200.17

Result Month 4 – 6: $

-65.19

Result Month 6 – 9: $147.93
Total result after 9 months: $-117.43
I`m happy with the progress. I now see positive numbers for the last two months. Being able to bring in some extra cash, even though I outsource the content is great.
My goal was to reach 20 monthly sales, I got 50 in November, so that is great progress.
Although the total result for the last 9 months is still negative, I believe that will change by the next 12-month update.
Goals for the 1 Year Mark of the Niche Site
Content
I will continue to submit 2 weekly outsourced posts.
I want to start submitting some videos to YouTube as well.
Traffic
My traffic goal is to reach 3000 unique visitors monthly. Maybe high but with December included I think it can be done.
Financial
With 50 sales in November, I will go for a goal of 125 sales in December. For January and February, I will aim for 100 + sales monthly.
The last couple of months the site has shown positive numbers, out of the red. Overall the site is still catching up from the earlier months with expenses and low sales numbers. My goal is to get the overall result of the site, on the right side of the fence. Do not want to see any more red numbers.
To Do List Going Forward:
Start building an email list
Come up with a good "give away" for the list
Start building relationships in the niche. Start to interact with other blogs in the same niche.
Use Twitter and other social media more actively
Use YouTube more actively
Look for high ticket items within the targeted niches. The ones I target now are low ticket items.
Lot`s of things that can be done with the site. I`m excited to see what the Christmas sales can do in December.
See how the site is doing 1 year in:
Here you can find the latest case study update.
Do you run an Amazon niche site? Are you maybe thinking of setting one up? I would love to hear from you, feel free to share your thoughts, comments, and questions below,
Have a productive day,
Vicky