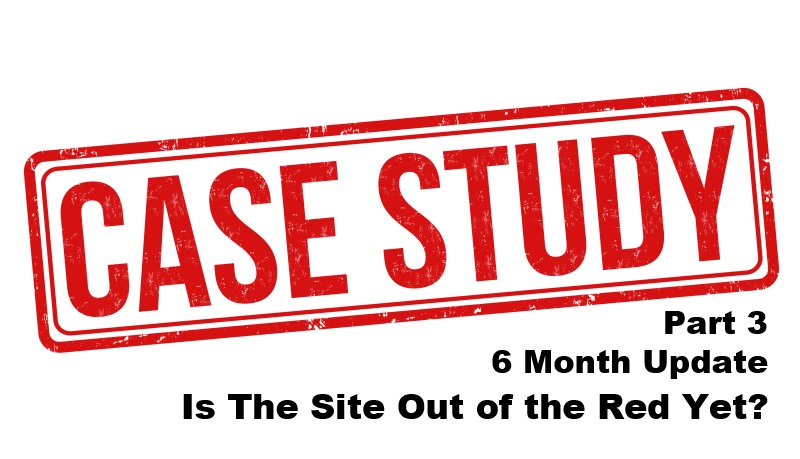 Fridays with Vicky 35
In this Niche Site Case Study, we are following one of my other sites. I show you the real traffic, rankings and sales numbers. I share what works and what doesn`t.
Today we will take a look at the 6-month update, March 1 – Aug 31. Will this site be out of the red?
Today we will also dig deeper into Google Analytics, a helpful tool that shows you the history of your site so that you can dominate the future.
In the 3-month niche site case study update, I talked about what I did to get traffic, rankings, and sales. It`s been summer. During the summer I like spending time with my kids and family. I enjoy traveling. So to be honest I have hardly touched the site the last 3 months BUT there is one thing I always make sure…
I stick with my schedule and all though I took the summer off…
I always submit fresh content to my site twice a week.
That`s what I committed to with this site, and that`s what I`m sticking to.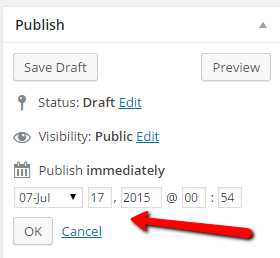 How Can I Submit Fresh Content  Without Working?
My favorite feature in WordPress is the scheduling tool.
I make sure I have the content written, submit it and schedule the post for when I want it to go live.
You can read more about scheduling your posts here.
Google Analytics
After you have been using Google Analytics for a while you can get some really valuable information. This is the traffic overview for the site, March 1 – August 31.

As you can see it will not be a straight curve up, you will have some days better than others. What we are looking for is a positive trend.
The sub-niche that I started out working with is geared toward the winter months, so I`m not surprised by the few highs in August.
Age and Gender
Another thing I look at is age and gender. In the last article, I talked about targeting your audience with a visitor profile. Google Analytics can help you with that.

That the age group 55-64, is the biggest age group does not surprise me at all. The first sub-niche I target offers a product that suits this age group well. It also serves active people in the age 25 – 34.
PageViews
So what pages do my audience visit?

The most popular page on the site is the homepage, marked /. You will then get a list of the most popular pages and posts on your site following.
This can be a great help, to find out what`s ranking and what`s popular on your site. Keep doing more of what already works right.
I can also see that my visitors is engaged, they stay 3 minutes on average.
The bounce rate (Bounce rate a single page session) being a little high I`m not too worried about. Avg. time is good, and the bounce rate might be that they bounce over to Amazon and I have nothing against that.
Devices
Another thing I keep an eye on is the devices used to visit the site. Some of my sites have lots of mobile users and I want to make sure that the content is displayed properly no matter what device is used to visit my sites.
In this case, most people visit the site from their desktop.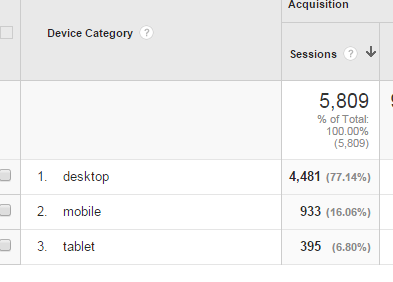 Google Analytics can be a great help to figure out what works for your site and what doesn`t. If you are just starting with a site don`t dwell too much on it, you will see the patterns over time and that way figure things out.
Click Here for More Basic Google Analytics.
Ranking Result after 6 Months
Looking at the main keyword, from sub-niche 1. The top 10 review page ranks #4 in Google, after Amazon, Walmart, and Walgreen for its keyword.
It ranks higher than Overstock, QVC, Bed Bath and Beyond and Sears. Not bad at all!
If I can keep or improve this ranking position going into the winter months then I should be able to see some increase in sales.
To check my rankings I use Jaaxy and SemRush. If you are looking for a specific keyword you can type it directly into Google and check your ranking there. I find that it saves me a lot of time using one of the mentioned services though. It also shows me what keywords I`m ranking for, keywords that I might not even have thought about.
So let`s see how the rankings are going, using SemRush.
The positive trend with more and more keyword rankings.
Am I gaining or losing keyword rankings?
As we can see we gained more keywords than we lost. Log into your SemRush account and you can click on the box and check out the keywords. This can be very helpful and you can go in and give that keyword/article a boost if needed.
Traffic and Sales after 6 Months
March
Unique page views 359
"Top 10 review" page view 18
Number 1 Product review 34
4 Sales (2 sales directly related to the in-depth reviews)
$7.29
April
Unique page views 625
"Top 10 review" page view 62
Number 1 Product review 81
7 Sales (5 sales directly related to the in-depth reviews)
$18.59
-The reasons the number 1 review is getting more views than the top 10 is because the review was written and submitted first. 
May
Unique page views 1313
"Top 10 review" page view 114
Number 1 Product review 97
6 Sales (3 sales directly related to the in-depth reviews)
$10.95
June
Unique page views 1510
"Top 10 review" page view 112 – unique page views 92
Number 1 Product review 78
15 Sales (13 sales directly related to the in-depth reviews)
$47.22
July
Unique page views 1690
"Top 10 review" page view 186 – unique page views 155
Number 1 Product review 90
9 sales (8 sales directly related to the in-depth reviews)
$33.55
August
Unique page views 1161
"Top 10 review" page view 239 – unique page views 178
Number 1 Product review 111
8 sales (7 sales directly related to the in-depth reviews)
$22.04
I see a positive trend when it comes to page views and unique page views. I`m also excited about the Avg. Time on the review pages, around 3.30 min.
Conversions
Let`s look at the conversions. I`m taking the top 10 review page, the unique page views and see how many sales they generated.
June 14.1%
July 5.2%
August 3.9%
So this is a downhill trend that I need to keep an eye on, not too happy about this. Although 14.1% is really good in June the number in August is not. There can be many reasons for this. In June, for example, I had some buy more than one item of the same order.
I also had some "spam crawlers" that might have pushed down the August conversion rate, will be looking into that more. In the next niche site case study I will show you how to exclude the "spam crawlers".
The conversion number going down is definitely something to keep an eye on though.
Amazon Website Sales
Income month 4-6: 102.81
Expenses
Expenses Month 4 – 6
Content outsourced $48
Pictures for blog posts $8
Total: $56 / month
Total Month 4-6: $168
I`m excited that I almost, almost broke even with the outsourced content in June.
Result Month 1 – 3: -200.17 
Result Month 4 – 6: -65.19
Total result after 6 months: -265.36
Although I`m still in the red with this site, I have big hopes for it coming the winter months. Sub-niche 1 that I work with is geared toward the winter months, it`s a little bit of a seasonal product. So this one should start climbing and get out of the red as we approach some cold weather. Sub-niche 2 will be an all around year product, so come next year at this time, this niche will help even out the income.
Goals for the 9 Month Mark
Content
I will continue submitting outsourced posts 2 times weekly.
Also, want to submit a couple of new pillar articles.
Traffic
I did reach the goal of reaching 1500 for this period. So for the 9-month mark, 2000 visitors monthly are my goal.
Financial
I did reach the 10 monthly sales although I had a little dip in August. Reaching 20 monthly sales going into the colder months is my goal.
Also looking to be out of the red with the site.
To Do List Going Forward:
Create 3 more pillar articles Top 10 or Top 5
Start building an email list
Come up with a good "give away" for the list
Start building relationships in the niche. Start interacting with other blogs in the same niche.
Use social media more actively
Hope you enjoyed this 6-month case study. If you want some tips and ideas how to dominate and make money with Amazon click here.
Did you miss these posts?
I would love to hear your take on it, feel free to leave a comment below,
Have a productive day,
Vicky