Fridays with Vicky 79
Can't believe we are half way through 2016 already. June is gone and we are in the middle of summer.
For a while I've been expecting kind of a drop in both traffic and sales with this site, but it hasn't really been that way… until June.
This is an amazon niche site, that I'm doing a case study on. To be honest I stayed away from Amazon for the longest time due to the low commissions, but finally last year I decided to give it a go.
I share my ups and downs, my numbers and expectations with you guys so that you can get some insight, how it is to run an Amazon niche site.
When I started out I wanted 3 things:
I wanted a hands off site
I wanted to outsource the content
I wanted to monetize with Amazon
… and that's exactly what I've done.
Let's dive in and look at the numbers for June 2016.
Traffic Progress
How do I get traffic to the site?
This site has slowly grown over time. The way I get traffic is by submitting content on a regular basis. Helpful content that is based on keywords. I outsource pretty much all the content for this site. One of the criteria for the site was that it needs to be hands off and the best way I know how to free up time, is by having somebody else create the content.
Over time content is submitted with the chance to rank organically in Google and other search engines. This is kind of a slow process, but with this site I'm ok with that.
I know that I should be doing a lot more social media with this site, hopefully I'll get to that this fall.
Let's look at the traffic numbers.
May 2016 (Month 15)
Sessions 5512
Users 5007
Pageviews 8263
Session duration 1.44
June 2016 (Month 16)
Sessions 5133
Users 4631
Pageviews 7243
Session duration 1.41

We can see a little decrease in traffic, this is the first month that we actually go down a little bit with our traffic numbers and in some way, it's a little sad BUT I can totally see why. I was expecting it, in fact, I thought it would have happened sooner. The reason being is that the main niche target a pretty seasonal product with most searches during the winter months.
Here's a screenshot from Google trends with the main keyword for that sub niche, as you can see it drops significantly during the summer months, with the yearly low in June.

Looking at this image, I'm surprised (but happy) that the traffic drop didn't come earlier.
Ranking Results
Let's look at the ranking results, I know that the search volume is down for the keywords but did we gain or loose keyword rankings?
New and lost keywords
May 2016 (Month 15)
June 2016 (Month 16)
So we gained some we lost some. Not sure why we lost almost 300 rankings…
After looking at the gained /loss statistics I always check in to see if Google had any changes to its algorithm. I find 2 in May but nothing in June… So no updates that I'm aware of.
I use SemRush to check my gained and lost rankings, I also use them to see my keyword rankings…

I'm happy with the positive overall trend though when it comes to the keyword rankings.
Sales Result
With the lower traffic numbers, do we have a decrease in sales as well? Looking at the traffic numbers we went down 8.1%, did the income drop as well?
Let's look at the numbers.
May 2016 (Month 15)
Sales: 227
Commission: $602.16
Expenses May
9 Outsourced articles $54
4 Outsourced reviews, (these are longer in depth articles 1000 words at least) $50
This site is on shared hosting. Read about my recommended hosting here.
Total Expenses: $104
Total Result May: $498.16
June 2016 (Month 16)
Sales: 208
Commission: $518.24
Expenses June
8 outsourced articles $48
3 Outsourced reviews, (these are longer in depth articles 1000 words at least) $37.5
This site is on shared hosting. Read about my recommended hosting here.
Total Expenses: $85.5
Total Result June: $432.74
We do have a drop, in earnings as well, looking at the above circumstances it does make sense so I'm not too worried about it. I am excited though for the winter months to come. Can't wait to see what the site does in October, November, and December.
Let's look at the total result for the site.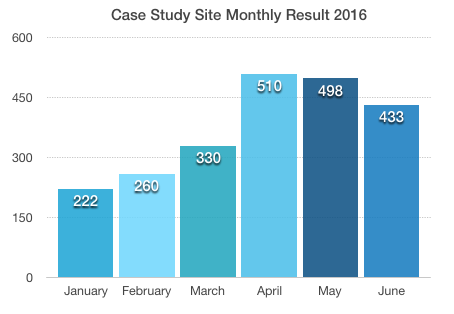 Total Result for the Site
Result Month 1 – 6: $–

265.36

Result Month 6 – 12: $817.13
Result Month 13-15: $1337.49
Result Month 16: $432.74
Total result after 12 months: $551.77
Total result after 16 months: $2322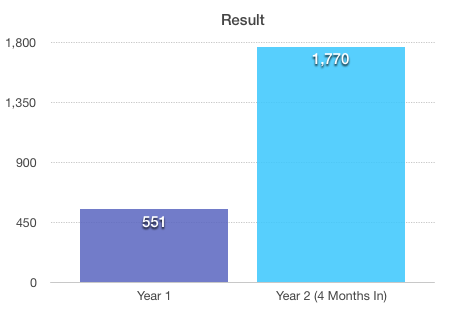 Going Forward…
I will be completely honest; the coming months I will do very little with this site. July and August will be all about family, friends, traveling and summer fun. My biggest reason for doing affiliate marketing not only with this site but with many other is so that I can spend time with my kids. They are both in school now, going into the second and sixth grade, but the summers I spend with them!!
I've been doing a lot of planning and scheduling this spring though so that I still have fresh new content coming out on a regular basis from this amazon site. The way I do that is that I schedule my content using the WordPress scheduling feature. It is truly my best friend during the summer months.
Right now we are in the beginning of July and I have posts scheduled half way through September. Since I want this site to be a hands off site, I didn't write the content myself, I outsource pretty much all content for this site.
So all though I will be traveling and enjoying my summer I have weekly product reviews and articles going out. 3 times weekly I have fresh new content from the site.
This is why I love working for myself. I decide what to do with my site, with my time… wouldn't want it any other way!
Couldn't have done it without…
This program:
Wealthy Affiliate Review – An Online Community That Might Surprise You
And this plugin:
EasyAzon Review – Save Time and Increase Amazon Commission All With this 1 Plugin
Did you miss the related posts in this case study serie?
Enjoy your summer and have a productive day,
Vicky