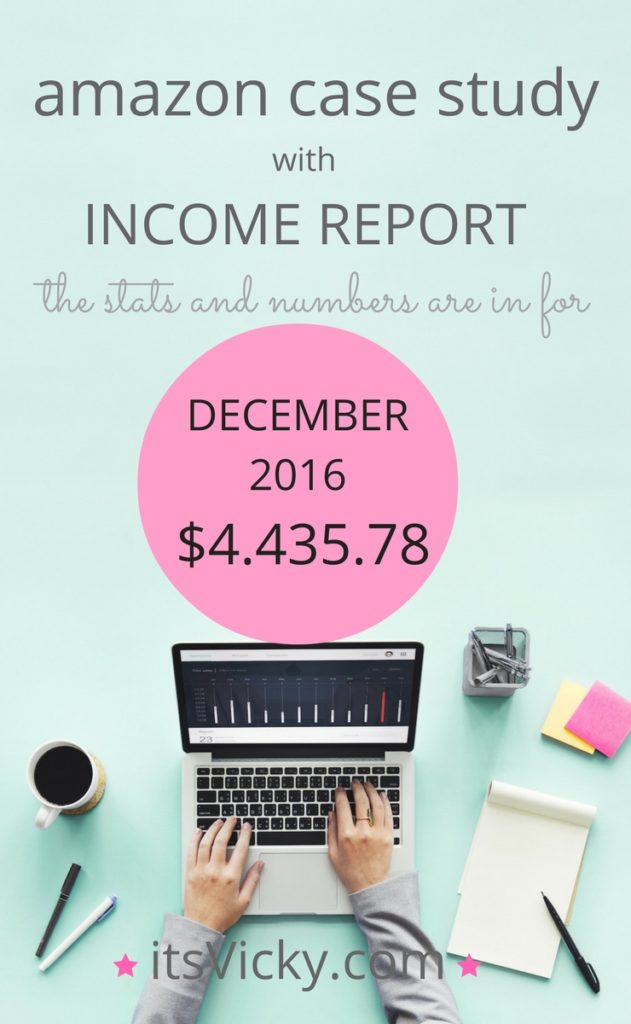 Fridays with Vicky 104
The December results are in.
Verdict: You can make money with Amazon!
When starting this Amazon niche site, I did it because I wanted to see for myself if it was possible to really make money with the Amazon associate program.
I had read about people making a decent income, but most people I came across had a rough time earning.
I thought it would be kind of a fun project to put up a site and monetize it with Amazon and see if I could make some money with it. Allow for you to follow the ups and downs and track the progress here on my itsVicky.com site.
To be honest the starting point of 4% commission didn't really excite me.
Since the site is built on mostly outsourced content and organic rankings, the progress has been kind of slow, but… Looking at my December statistics and income numbers…
I'm EXCITED!
People saying that the holiday shopping is the time of the year to be an Amazon associate are not kidding. Not only did this site have the best month yet. It also helped me personally reach my overall best month yet in 9 years with my affiliate marketing business.
For me, this is a big deal considering how my year started out with a lot of issues and headaches to the extent that I almost threw in the towel.
Today I'm glad I didn't…
I'm very excited to share the Amazon Case Study Numbers for December with you!!
If you are new to the case study, let me give you a little quick background of the site.
It's a site focused on sub-niches in the health niche. An evergreen niche that's lasting. I'm working with 5 sub-niches at this point, a couple of them are established and rank very well, a couple are pretty new and "work in progress".
One of the established niches is focused on the winter months, which naturally gets a boost this time of year. That combined with the holiday season contribute to the upswing for December.
Let's look at the numbers for December 2016.
Traffic Progress
How do I get traffic to the site?
The number 1 way I get traffic to this site is through organic listings ranking in Google and other search engines. Submitting content on a regular basis is really starting to pay off.
November 2016 (Month 21)
Sessions 17.427
Users 15.617
Pageviews 24.552
Session duration 1.18
December 2016 (Month 22)
Sessions 22.469
Users 20.349
Pageviews 31.101
Session duration 1.16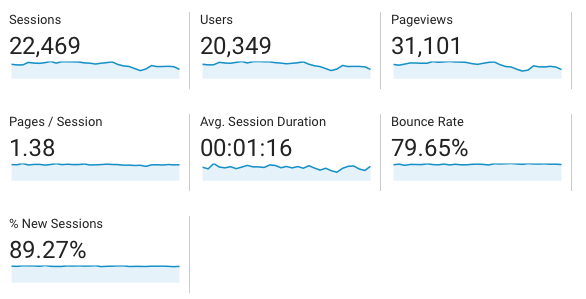 The average daily user count went from 400 in October to 520 in November, and up to 656 in December. It will be interesting to see if the user count for January will keep climbing or if this was due to the holiday season.
Content
In the beginning of the year I submitted 2 posts weekly, now I submit 3 posts each and every week. Submitting slightly keyword optimized content on consistent basis works.
It might take some time to get the ball rolling with this method but when it does, there will be a snowball effect like we've seen with this site.
Since I outsource most my content, I pay for the content but when it ranks the traffic is free.
A question I get a lot is…
What kind of content rank and convert well?
Looking at rankings in Google and other search engines, well-written content with a purpose that is helpful to the reader rank well. When it comes to converting the visitors to Amazon, in-depth reviews, top 5 or top 10 posts convert really well.
Give the visitor what they are looking for. If they are looking for more information on a specific product, write a well-written objective review, they do convert well.
Ranking Results
Since organic listings are my main traffic source, I keep an eye on the rankings and listings. Looking at SEMRush I see an exciting upswing in rankings from November to December.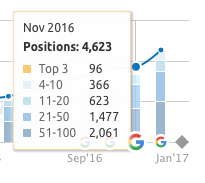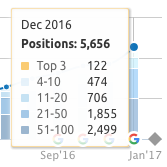 That's an increase of over 1000 positions, that's exciting!!
Gaining 26 top 3 listings is great, I'm very happy with that.

This is a great positive trend jumping from 4.7K keywords to 5.7K, I like it.
The SEMRush tool really does give an easy overlook when it comes to rankings and listings.
When checking the rankings I always check if there is anything going on with Google, if there have been any updates that can cause changes in the rankings.
Google updates December 2016 – UI Style and Font
I don't think the latest Google update has any impact on the rankings this is more of a facelift for them.
So what are some of the Google changes December 2016?
They use a new font, Roboto.
They have increased the size of the Google logo.
More cards are added.
The search bar is shadowed.
Settings and tools (new feature) are now to the right under the search bar.

Case Study Income Report and Sales Result from December 2016
I had high expectations for December after breaking the $1K mark in October and the $2K mark in November. I wasn't sure though how things would go, I don't really do a lot of Christmas marketing. I added a couple of posts with Christmas keywords, like "best Christmas gift for…" but that was pretty much it.
What I found though was that people found my site through all the other keywords I rank for and just ordered more. December 2016 is the best month this far for this site and I'm excited to share the income numbers!
Ordered Items: 1604
Commission Summary: $4.435.78
Expenses December
Outsourcing: $104
9 Outsourced articles $54
4 Outsourced reviews, (these are longer in-depth articles 1000 words at least) $50
Hosting: $2 This site is on shared hosting, therefore the low cost of hosting Read about my recommended hosting here.
List building: $5 Shared cost with other sites $5 Total Expenses: $111
Total Result December: $4.324.78
Let's compare 2015 and 2016 income numbers.
December 2015 -$187.53
December 2016 – $4.324.78
I like the increase!
Total Result for the Site
Result Month 1 – 6: $–

265.36

Result Month 6 – 12: $817.13
Result Month 13-22: $11.824.63
Total result after 22 months: $12.376.4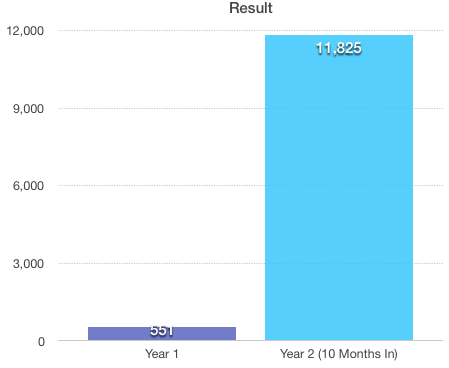 Monthly Results 2016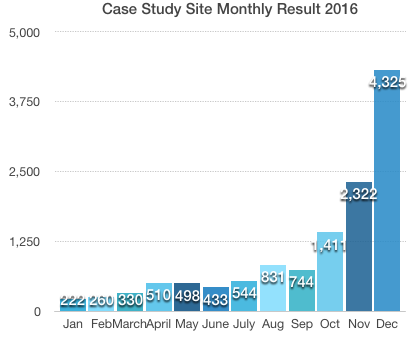 Breaking the 1K mark in October, the 2K mark in November and the 4K mark in December… Great progress.
I'm super excited if the site did +$4K this year in December, the sky is the limit when it comes to next year's holiday season.
Creating and maintaining the site I use some helpful tools, here are a few of my favorites to use and without them, I don't see that the site would have progressed like it has.
These are some of the tools I depend on:
Wealthy Affiliate for training and updates (Free and Premium membership)
BlueHost (starting from $3.95 monthly)
Jaxxy for keyword research (Free trial)
WpZoom Theme I use for the site  (Premium theme)
EasyAzon to fast and easy include amazon links on the site (Premium plugin)
Aweber to collect emails (Premium tool)
SumoMe (Free and premium for social share)
Crowdfire for Twitter growth (Free and premium)
Google Analytics (Free)
SemRush (Free and Premium)
Don't underestimate these tools, they have contributed to the great result for this month!
Going Forward, 2017 Will Be Exciting
2017 just started and I'm working on my goals and plans for this site going forward.
Having clear goals is very important, you want to know where you are going. Breaking your big goals down into manageable tasks is the way to reach them.
In January I will be working on my goals and tasks for 2017. I know that continuous content creation, social media, and YouTube will be playing a big role for this site to continue to progress.
As far as content creation I will continue to submit at least 3 posts weekly, I might even bump that up to 4 throughout the year.
I also need to come up with a solid summer sub-niche to balance out the winter niche. It's great to see the increase during the winter months but would like to keep good numbers and stats throughout the year.
Social media platforms like Twitter and Pinterest will have to be implemented better as well.
I would love to hear your goals and dreams for your site, please share them in the comment section below. 
Will this case study site maintain the great stats of December for next month? Don't miss the update, sign up for the newsletter below…
Looking back at 2016 and the progress for this site. I'm just so happy that I didn't give up looking at the low numbers in the beginning of the year, I had my doubts, wondered if it was worth it but ending the year with these great numbers makes me very excited about the future.
It proofs that consistency and determination pays off.
If you have a dream of making your first money online or improving the income you currently are making, look at this site at the progress and decide right here and right now to make it happen for you as well.
I know there are plenty of people making a lot more than this site and we'll get there, but know that there's no secrets, no hidden buttons to push…
There's hard work, or outsourced work lol, consistency and a little stubbornness.
Did you miss the related posts in this case study series? Catch up, right here!
I would love to hear from you. Did you have similar results for December? Are you just starting out and have a question? Please share your thoughts and questions below,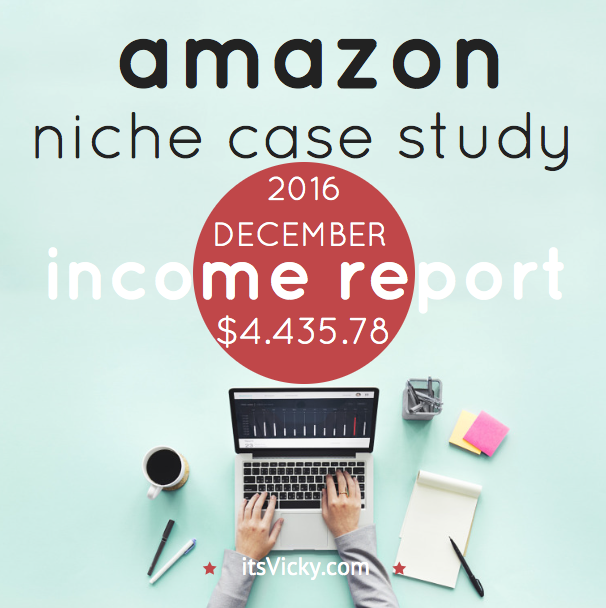 To a Great Successful 2017!
Vicky