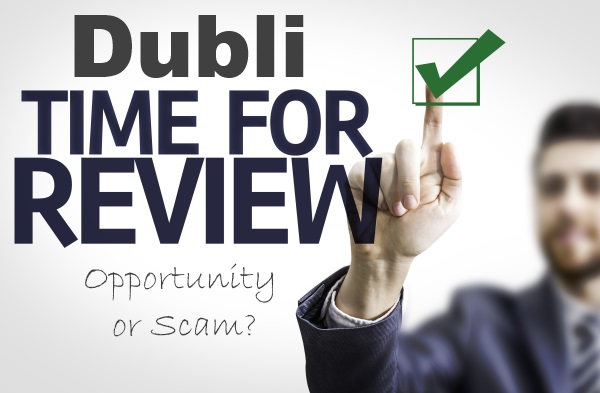 Dubli is a cash back program, with two branches. It has a cash back program, where you can get some of the money back that you spend on online shopping.
They also have a MLM business "opportunity", Dubli Network.
We take a closer look at both of these in our Dubli review.
Dubli Cash Back
This is a way to earn cash back if you shop through them, through their travel and shopping mall. You can also use their toolbar when you search Google and see how much cash back you can earn on items.
This is how Dubli works:
You sign up with Dubli
You shop through their system or links
You earn cash back
The amount or % cash back depends on what store you shop from and what membership level you have.
Earning cash back is not exclusive to Dubli. There are many cash back programs online. I have tried a program called Swagbucks and that`s set up in a similar way. Swagbucks though offer other ways to earn money as well not just shopping and it`s completely free.
Dubli Offers Different Membership Levels
Free Membership – you can sign up for free and use their cash back system. With the free membership you "earn" the lowest commission.
Premium Membership –  $4.95 monthly – you receive better cash back, better % and better entertainment.
VIP Membership – $99 yearly – earn an even better commission. You also get the "Dubli business opportunity" to tell a friend about the program.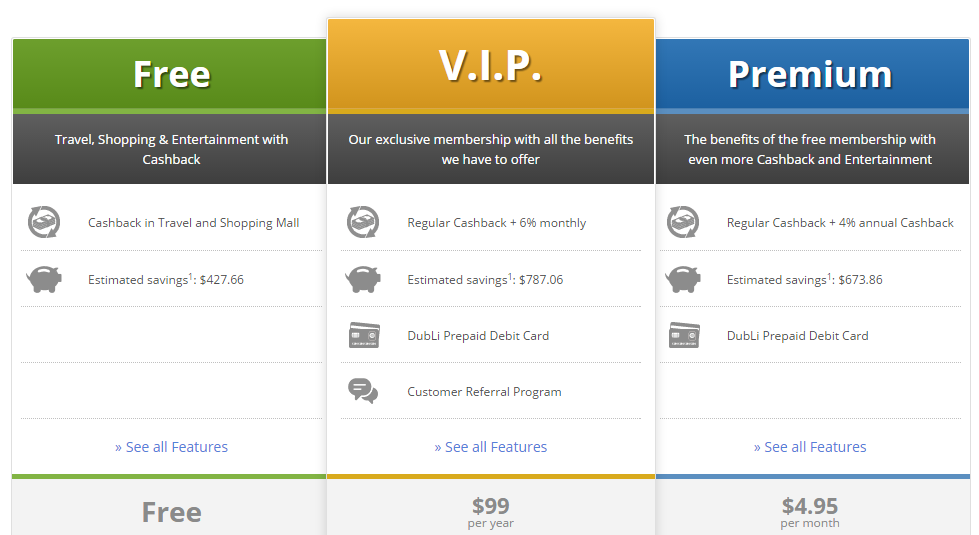 $427 in estimate savings for the free account, wow that`s pretty good. What the heck do they base that on… I read the fine print and it says…
This projection is hypothetical and represents calculations based on a sample membership. Actual results may vary.
So how much to spend to make that amount?
Say that you make an average of 4% cash back (that is high if you have a free account), you will have to spend 10K to get to $400 cash back. You might do a lot of Christmas shopping but that is pretty steep.
Let me give you some cash back numbers that they have on their website right now.
FREE Membership
Apple store 1%
Kohls 2.4%
JcPenny 1.8%
Walmart 1%
Home Depot 1.8%
Premium earn +4% and VIP earn +6%.
The reason Dubli can offer these cash backs is the same reason an affiliate makes money. You can sign up with partner programs and get a commission when there`s a sale. Dubli is doing the exact same thing, they partner with programs, they give you some and take some themselves. They are just a 3rd party.
Since they are a 3rd party they are waiting to receive the commission before they can send your part, to you. That`s one of the reasons why it takes a long time to get any cash back from Dubli.
If you just want a cash back system there are better options out there. Ebates and Swagbucks are two free options. No need to pay for cash back.
The Dubli make money opportunity is done on the Dubli network site.  To me it seems like they are using the Dubli cash back site, to have a product, a cover, for their MLM "opportunity"…
Dubli Network – The Dubli Business Opportunity or Scam?
The Dubli Network was founded with focus on Europe, back in 2003, by Michael Hansen. In 2008 he took it to the US. Starting out the program focused on reversed auctions. In 2014 they changed direction and today Dubli Network focus on cash back and their MLM opportunity. So is there a Dubli business opportunity or is it a dubli network scam? We will dig deeper and see what`s going on.
The money lays in selling the opportunity. Not the actual product.
If you watch any of their sales videos, it`s hype, it`s big money, it`s life changing. They claim this is THE next big thing. Sounds very promising but when you scratch the surface the truth seems to be different.
Are Dubli really as big as they claim they are…
I mentioned Swagbucks before, not sure if you have heard of them before, but here`s a Google Trends picture comparing search volume from Swagbucks and Dubli.
Looks like Swagbucks, another cash back system, gets lots more traffic.
Another "selling" point is that they are a public company. They are, when I write this their stock is worth $0.18.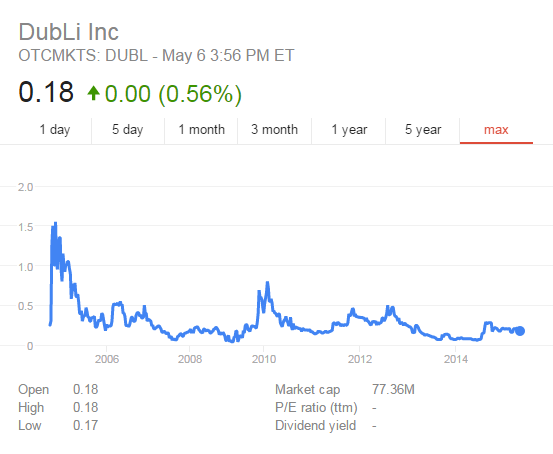 Dubli Business Associate
To get involved with the MLM side of the business you have to purchase a business license, you will become a business associate BA for $99.
The way you can earn money is through the following:
Earn commission when customers shop at the Dubli shopping mall or Travel portal
When a customer goes premium or VIP
Sell team packages
Commission from your downline
Sell partner programs
You will earn differently depending on what "level" you are at.
There are 2 levels for personal use, the Team Member Package and the Team Leader Accelerator Package.
Team Member Package for $594
This package include the business license and 5 one year membership vouchers.
From month 2 you have to purchase Monthly VIP Qualification Vouchers $49.50 / month, sounds like a autoship version.
The Team Leader Accelerator Package/Partner Program Accelerator Package for $2475
This package includes: business package, membership package and vouchers. Partner certification and TLA status.
You can earn an incredible (their words) 25% commission on the membership packages. 25% of your personal customers purchased earned by Dubli. The keyword here is earned by Dubli.
Let`s take a look at a real life example;
VIP members will get around 8% from a store like Home Depot. Say that somebody purchase a $500 item. You should then get 25% of the Dubli commission.
According to Dubli they only get 1.5% commission from that sale.
That amounts to a commission of $7.5.
You then receive 25% of the $7.5.
Your commission on the $500 sale will be $1.875
Make sure you know your numbers! If you plan on getting your money back through commission, know what you are up against. Read the Dubli compensation plan.
At this level you can also earn on your business associates.
Platinum and Elite Level for Businesses
If you want to sign up a business, you have to go in on the business level. There are 2 business levels, the Platinum and Elite level.
The Platinum Level – $6.000
The Elite Level – $12.000 
So if you spend money on any of these 4 programs, what`s the return policy? You have a 3 day refund policy. 3 days that`s it.
What is the value here? Is it the cash back system? Well if it is, that can all be done for free with other programs like Swagbucks, Kayak or Fatwallet to mention a few. So what`s left to sell, is the MLM "opportunity".
If you are interested in making money with Dubli Network, the way to do it is to go out and recruit other people. Sell them a package from $594 up to $12.000.
The commission from people using the actual service, customers, will be small, although they will "sell" you on that. There are so many free options for just the cash back that you will have a hard time getting people to spend money on something they can get for free.
What is the Dubli WUKAR Team
WUKAR stand for Wake up – Kick Ass – Repeat
It is one of the branches that try to get you involved with the Dubli MLM "opportunity". Matt Trainer is in the lead but others like Tony Rush (ex. Empower Network) and John Lavenia are involved as well.
Reading some of the feedback on the WUKAR team you of course get the followers that you see in the videos. To them it`s been a life changer, before they had no life but now with WUKAR it got a meaning…
Then you have people that are not very happy at all. I guess Matt Trainer sold a lead system a "rotator", a video marketing system that`s not even gone live… People payed for the product but received nothing. (When you read this hopefully this issue is resolved and there is a product)
Let`s just say people are not happy and words like "fraud and scammer" are being used in the same sentence as Matt Trainer.
What Are Users Saying About Dubli?
So what are Dubli VIP members saying about the program? Is Dubli network a scam?
Some seem to think it is. The more I dig the more sad stories come up about this program…
There are numerous complains with the BBB. Although I don`t like the way BBB is doing business, it does give an indication if people are complaining. You will also find many unhappy users just searching the internet. Here are a few stories.
I read about one user that spend $856 at Walmart, expecting 7% cash back and was denied the kick back from Dubli.
One user say the cash backs takes forever to receive and some just never show up.
One network user thought is was an opportunity. She is out 20K and will be paying off her loan for the next 8 years…
Another user said, the so called special training for social media was a load of BS.
One of my friends over at WA got involved with this business and this is what he had to say about the program.
This is Grant`s Story
Dubli Cash back
I've been involved for a few months now. I do like the 'cash-back' aspect to Dubli and have personal experience that this works. The VIP membership.$/€99 p.a. has value provided you shop and make your bookings online. Over the course of a year this can really add up and savings/cash-back can far outweigh the outlay. It's also possible to refer people to the cash-back site and get $/€20 per VIP referral.
The only draw back to this aspect of the business is that it can take some time for the cash-back to clear – sometimes, depending on the merchant up to 3 months! I have cash-back pending from a purchase I made just before Christmas…..
The free Dubli toolbar makes finding deals easy as it automatically pops up when searching online.There are also 1000's of merchants to choose from, and a lot of well known ones too.
All in all I would score the product high – it's also easy to promote. Who doesn't want cash-back on their online shopping, right?
Dubli Network the Business "Opportunity"
I've not had much experience with the business building aspect of Dubli – I paid $€495 for which I received 5 vouchers valued $€99 each and the ability to earn commissions from my customers using the Dubli shopping mall. The idea being that these are either sold or given to prospective costumers.
Dubli does expect business associates to do a monthly minimum activity equating to either one new VIP customer or having to buy a qualification voucher for $€99 to remain active.

My personal experience here is that it's been easy enough to get customers to join at the free level, however have not had anyone upgrade to the VIP level – so have had to pay for the monthly qualification voucher. So for me this has not been viable – perhaps due to my personal lack of marketing expertise and experience.
There are other levels/upgrades within Dubli that I have no experience of.
Thanks Grant for sharing your story!
Are There Better Alternatives?

I don`t think that the Dubli cash back system is bad (as long as they pay out what they are suppose to) but you might want to compare it with a few other options to see what works best for you. Most of these other cash back systems you don`t have to pay anything for, since you make them money. Take a closer look at Swagbucks and FatWallet for example.
If you are looking to make money, to build your own online business. Then I suggest you take a look at this legit way, my #1 way to make money online.
Are you into MLM? Read this – 10 Tips Before Joining an MLM Opportunity.
What`s your take on Dubli? Is it a Dubli home business opportunity or is it a scam in your opinion? Feel free to leave a comment below, I would love to hear what you have to say about it.