Fridays with Vicky 95
Trick or treat is done, Halloween is over and fall is here. It's time to sum up the numbers of our Amazon Niche Case Study for October 2016.
I'm usually not this excited for fall and the colder months, but since my case study site is offering reviews, information and helpful tips related to these colder months I'm actually looking forward to it. I can't wait to see what this site can produce for us.
October didn't disappoint, we saw an increase in all numbers and I'm liking the positive trend. Hoping the curve will continue to point up, going into November and December.
If you've been following this case study you know that the site is built, with a few things in mind:
The site is a health related site, targeting sub-niches in the health niche.
It's based on helpful and useful content to the reader.
Most content is outsourced content.
The site should be hands-off, based on outsourced content that ranks organically in Google and other search engines.
This site is monetized with Amazon products.
The Sub-niches
Sub-niche 1 – main keyword ranked #2 in Google. It's a low ticket item with the peek season during the winter months. We have daily sales with this sub-niche. Here are some numbers that are taken from Jaaxy, my preferred keyword research tool, related to the main keyword in this sub-niche.
Sub-niche 2 – main keyword ranked #3 in Google. This is a niche that ranks for many different keywords and brings in a lot of the traffic. It's also a low ticket item that has it's peek during the winter months. The site brings in daily sales from this sub-niche.
Sub-niche 3 – main keyword ranked #3 in Google. This is a medium ticket item that I started to see almost daily sales in October. Again this is a sub-niche focused on the winter months. The problem here is that two of my top sellers, are not available to order via Amazon (sold out at the moment), hope they fix this fast…
I should mention that the only site that's ranking better then the above main keywords currently is amazon themselves.
Sub-niche 4 – This is a low ticket item sub-niche, that I started working with earlier this year. I've seen very little traction, probably due to few posts pointing to the main "top 5" article.
Sub-niche 5 – This is a brand new sub-niche, so far we have not seen much traction, only a couple of sales this far. It's an all around year niche that offers high ticket and medium ticket items. I'm hoping this will see some traction so I can continue to see good numbers in the summer months.
Traffic Progress
The main traffic source from the beginning has been organically ranked content in the search engines. It does take some time to grow a site this way, but we are finally seeing some traction.
Organic rankings are still where I get the majority of the traffic. In fact, 90% of the traffic comes from organic listings. This is due to 2 – 3 posts submitted weekly. In the end of October, I submitted around 4 articles weekly, trying to step up the game a little bit before the holiday season.
This has resulted in the following traffic numbers.
September 2016 (Month 19)
Sessions 10.066
Users 9.084
Pageviews 14.227
Session duration 1.25
October 2016 (Month 20)
Sessions 13.684
Users 12.393
Pageviews 19.636
Session duration 1.22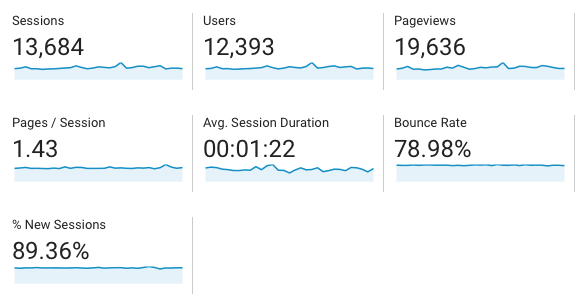 As you can see we have a healthy increase in sessions, users and page views. Session durations is slightly lower, nothing I'm concerned about.
Outsourced content
The content I use is mainly outsourced. I want this site to be as hands off as possible.
I've been very lucky to have found a writer that had experience in the health field, she was a great writer and I was very fortunate to have her provide content for the site.
But like I mentioned in the last income report, I am looking for a new writer, and here is why…
In late September, my writer that I loved to work with, turned in her articles later than usual. Not a big deal, but the articles weren't really her style. Anyway, I let it slide.
The week after she submitted the articles later than usual again and they were very poorly written. I quickly found out that they were pretty much copied from another article and very poorly re-written.
Always double check your outsourced content to make sure it's original and unique. Having duplicate content on your site will according to Google not hurt you, but it will not rank organically and that's the whole purpose of outsourcing.
The issue with my writer leads me to write a post about alternatives to CopyScape.
When I did my research for that article I ran into a tool called Siteliner. A great tool that will check your whole site for duplicate content.
But that is not all, oh no that is not all (lol sorry heard Dr. Seuss in my head there)
The tool also checks for load time, the number of words per page and more.
This time I was mostly concerned about the duplicate content since I had been using my writer for a year. When I confronted her she claimed she had written the articles her self, which made me doubt some of the other content she had written.
With a search using Siteliner I found that some of the content had been used on both my in-depth reviews and other summaries through out the site. I'm not overly concerned about that, those pages are ranking pretty good.
Here are some data using Siteliner.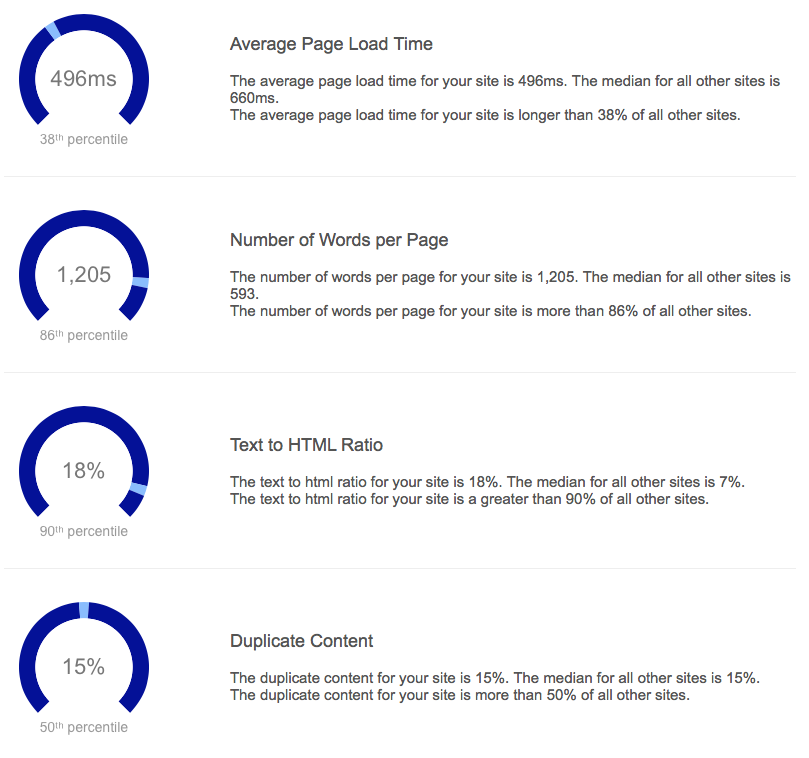 It was a relief to see that none of the content from my writer was seen as duplicate content. The content she had written in the past was good. To make a long story short, she is no longer writing for me.
The one number I will take a closer look at is "Text to HTML Ratio" that does seem high, will have to make some adjustments to that.
What Kind of  Pages and Posts is Ranking?
Last month for the September income report, I did a pretty in-depth walk through of what kind of content is ranking for the site.
If we compare September to October… it looks very similar.
The "Top 5" list from sub-niche 2 gets most page views with the "Top 10" list from sub-niche 1 coming in, in second place.
These still receive around 40% of all page views of the site.
Ranking Result
Keywords

4.5 K keywords ranked, again this is due to consistent content submission.
We have 93, top 3 rankings in Google, October 2016. That's 91 more than October 2015. I'm sure that has an impact on the increased traffic.
Traffic

I like the traffic curve for October hopefully we can keep the positive trend going.
These graphs are from SEMrush an excellent tool to get additional information about your website.
Google updates October 2016
I like to include any kind of Google updates since this might have an impact on the rankings and traffic. For October we saw 1 update:
Penguin 4.0 roll out complete – The Penguin 4.0 is now completed, it's the real-time version that is rolled out.
Case Study Income Report and Sales Result
October 2016 (Month 20)
Ordered Items: 539
Commission: $ 1.529.20
Expenses October
Outsourcing: $110.5
8 Outsourced articles $48
5 Outsourced reviews, (these are longer in-depth articles 1000 words at least) $62.5
Hosting: $2
This site is hosted on a shared hosting account, therefore the low cost.
List building: $5
This site share cost with other sites $5.
Total Expenses: $117.5
Total Result October $ 1.411.70
Let's compare that to last years October Income that was $45.92. In one year we went from $45.92 monthly income to $1411.70, I'll take it :).
October 2015 – $45.92
October 2016 – $1411.70
Total Result for the Site
Result Month 1 – 6: $

–265.36

Result Month 6 – 12: $817.13
Result Month 13-20: $5.301.39
Total result after 12 months: $551.77
Total result after 20 months: $5.853.16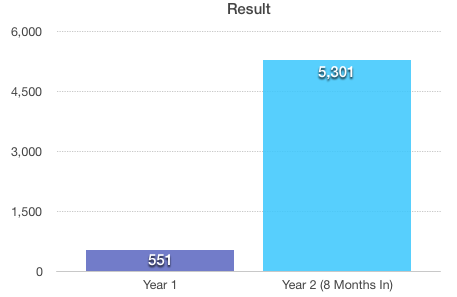 Monthly Result 2016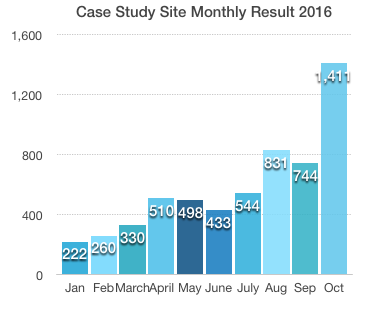 I'm liking the increase this month, the best month this far. I'm excited to finally break the 1K mark. I would like to see the income, $1.529.20 double in November. I think that can be possible with "shopping" season just around the corner…
These are Some of the Tools I Depend on
I often get the question, what kind of tools I use or recommend. I thought I would share a summary with you.
If you click the link it will take you to a more in-depth review of the tool or program.
Wealthy Affiliate for training and updates (Free and Premium membership)
BlueHost (starting from $3.95 monthly)
Jaxxy for keyword research (Free trial)
WpZoom Theme I use for the site  (Premium theme)
EasyAzon to fast and easy include amazon links on the site (Premium plugin)
Aweber to collect emails (Premium tool)
SumoMe (Free and premium for social share)
Crowdfire for Twitter growth (Free and premium)
Google Analytics (Free)
SemRush (Free and Premium)
Don't underestimate the free tools that are offered here. They are very useful!
Going Forward…
Social media – I finally put in some effort with Twitter. I schedule posts to go out on a regular basis. I got some new followers so it's going in the right direction. There's so much more work to do here though. Going forward I want to increase my presence on Twitter, also start working on my Facebook page.
YouTube – I did not get around to create any new videos this month, but this is definitely something I have on my to-do list. I know the traffic it can bring, it just takes a little time to do it.
Will this case study site break the 3K mark next month? Don't miss the update, sign up for the newsletter below…
Did you miss the related posts in this case study series? Catch up, right here!
I would love to hear your thoughts on this Amazon case study. Also if you have your own Amazon site, feel free to share your experience and results. Just leave a comment below.
Have a productive day,
Vicky