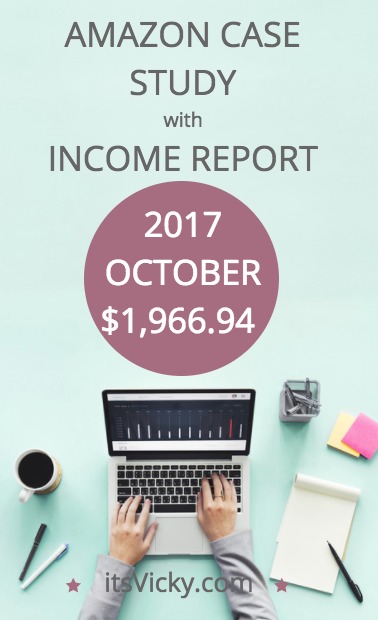 Fridays with Vicky 147
In my little corner of the world, October started out warm and sunny but ended kind of cold and rainy. The cooler temperature seemed to work well for the case study site, with increased earnings at the end of the month, coincidence? Maybe. I'm glad to see that the site is continuing to grow, increase in traffic and sales.
This case study site has been a very interesting journey.
When I first started the site it was because I wanted to see if it was possible to make money with a site promoting Amazon products. I also wanted the site to be in an organic niche, I chose health. Maybe the most important aspect for me was that the site is…
Hands off – For me, that means that I don't have to spend too much time on the site.
To save time I do two main things…
1.    Outsource – I outsource most my content writing and that saves me a lot of time. Right now I submit 3 – 4 articles weekly and I have three writers helping me out with content.
2.    Use EasyAzon – this is a premium WP plugin that saves time and makes sure I maximize my earnings by getting paid from US, UK, CA and other places around the world. With the push of a button, I can have links to Amazon products inserted within seconds. A true time saver. Read more about EasyAzon here.
Why Do I Share the Numbers and Stats of this Site?
A lot of people enjoy this case study but some have asked why I share the numbers and a lot of the details. There are a few reasons why I chose to share:
1.    This is real numbers so that you as a reader can follow along and see the ups and downs of a niche site. If you've been reading these case studies for a while you know that there has certainly been great months and some that are not so great.
2.    It's a great way for me to keep track of the numbers and stats of this site for myself. This case study holds me accountable.
This case study site is one of a few sites that I run. Being my own boss, having control of my own time is priceless to me and my family. Actually, right now, when I'm writing this I have my 8-year-old daughter lying next to me. She is home from school with a cold. Luckily, we don't have to stress too much about the situation, I'm right here when she needs me.
Freedom looks different for all of us, to us it's been having flexibility, being able to travel and having control of our own time, that's been important. If you are just starting out and want to set up your own site, you can get started here.
Let's take a closer look at the case study site and the numbers for October 2017.
Traffic October 2017
September
Sessions 20,501
Users 18,663
Page views 25,344
Session duration 48 sec
October
Sessions 25,250
Users 23,098
Page views 31,586
Session duration 50 sec 
I'm glad to see that we have a bump in traffic. Since the site does have some main sub-niches that are winter month related, it's pleasing to see that they are pulling in some more traffic in October.

Looking at the top 10 posts and pages that get most traffic, we have an avg. time on page of 3.18. This means that the reader is getting what they are looking for. They are staying and reading the content.
Content
The majority of the traffic comes from organic traffic from the search engines, Google, Yahoo, and Bing. I like keeping an eye on what keywords pull in the traffic, and what posts and pages receive most visitors. For this site, "list" posts work really well. These are the top 5 posts receiving the most traffic.
Top 5
5 Best
5 Ways to
Top 10
Top 5
There is only one post in the top 10 that's not list related and that's a review, taking the 10th spot.
Giveaway
Some of the traffic in October was due to hosting a giveaway that I did together with the independent affiliate program I'm working with. It was a fun experience and I got 1,596 signups, so that was pretty good, for my first giveaway.
You can read more about the giveaway and how to set one up in the post – how to run a successful giveaway.
Ranking Result
When depending on organic listings and rankings I like keeping an eye on the ups and downs the site has when it comes to rankings. I use SemRush a great tool to see the statistics.
Using SemRush we can tell that the site gained some keyword rankings in October, I like that.

We lost some and we gained some keyword rankings, it's all part of online presence.
Hopefully, the positive trend will stay throughout the winter months.
Case Study Income Report and Sales Result October 2017
Before we get into the earnings I wanted to mention the Amazon commission change and how it is affecting the site.
Earlier this year Amazon changed their commission structure from increased percentage earnings depending on how many items sold, to a set percentage depending on category. In the past the more items you "sold" the higher commission you would earn. Today it depends on what category you promote, different categories pay out different commissions.
Now when we are starting to get some more sales volume due to the colder months, I can definitely tell that the changed Amazon commission is putting a dent in the earnings…
The revenue of sold items this October was similar to last year, in fact, the site did $300 more, totaling an Amazon revenue of $20K + BUT the commission I earned was $500 less than last year, sadly the new commission structure from Amazon is NOT working in my favor.
I'm glad I added the new independent program. It's showing some decent numbers and I'm excited to see what it can lead to in November and December.
October 2017 Earned Commission
Amazon – 625 sales                    $1,081.72
Affiliate program 1 – 12 sales    $885.22
Total Ordered Items: 637
Total Commission:                 $1,966.94
To make a "fair" comparison I like to see earnings per 1000 visitors to the site. That gives us a good number based on traffic to the site and how much that traffic generates in earnings. A good number that we can compare, from month to month but also to other sites and projects.
Dec $217.98 / 1000 visitors
Jan $139.96 / 1000 visitors
Feb $128.6 / 1000 visitors
March $93.68 / 1000 visitors
April $92.04 / 1000 visitors
May $157.23 / 1000 visitors
June $81.75 / 1000 visitors
July $93.77 / 1000 visitors
August $65.05 / 1000 visitors
September $78.07 / 1000 visitors
October $85.15 / 1000 visitors
If we compare that $85 to last year's number of $123 it's a lot lower. This is something I definitely have to look into, is the quality of traffic not as good?  The lowered Amazon commission does play a role but on the other hand, the commission from my other affiliate program is better…
One thing that could have impacted that number is that I was doing the giveaway that did attract some visitors that did not convert into earnings.
Expenses October
Outsourcing: $113
9 Outsourced articles ($7 each) $63
4 Outsourced reviews, (these are longer in-depth articles 1000 words at least, $12.5 each) $50
Hosting: $2
This site is on shared hosting, there for the low cost.
This is the hosting I suggest if you are new.
BlueHost Review – Top Notch Domain and Hosting Under the Same Roof
Listbuilding: $5
Aweber list building shared cost with other sites $5
Bing Ads
I started to play around with some ads in Bing. Since the independent affiliate program offers high ticket items and the commission is pretty good, I thought I would give it a try.
I have to come up with a better way to track things though. If you have a good way to track conversions and sales when using PPC please let me know. The program does not offer any tracking IDs.
I took a new post that was not yet ranked in the search engines and put up some ads for it.
Bing ads spent $62.98.
I believe I made 3 sales and $155.65 on those ads.
This is a pretty good result but I need to find a more accurate way to track things. Now when the post is ranked in the search engines I can't be sure that the sales are coming from the paid ads…
This is definitely an avenue I'm interested in going down and will be doing more research around tracking systems.
Total Expenses: $182.98
Total Result October: $1,783.96
If we compare that to last years numbers we have a slight increase.
October 2016 – $1,411.70
October 2017 – $1,783.96
Total Result for the Site
Result Month 1 – 6: $

–265.36

Result Month 6 – 12: $817.13
Result Year 2: $15,767.08
Result Year 3, 8M in: $11,201.59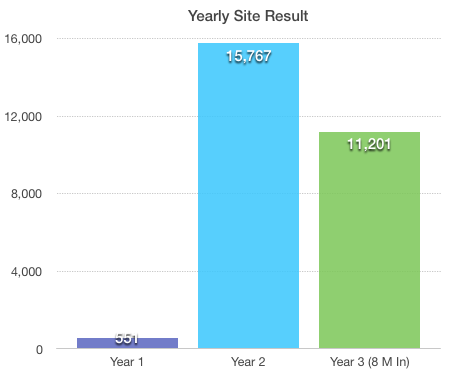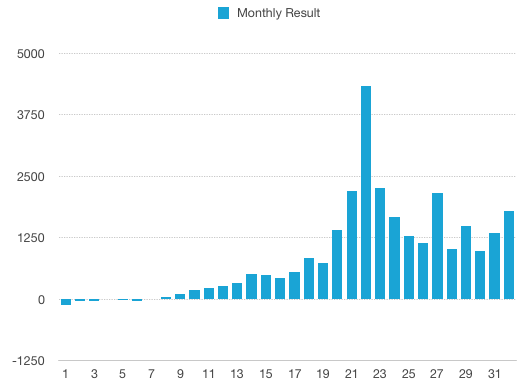 Total earnings for 2017 this far $15,745.39. Not the 100K we were hoping for but still not bad for a pretty hands-off site.
A lot goes into a site and I'm forever grateful for these helpful tools…
Wealthy Affiliate for training and updates (Free and Premium membership)
BlueHost (starting from $3.95 monthly)
Jaxxy for keyword research (Free trial)
WpZoom Theme I use for the site (Premium theme)
EasyAzon to fast and easy include Amazon links on the site (Premium plugin)
Aweber to collect emails (Premium tool)
SumoMe (Free and premium for social share)
Crowdfire for Twitter growth (Free and premium)
Google Analytics (Free)
SemRush (Free and Premium)
These tools are awesome, saves me time and help me maximize earnings.
Follow the Journey of this Case Study Site, November and December Should be Good Months – Sign Up for the Newsletter…
Do you want to start your own blog or website? Check out my beginners guide to get started.
If you missed some of the old case study posts, feel free to catch up right here!
To a fabulous November!
Vicky