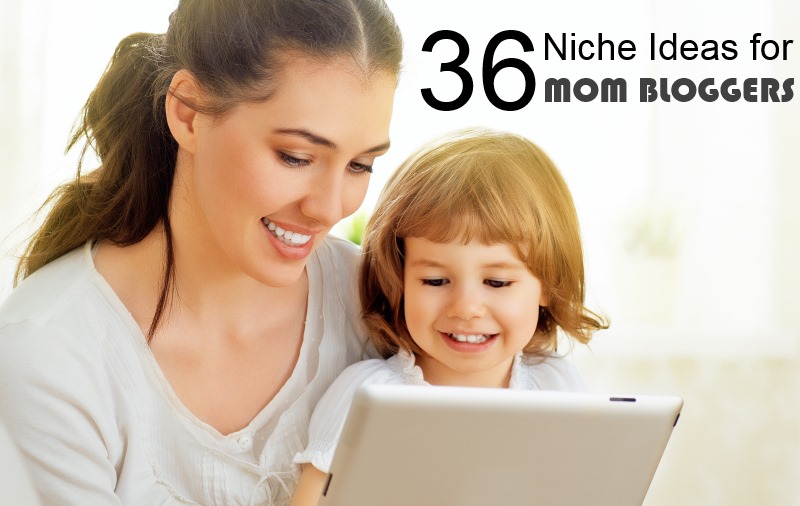 When starting out with your mom blog you might just want to share your family`s journey with the rest of the world. Blog about your daily life with the kiddos. This is a lot of fun and you might even create yourself some followers.
If you want to take your mom blog a step further and make money with it, then there are a few things to think about.
Sure you can blog on general mom topics on a regular basis, create a following and monetize with ads. For the blog to become highly profitable though you will need lots and lots of visitors.
An easier way is to focus in on a smaller, more targeted group of visitors and write for them specifically. This is what we call a niche. Today we will go through what a niche is, what it does, if you really need one and also 36 niche ideas for mom bloggers to get started.
What Is a Niche?
A niche is a group of people that are searching the internet for the same thing. It`s your audience looking for something specific.
When picking your niche you should focus in on a topic that you are interested in, something you are passionate about. This can be solving a problem or it can be a hobby, for example. Something you feel that you can go on and on writing about.
Pretty much everything around you can be a niche. Kids toothbruches, fun crafts, get your child to sleep better… everything around you can be turned into a profitable money making niche.
The key is to focus in on a specific audience, a specific group of people and give them what they are looking for. This can be done by providing value in the form of information or maybe a product.
You are building relationships with a group of people, call it niche, call it segment of the market, call it your followers… just to make things easier we will call it a niche.
What Does a Niche Do?
If you are still debating weather you need a niche or not, let me tell you what a niche does. It makes people feel like they have found a solution to their problem. It makes them feel like they belong.
Say that you are looking for a car seat for your toddler. You go on the internet to read some more about different car seats and to hopefully find the right one for you and your toddler.
Scenario 1 – you land on a mom blog that talks about a little bit of this and a little bit of that she mention the car seat she use in one of her posts, she also talks about lunch snacks, fun crafts and aunt Tiffany`s birthday party.
Scenario 2 – you land on a mom blog that talks about car seats, car seat safety, she even reviews different car seats. She talks about why car seat 1 is better for your toddler if you want him to be able to use it for years to come. She talks about why car seat two can only be used for the toddler years but why its safer than car seat 1…
To help her audience out she give them a link to Amazon where they can easily purchase the car seats that she reviews.
Which mom blog would you prefer for this specific search of toddler car seat? Which site do you think will make more money?
A niche site makes the visitor feel that they have found what they are looking for, feel that they belong.
Do You Need a Niche for Your Mom Blog?
No, you don`t need a niche at all, you can blog on a mom blog in general and have lots of fun doing it.
BUT if you want to make money with your mom blog, I would highly recommend you focusing in on a niche, focus on a certain group of people.
You will see faster results and over time you will become the "to go to" person in that niche, you will become the expert.
What Do You Do with Your Niche
So when you have found a niche, what do you do with it?
You will set up your mom blog focused on your niche.
You will be writing helpful content for your niche.
Some of that content will include products that you can suggest for your niche.
The key is to provide value for your visitors, help them solve a problem.
Where Can You Find Mom Blog Niche Ideas?
Like I said niche ideas are all around you. Here are some places you can search…
Within yourself – what`s your passion
Look around the house
Search the internet
Go check out Amazon
Check out your favorite baby/kid store
Look through a magazin
What`s advertised on TV
Here are a few ideas to get you started…
36 Niche Ideas for Mom Bloggers
Kids crafts
Scrapbooking
Costumes for halloween and general play
Snack ideas
Lunch box ideas
Healthy eating for kids
Bake with kids
Pregnancy
Birth
Breast feeding
Womens health issues
Kids health issues
First year of a childs life
Potty training
Diapers
Adoption
How to loose weight after baby
Baby gear like strollers and carseats
Baby safety
Party ideas
Learn how to read
Eco friendly living with children
Decorating tips for kids rooms
Gardening with children
Parenting advice
Relationships advice
Kid friendly music
Learn how to play an instrument
Fashion for kids
Fashion and beauty for moms
Educational toys
Electronic toys that educate
Books for toddlers
Family travels
Sports that kids should try
Things to do when your kids are sleeping
I hope that I could clear up a thing or two around the niche concept and hopefully give you an idea to continue on with. Let me know what you think. Do you use a specific niche on your mom blog? Would love to hear why or why not feel free to chime in below,
Have a productive day,
Vicky