Fridays with Vicky 87
August has come to an end and it's time to summarize what turned out to be the best month yet for this site. Not too bad since most products recommended are winter month related.
When I started this case study site, I had a few things in mind.
I wanted a site that was pretty hands off. A helpful site that would grow and gain organic listings over time. A site with outsourced content that would be submitted on a weekly basis. I also wanted to recommend physical products and monetize it with Amazon products.
All this is accomplished. The site is very much work in progress. It is slowly growing and gaining traction but like my 7-year-old daughter says slow and steady wins.
Exciting times ahead for this site, but let's take a look at the numbers for the month of August.
Traffic Progress
How do I get traffic to the site?
This is a site that gets 87.7% visitors from organic searches. The site is built on mostly outsourced content that is slightly keyword optimized. I submit content on a regular basis, around 3 posts weekly.
Over time more and more content is ranking within Google and other search engines. Organic listings is a great way to get free traffic. It's not the fastest way, but that was never the goal for this site.
The numbers are improving…

July 2016 (Month 17)
Sessions 5.614
Users 5.107
Pageviews 7.670
Session duration 1.15
August 2016 (Month 18)
Sessions 7.400
Users 6.748
Pageviews 10.080
Session duration 1.13
We've been talking about top 10/ top 5 pages and reviews in previous case studies. I was kind of curious how many page-views these pages get.
Under your overview tab in Google Analytics, you can access all this information. What I find very interesting is that directing traffic to these main pages has really paid off. Looking at the 4 top pages of my site, 3 of them are top 10 or top 5 pages. These get a total of 47% of all my page views.
Maybe even more interesting is that these pages are truly helpful to people How do I know that?
The average time on these pages is 3 minutes and 22 seconds.
That's exciting, people read the content and they find it interesting, otherwise, they would have left long before the 3-minute mark.
With Google Analytics you can find all kinds of good information about your audience. Here are some fun facts about the people visiting my case study site:
3.61% are movie lovers
82% of the visitors are from either the US, UK or Canada.
40% that visit the site from a mobile device use an iPhone.
Ranking Result
Since the majority of my visitors come from organic listings, I keep an eye on improved and lost keywords. The best tool I have found to do that is SemRush.
New and lost keywords
July 2016 (Month 17)
August 2016 (Month 18)
We gained some we lost some. I do see some good keywords climbing up though and that's a good sign.
Sales Result August 2016 (Month 18)
Sales: 323
Commission: $942.22
Expenses August
Outsourcing: $104
9 Outsourced articles $54
4 Outsourced reviews, (these are longer in-depth articles 1000 words at least) $50
Hosting: $2
This site is on shared hosting, therefore the low cost of hosting. Read about my recommended hosting here.
List building: $5
Aweber list building shared cost with other sites $5
Total Expenses: $111 
Total Result August: $831.22
This is very exciting numbers for August. We are still in the warm months and the site improved greatly from July and became the best month this far. I can't wait for this site to reach 1K +, hopefully, September can bring us that!
Total Result for the Site
Result Month 1 – 6: $

–265.36

Result Month 6 – 12: $817.13
Result Month 13-18: $3146
Total result after 12 months: $551.77

Total result after 18 months: $3697.77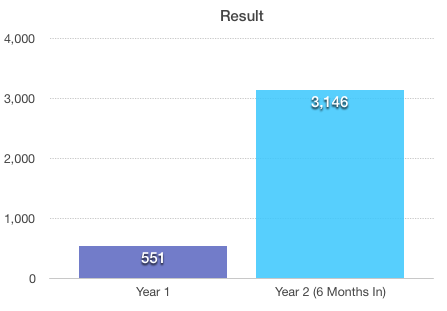 Result 2016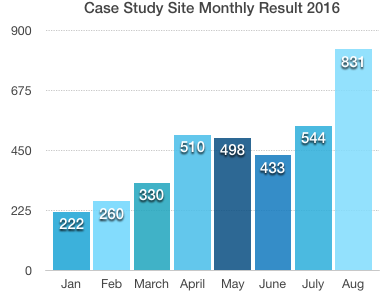 Going Forward…
As I summarize the numbers from August, I'm pretty pleased. I took July and August off to be with my family and friends and still had a good upswing, in fact, the best month this far.
It shows me that we're on the right track with this site. That the content submission and organic rankings are starting to pay off. Since the site is focused more on winter month products, I can't wait to see what the site will do in October, November, and December.
I have decided to add another post weekly, that will give us a total of 4 posts submitted each and every week.
I will also add a couple of new Top 10 posts. One of them will be recommending higher ticket items. I'm hoping to have this up and running in good time for Christmas shopping.
Another area where I need to improve is social media, hoping to get more traction here as well.
Exciting stuff to come, don't miss it! If you want to join the case study journey, sign up for the "Fridays with Vicky" newsletter.
These are some of the tools I depend on:
Wealthy Affiliate for training and updates (Free and Premium membership)
BlueHost (starting from $3.95 monthly)
Jaxxy for keyword research (Free trial)
WpZoom Theme I use for the site  (Premium theme)
EasyAzon to fast and easy include amazon links on the site (Premium plugin)
Aweber to collect emails (Premium tool)
SumoMe (Free and premium for social share)
Crowdfire for Twitter growth (Free and premium)
Google Analytics (Free)
SemRush (Free and Premium)
Did you miss the related posts in this case study series?
It's good to be back in the office,
Have a productive day,
Vicky