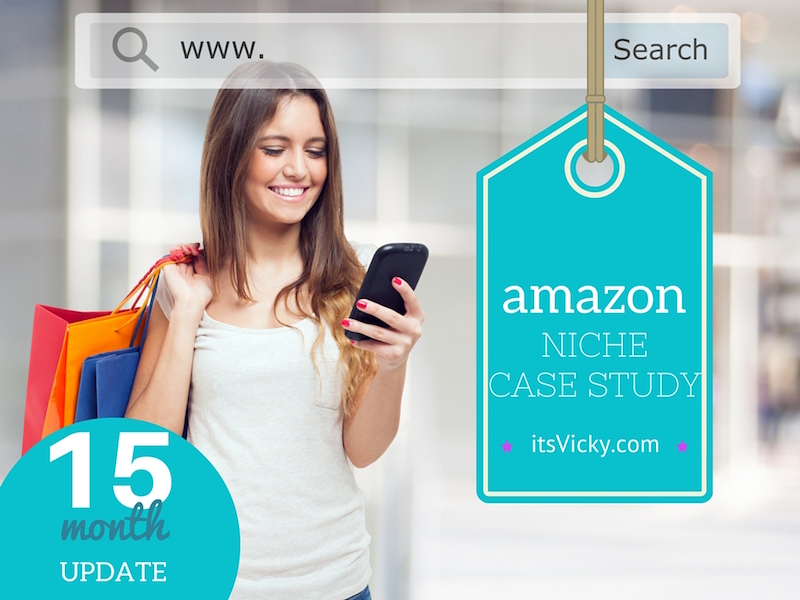 Fridays with Vicky 76
I have gotten a lot of interest and feedback on this Amazon Niche Site Case Study, so I have decided to give you a monthly update on how things are going.
Can't believe I am summarizing month 15 already for this site.
If you have read some of the other related posts to this case study you know that the site is a health related site monetized with Amazon products.
My goal the whole time has been to create a hands-off site with mostly outsourced content. This site has definitely not been a race, but with increasing organic listings in Google and other search engines, the site is now seeing some traction and increase in rankings, traffic, and sales.
I try to be as transparent as possible and share real numbers with you. We look at traffic, rankings, sales and more.
Let's see how the site did during month 15…
Traffic Progress
How do I get traffic to the site?
I get traffic by submitting helpful content on a regular basis. Content based on keywords, that rank well in the search engines. It's pretty much all organic traffic. Traffic that grows and increases naturally over time.
Let's look at the traffic numbers.
April Month 14
Sessions 4839
Users 4326
Pageviews 7383
Session duration 1.39
May Month 15
Sessions 5512
Users 5007
Pageviews 8263
Session duration 1.44

Users, sessions, page views and session duration has increased. Great progress, and I'm really excited about this.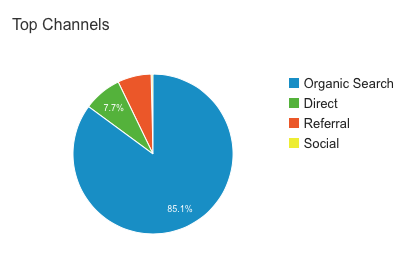 It's not surprising that 85% of the traffic comes from organic searches since that has been the focus. Social media is definitely something that needs to be improved upon. Don't even see the yellow pie piece in the graph…
Above numbers are taken from my Google Analytics account.
I also like checking in on my traffic using SemRush. SemRush is an excellent tool to keep track of traffic, keywords and more.

Ranking Result
The content is based on keywords. No keyword stuffing but I use keywords in the title first and sometimes the last paragraph, that's pretty much it. Let's look and see if we gained any keyword rankings for month 15.
Here you can see the keyword progress over the last 6 months. Again SemRush is tracking and delivering invaluable information about your rankings.
New and Lost Keywords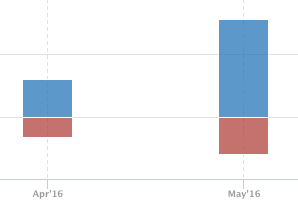 April Month 14
May Month 15
A lot of activities in the gained and lost keyword section, let's look at the Google algorithm updates for May and see if we can connect the dots.
May 10, 2016, Unnamed Major Update
For almost a week we had algorithm updates according to major "Google weather trackers". The updates have not been confirmed by Google and webmasters are not jumping for joy or crying floods so there's been updates but nothing too major.
This could have affected some of the gained and lost keywords though.
May 12, 2016, Mobile Friendly 2
About a year ago the first mobile-friendly algorithms and updates from Google where implemented, last month the second one were rolled out. If your site is already mobile friendly, then you might have seen a small impact. You might have gained some rankings though due to nonmobile friendly sites taking a hit.
Sales Result
The number of sales has been increasing month by month, something that's great. I also work on increasing the commission amount/sale by recommending more high ticket items.
It's good to recommend both, low and high ticket items. Low ticket items to get the sales number and Amazon commission increased. High ticket items to bump the $$. Let's look at the sale, commissions, expenses and result for the month.
April Month 14
Sales: 156
Commission: $569.83
Expenses April Month 14
10 outsourced articles $60
Pictures is no longer an expense. The service I was using was sold to another company and I decided to not sign up with the new one. So, for now, I use images that I have downloaded in the past, have quite a few of them that I have not even used on the site yet…
Total Result April: $509.83
May Month 15
Sales: 227
Commission: $602.16
Expenses May Month 15
9 Outsourced articles $54
4 Outsourced reviews, (these are longer in-depth articles 1000 words at least) $50
Total Expenses: $104
Total Result May: $498.16
I like the improvement in sales from April to May. The reason the total result is a little bit less in May than April is due to increased expenses with the added reviews. The reviews I see as a great investment going forward though. I'm happy about the increased commission, that is a step in the right direction as well.
Exciting stuff ahead! Wonder if there will be a slowdown period during the summer, we'll see…
Let's look at the total result for the site.
Total Result for the Site
Result Month 1 – 6: $

-265.36

Result Month 6 – 12: $817.13
Result Month 13-14: $839.33
Result Month 15: $498.16
Total result after 12 months: $551.77
Total result after 15 months: $1889.26
Are you interested in setting up a similar website?
Going Forward…
I love the progress of this Amazon niche case study site. I hope I can keep the momentum going through the summer. The main sub niches I've been working with are focused on the winter months. I'm trying to diversify but it takes time when building with organic traffic.
So, focus right now is to get through the summer with continued growth. To gear up for the winter months and holiday season. I see those months being the big earning months for this site and I'm really excited to see what the site can do.
Focus has also been on reviewing more high ticket items. Most reviewed items on the site today are below $100, going forward I want to balance that out with some more high ticket items.
Product Reviews – I have finally found a great writer for my product reviews, took some time, but it was worth it. Right now I submit one in-depth review weekly and I will continue to do so.
Weekly Submissions – In addition to the weekly review, I also submit two posts from my other writer. She has great expertise in the niche and has been a great asset to have on board.
A total of 3 articles submitted weekly.
The summer months are always a busy time with the kids being off school. My plan is to continue with the 3 weekly submissions but I know I will not have time for much else. Social media and video marketing will have to wait until fall…
But, that's why I love working for myself. I decide what to do with my site… I decide where to work from… we love to travel so that's what we will be doing this summer.
The scheduling feature in WordPress is my best friend. I try to stay a couple of months ahead of schedule so I can take time off and enjoy the summer with my family and friends.
How about you?
If you missed any of the previous posts in this case study series, catch up here: 
Do you have a niche site monetized with Amazon? How is it going? Feel free to share your thoughts below in the comment section. 
Have a productive day,
Vicky